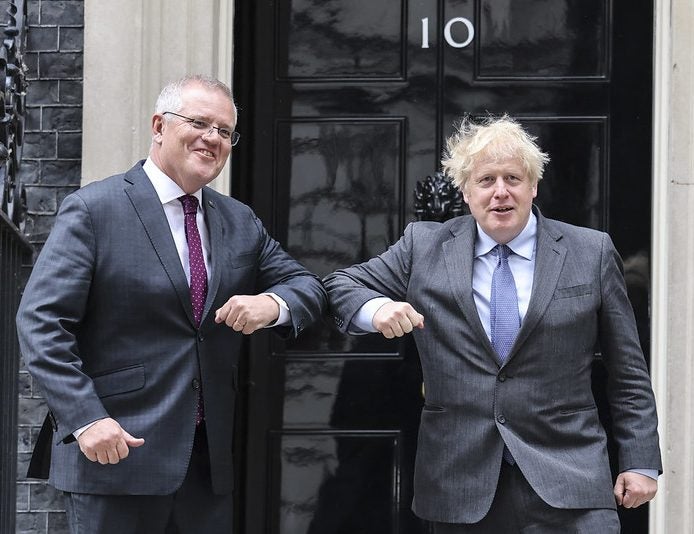 Prime Minister Boris Johnson is already manoeuvring to join the broad Asia-Pacific free trade area and to establish an individual agreement with New Zealand even before a provisional deal struck with Australia has officially been signed off.
The Department for International Trade in London announced on Tuesday (22 June) that "Britain will shortly begin negotiations to join one of the largest free trade areas in the world worth GBP9trn (US$12.5trn) in GDP in 2019", referring to the Comprehensive and Progressive Agreement for Trans-Pacific Partnership (CPTPP), which encompasses 11 countries, including Australia.
And international trade secretary Liz Truss concluded a fifth round of talks last week with New Zealand's trade and export growth minister Damien O'Connor as the two sides pursue a "comprehensive free trade agreement", which the UK minister said was an "important step toward joining" the CPTPP.
British farmers and the UK food community are likely to take little solace from the fact Johnson is moving forward with some urgency in negotiations with other international partners to secure tariff- and quota-free trade deals when the finer details of the agreement with Australia are still not forthcoming to address concerns around imports of cheaper beef, sheep meat and dairy from a country with superior scale. And equally important considerations are maintaining the UK's high food safety and animal-welfare standards, where producers are still in the dark.
Nonetheless, it's a two-edged sword. Trade deals would provide export opportunities following the UK's official departure from the European Union in January, especially after a recent collapse in food and drink shipments. Trade body The Food and Drink Federation (FDF) last week described a 47% first-quarter drop in food and beverage exports to the EU as a "disaster".
Johnson announced on the side lines of the G7 meeting in the beach resort of St. Ives in Cornwall on 14 June that he had established an "agreement in principle" with his Australian counterpart Scott Morrison on the "broad terms" of a trade deal, the first to be negotiated independently by the UK since its exit from the EU. But observers are fearful an Australian trade deal will set a precedent for others further down the line, particularly any future agreement with the US, under the same terms.
Over a 15-year transition period, the two countries are aiming for tariff-free trade on all goods from biscuits and confectionery to Scottish whisky and automobiles, along with zero import quotas. The deal also covers the services industry, while the partners have agreed to collaborate on issues pertaining to defence and security, technology and climate change, including a so-called future Clean Tech Partnership.
Stefan Koopman, a senior macro-strategist at Dutch investment bank Rabobank, suggests Johnson was eager to strike a trade deal with Australia given six months have now passed since Brexit.
"The symbolism and the geo-strategy of it clearly is the bigger deal here," Koopman said, adding that based on the scant details available, "it doesn't really suggest that there has been a strong quid pro quo".
A representative for the DTI told Just Food on Wednesday "it was too early to say when a final agreement will be signed" off as the text of the in-principle agreement is subject to legal scrutiny and an impact assessment before it is approved. It then has to go before Parliament.
Animal welfare
The Australian Food and Grocery Council, the equivalent of the FDF, said it would not be offering comments on the trade deal until it sees the final documentation, a stance shared by the UK's food and beverage trade body.
However, Fiona Simson, the president of The National Farmers Federation in Australia, said in a statement that the agreement "was a significant leap forward in Australia's market access".
She continued: "Australian and UK farmers share a commitment to meeting the highest standards when it comes to caring for their land and their livestock, and that commitment shows in the quality of our produce. UK customers will benefit from the increased availability of high-quality Australian products on their supermarket shelves, alongside their homegrown options."
But Simson refrained from mentioning that Australian beef cattle are raised on growth hormones and feed additives that are banned in the UK. Similarly, a debate has been raging in the UK over a potential free trade deal with the US, particularly around allowing in imports of chlorinated chicken.
Simson's counterpart in the UK, Minette Batters, the president of The National Farmers Union, said she was waiting to scrutinise the final documentation before making an assessment.
However, she did issue a reactionary statement on 15 June, with a mention of the caveat included in the Government's initial announcement that "British farmers will be protected by a cap on tariff-free imports for 15 years, using tariff-rate quotas and other safeguards".
Batters said: "We have been clear about our concerns over the potential impact of trade deals that completely eliminate all tariffs on imports from the biggest agricultural exporters in the world. While details remain very thin on the ground, it appears that the agreement will include important safeguards that attempt to strike a balance between liberalising trade and supporting UK farm businesses, as well as a reasonable time period to allow UK farmers to adjust to the new trading environment. We await further details of the agreement to understand whether these safeguards are sufficient, and in particular that they can be deployed effectively should imports rise to an unmanageable level leading to significant market disruption."
TAC responsibilities
Aware of the concerns, the DTI said in a statement provided to Just Food that the Department is "committed to putting British farming at the heart of our trade policy and ensuring that our agricultural sector is among the most competitive and innovative in the world".
The Department referenced the Trade and Agriculture Commission (Tac) set up last summer to scrutinise potential trade deals and the implications they could have on the UK landscape.
The DTI added: "The new Trade and Agriculture Commission is a key part – but not the only part – of this process. The TAC will make sure that we have fully understood the implications of an FTA for UK domestic statutory protections for agricultural products.
"At this stage, the TAC will advise on whether, or to what extent, the measures in the FTA are consistent with the maintenance of UK levels of statutory protection in relation to: animal and plant health standards; animal-welfare standards; and environmental standards as they relate to agricultural products.
Food industry watchers and trade associations have honed-in on some of the document wording made available so far, including a provisory statement from the DTI on 17 June laying down the quota and tariff-free arrangements where "will include" is repeatedly referred to throughout.
It's no wonder stakeholders are waiting out the final details, when that same statement contained a paragraph suggesting the negotiations are still not complete: "This document reflects what the UK and Australian FTA negotiating teams have jointly decided as of 16 June 2021 should be included in the FTA once it is finalised. It does not prejudge the outcome of the FTA negotiations or any further proposals for FTA commitments either the UK or Australia may make after this date. It is also not intended to create any treaty obligations."
Provisional details on tariffs and quotas issued so far from both parties include, in the food area, beef, sheep meat, dairy, rice and sugar.
"The UK will liberalise Australian imports with 99% of Australian goods, including Australian wine and short- and medium-grain milled rice, entering the UK duty-free when the agreement enters into force," Dan Tehan, Australia's minister for trade, said in a statement.
Laurie Arthur, the chairman of Australian rice grower SunRice Group, said the country is only currently permitted to export 700 tonnes of rice products to the UK "before incredibly prohibitive tariffs kick-in".
"It is incredibly pleasing to see such a significant market access outcome for Australian value-added rice exports," Arthur said. "It is not an overstatement to say that this is the most significant market access outcome for Australian rice exports in any of the recent free trade agreements that the government has delivered."
Tariff and quote arrangements:
"Beef tariffs will be eliminated after ten years. During the transition period, Australia will have immediate access to a duty-free quota of 35,000 tonnes, rising in equal instalments to 110,000 tonnes in year ten.
"In the subsequent five years, a safeguard will apply on beef imports exceeding a further volume threshold rising in equal instalments to 170,000 tonnes, levying a tariff safeguard duty of 20% for the rest of the calendar year.
"Sheep meat tariffs will be eliminated after ten years. During the transition period, Australia will have immediate access to a duty-free quota of 25,000 tonnes, rising in equal instalments to 75,000 tonnes in year ten. In the subsequent five years, a safeguard will apply on sheep meat imports exceeding a further volume threshold rising in equal instalments to 125,000 tonnes, levying a tariff safeguard duty of 20% for the rest of the calendar year.
"Dairy tariffs will be eliminated over five years. During the transition period, Australia will have immediate access to a duty-free quota for cheese of 24,000 tonnes, rising in equal instalments to 48,000 tonnes in year five. Australia will also have immediate access to a duty-free quota for non-cheese dairy of 20,000 tonnes.
"Sugar tariffs will be eliminated over eight years. During the transition period, Australia will have immediate access to a duty-free quota of 80,000 tonnes, rising by 20,000 tonnes each year."
The FDF said Australia ranked as the UK's 11th largest export market last year, led by whisky worth GBP116m followed by gin at GBP28m and savoury snacks valued at GBP27m. Conversely, the top imports from Australia were wine (GBP280m), lamb and mutton (GBP46m) and pulses (GBP8.5m).
"Disproportional impact"
The British Meat Processors Association in London remains concerned about the impact tariff-free quotas will have on UK farming: "Greater access to Britain's agri-food market is highly prized by countries like Australia who produce food on a much bigger scale than us. But this is just the first of many trade deals."
BMPA's trade policy advisor Peter Hardwick, explained in a statement: "It's not the amount of meat by weight that matters it is the amount of high-end, high-value cuts undercutting home-produced product that will have a disproportional impact on the marketplace. It will skim the top off our home market and have a very negative effect on returns.
"A 20-foot container load of beef with 17,000kg of a full range of meat cuts might represent the meat from just 60 animals. A similar shipment containing only high-value boneless sirloins would have come from over 1,000 animals. If it were fillet steaks it could be three times that number.
"In simple terms, if as little as 7,000 tonnes were imported as sirloins it would take 20% of the UK's prime beef production to produce here."
Mark Lynch, a partner at London-based Oghma Partners, a corporate finance house and advisor for the UK and Europe, pointed to the potential demise in competitiveness on UK meat producers, making similarities to the loss of the country's steel and ship manufacturing industries.
"The scale advantage of Australian farms and the precedent the deal could set for other agreements with the likes of New Zealand and the US make the industry understandably nervous," he said. "Ultimately, many UK farmers will probably struggle to compete on world market terms simply due to the limits of British geography and as we have seen with other industries such as steel and shipbuilding there is no long-term right to produce any specific product in the UK if a market is opened up to competitive forces."
Potential US precedent
On balance, the free trade agreement seems more skewed in Australia's favour, particularly meat and rice. And both countries are large dairy producers so it's unclear who is likely to benefit.
Saputo, the Canada-based dairy major, which has made some notable acquisitions in both Australia and the UK in recent years – Murray Goulburn and Dairy Crest – declined to comment for this article. Just Food also approached the Australian unit of Brazil-headquartered meat packer JBS for its assessment on the protein side but did not receive a response.
Joanne Bills, a director at Freshagenda, an analytical and consultancy business in Victoria, Australia, said: "It's really hard to judge whether it's a win-win without a lot more detail, and as with all these things access is great and tariff reductions are great but the trade has to be commercially viable.
"It's hard to see how our cheese would be competitive against local, Irish or Polish product from way over here, when we have growing markets in Asia with no domestic production to compete against. Saputo is a big producer and exporter but would it make sense to send product from here when they have a UK business?
"Australia is a small but relatively affluent market, so speciality meat and dairy products would find a place but that's likely to be niche. At least at this end there seems to be more focus on the services exports from the UK which will benefit from the agreement."
Rabobank's Koopman elaborates on the trade theme around Brexit and also suggests the opening of the UK market to Australian exporters is disproportional.
"So far, the UK government hasn't really been able to formulate a sound post-Brexit strategy. From that perspective, it is quite telling that the UK didn't seem to have asked for much in return from Australia. From Australia's perspective, it's getting virtually unlimited access to the UK's beef, sheep, sugar and dairy markets in a relatively short time frame. This is better than they could have ever wished for."
Ultimately, it's no surprise British meat farmers in particular are anxious to ascertain the final details of the agreement because, as Koopman alludes to, it could serve as a gateway to allowing in US meat imports under the same conditions and terms.
"They are trying to pivot away from the EU and towards the Anglosphere and the Indo-Pacific. This could be a way to show goodwill and buy themselves into these clubs.
"The real prize, of course, is a US-UK trade agreement – and the UK stance on agriculture in the Aussie deal suggests that is not going to be the political obstacle some thought. The US is keeping a close eye here, it will now demand a similar degree of access to the UK's agricultural markets as Australia, against equally weak provisions."