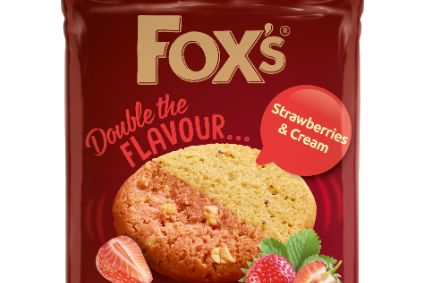 In the first part of a two-part feature examining the UK sweet biscuits category, Andy Coyne looks at the headwinds faced by manufacturers of products that are seen as an indulgence.
In an era in which health and wellness is a growing trend and campaigners and government bodies are pushing for reductions in the levels of sugar in food, one might expect those involved in the sale of sweet biscuits in the UK to be circling the wagons.
But the story is more nuanced than that and, through a combination of consumer loyalty and product innovation, biscuit manufacturers remain relatively buoyant about the state of play in the category and its future prospects.
In the UK, where biscuits are intrinsically linked with the national obsession – drinking tea – the manufacturers of some of the leading brands are cognisant of the issues they face but believe they have the wherewithal to overcome them.
Having said that, 2018 was a testing 12 months. The combination of an unusually hot summer – when thoughts turn to cold drinks and ice cream rather than hot drinks and biscuits – and the football World Cup – when thoughts turn to beer and savoury snacks – left sweet biscuit sales looking somewhat soggy.
But the category is still in growth. The UK biscuit category was worth GBP2.6bn (US$3.28bn) in the 52 weeks ending 30 December 2018 – up GBP33m (1.2%) from the previous year, according to Kantar. That's a lower rate of growth than some other food categories but still not to be sniffed at.
Stuart Graham, customer marketing director in the UK and Ireland for snacks major Pladis, which owns biscuit brands including Hobnobs and McVitie's Digestives, describes 2018 as a "challenging year for the biscuits category" mentioning the headwinds mentioned above. "Biscuit growth last year was disappointing compared to the whole marketplace," Graham says.
However, he points out things are looking up year-to-date with growth close to 5%.
It seems that for all the talk about health and wellness, biscuits, like ice cream, crisps and chocolate, remain a guilty pleasure UK consumers are unwilling to give up.
As Graham says: "99.1% of British households buy biscuits each year. We eat more than any other country. It's part of the fabric of our culture."
He quotes statistics which reveal that each UK household eats 22kg of biscuits a year and suggest there are 5.4bn "consumption occasions", compared to about 2bn for confectionery.
Why do UK consumers buy biscuits?
Research from IGD's ShopperVista service, collected from UK shoppers between June and September last year, reveals nearly a third of biscuit shoppers (31%) claim to make their purchases on an impulse basis, which makes price point, packaging and display location important issues. The same research says 34% of biscuit shoppers claim they would buy a different brand if they can't find the product that they want.
Competition from supermarket own brands is a headwind. UK own-label biscuit sales amounted to GBP832m in 2018, up 5.1% year-on-year, according to Kantar. Those sales represented 31.7% of the market.
Given this scenario, it's perhaps not surprising Matthew Wilson, interim marketing manager at Fox's Biscuits – owned by 2 Sisters Food Group – has noticed shoppers are becoming increasingly observant around both the quality and value of biscuits.
"When considering purchase drivers, 58% of consumers quoted quality while 41% said value was the most important consideration to them when purchasing biscuits," he says.
Broadly, when looking at its own portfolio, Pladis is weighing up balancing innovation against concentrating on its core brands and has taken the decision to re-balance its business to focus on its central range of products.
"We are being more choiceful about some of the incremental stuff," Nick Bunker, the managing director of Pladis' businesses in the UK and Ireland says, "using the effort, resources and investment from those products and using it on our core."
Pladis – owned by Turkey's Yildiz Holding – reveals its own research shows GBP41m of its GBP527m annual sales in 2018 came from new flavours and formats.
Explaining Pladis' thinking in this area, Graham says: "We recognise that core products such as McVitie's Digestives and McVitie's Jaffa Cakes are the heart of both our business and retail partners' businesses. This means we'll be looking to re-balance our focus. This won't be at the expense of NPD but rather we'll be working to ensure there is better balance in our marketing activity and product emphasis across both of these areas."
Graham says it is common for a manufacturer or brand owner's "core products to deliver the vast majority of sales growth", adding: "This is becoming more pronounced as grocery retailers look to rationalise ranges and focus on promoting fewer NPDs."
Wilson at Fox's Biscuits also points to retailers' moves to reduce the amount of products they offer across the store. "The challenge for manufacturers is the cost of development, the cost of marketing and the ability to get the listing on shelves when retailers are actively reducing SKU counts," he says. Fox's will continue to both invest in growing core but also ensure NPD is developed because we believe in NPD as a core driver for growth."
Meanwhile, Burton's Biscuit Co., which owns brands such as Maryland Cookies and Jammie Dodgers, is also seeing the sense in concentrating on major brands rather than blue-sky new product development.
Kate Needham, the company's marketing director, says: "We are also maintaining focus on supporting and growing our major brands and are driving demand for our household favourites such as Maryland, Jammie Dodgers and Wagon Wheels, with a programme of support running throughout the year. That said, we'll also continue to innovate across our core brands in order to meet the evolving needs of consumers."
Burton's also sees its future as being a balance between better-for-you and indulgence (more of which in part two of this feature).
But Burton's is also eyeing the premium end of the market after snapping up fellow UK biscuit maker Thomas Fudge's in February.
Burton's, owned by Canada-based fund Ontario Teachers' Pension Plan, acquired Thomas Fudge's from UK private-equity firm Livingbridge, describing the acquired company as a "premium sweet and savoury biscuit manufacturer" and suggesting the premium segment of the UK biscuit category is "one of the fastest-growing, as growing numbers of consumers are seeking indulgence delivered by provenance, high-quality ingredients and engaging textures".
Needham sees other opportunities in 'on-the-go' and kids' snacks.
"Single-serve and individually-wrapped biscuits have a key role to play in the on-the-go trend, providing a convenient format for consumption out-of-home. To meet this need, we recently launched new, individually-wrapped Wagon Wheels single packs designed for the convenience channel and merchandised in a space-efficient counter display unit," Needham says.
"On-the-go formats are also particularly important for kids' minis, with 36% of kids' minis consumed as carried out snacks compared to 12% for sweet biscuits. All of Burton's kids' minis products are offered in convenient single serve formats."
Graham at Pladis also sees the potential in offering more convenient products.
"Food-to-go has been a key growth area across the total market, driven by the increasingly busy lifestyles of today's shoppers. The way people are consuming biscuits and other snacking products has changed in recent years, with people increasingly shifting from the traditional three main meals a day to more frequent, smaller and less rigid eating occasions," he says.
"Nine out of ten shoppers now claim to snack multiple times per day, whilst of these, one in 14 (7%) forego meals altogether and simply rely on snacks to keep them going.
"This is even more pronounced in the convenience retail channel with on-the-go biscuits now representing 24.6% of value sales in the biscuits category. Our latest data from IRI shows that on-the-go biscuits has grown 30.3% in the past two years, whilst take home biscuits grew by 4.3% in the same time period.
"On-the-go packs are also a great opportunity for retailers to encourage consumers to try new products – and drive incremental sales within the category. We've seen this in the successful launch of our handy pack pouches of 'swavoury' snack Flipz and, more recently, McVitie's Jaffa Cakes Nibbles handy packs, which we launched earlier this year."
Wilson at Fox's Biscuits is also enthusiastic. "There is a huge appetite for on-the-go snacking, particularly with more time-pressed shoppers looking for healthier options with exciting flavour combinations," he says.
Fox's has also sought to double down in the kids' segment with a new line for its Party Rings range – the Fox's Party Rings Bucket.
Wilson says this "taps into the ever-growing kid's party market, which sees parents spending an average of GBP215 per party".
In part two of this feature we look at how biscuit manufacturers are dealing with pressure to make indulgent products better-for-you.