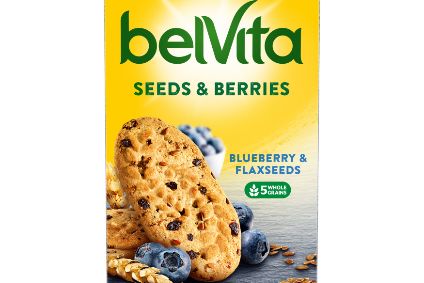 In the second part of a two-part feature examining the UK sweet biscuits category, Andy Coyne looks at how manufacturers are trying to position their products against the backdrop of rising consumer interest in the link between diet and health, while also riding continued demand for indulgence.
On the face of it sweet biscuits seem to have little to offer in a market like the UK where more consumers are demanding healthier products more often.
Nor do biscuits seem to fit in with young people's lifestyles.
As Fraser McKevitt, head of consumer, retail and lifestyle at research and consultancy group Kantar, says: "The story is that the bog-standard, everyday biscuit is suffering a lot because it is inherently unhealthy and we are more aware of calories now.
"And hot drink consumption amongst younger people is coming down and everyday biscuit consumption is allied with hot drinks."
Such trends could mean we see biscuit sales in the UK start to crumble. Well, not quite.
As we saw in part one of this feature, the biscuit category in the UK is still growing and, despite headwinds last year, manufacturers are confident an emphasis on product innovation to fit in with trends such as on-the-go – especially in relation to breakfast and brunch choices – can be a catalyst for further growth.
McKevitt says: "The biscuit market is showing just modest growth and it's hard to see how to move the dial on that when people are more conscious of diet than ever before.
"But, to look for growth, people will need to premiumise to provide indulgence and also [shape products to meet] the convenience of being out of the house."
But being proactive in terms of product innovation is only part of the story. Biscuit manufacturers need to react to increasing pressure to make their products healthier.
As McKevitt says: "Brands are well aware that there could potentially be regulations coming down the line. A lot of reformulation has gone on in the sector.
"The taste of biscuits is quite different from five years ago and portion size control has also been evident."
But if biscuit makers are worried about the new reality of health and wellness being an entrenched consumer trend new reality (as it has gone well beyond a fad) they are certainly not showing it.
Indeed Pladis, maker of the McVitie's biscuit brand, believes it has identified a total snacking opportunity over the next three years of GBP1.2bn (US$1.51bn), of which GBP330m is from biscuits.
Stuart Graham, Pladis' customer marketing director in the UK and Ireland, says: "It's about understanding where there are needs that aren't being met. It could be people with particular health needs, bringing in people who have avoided the category."
Graham says Pladis is aiming to work with the new healthier eating paradigm rather than circumventing it, with 95% of its snacks now containing no more than 200 calories and the company continuing to reduce sugar and salt across the portfolio (including in its flagship McVitie's Digestives).
Pladis, which says it accounts for GBP1 in every GBP5.00 spent on biscuits in the UK, sees a number of key drivers for growth. At one end is indulgence but, unsurprisingly, at the other end is balance.
Its research reveals 39% of snack consumers look for healthy products all or most of the time when choosing a snack and, while 41% say it's hard to know which snacks are good for you, 32% actively avoid buying processed ones.
Perhaps crucially, in terms of future product development, 63% would rather eat a naturally healthy snack than a light version of a less healthy snack.
Cadbury and Oreo owner Mondelez International, like other biscuit makers, is increasingly seeing product development through the prisms of health and wellness and indulgence.
Susan Nash, the company's trade communications manager in the UK, says: "Consumers are increasingly concerned with their well-being. Eighty five per cent of consumers claim they are trying to improve some of their diet to become healthier and almost one in every three food items are now chosen for health. When it comes to snacks, 46% of occasions are chosen for health (growing at 7.7%)."
According to research from Maryland cookies owner Burton's Biscuit Co., healthier biscuits are much more likely to be consumed earlier in the day with 53% consumed in the morning, whereas products deemed as a 'special treat' have the opposite profile, with 54% consumed in the evening.
This trend is recognised by Mondelez through the performance of its BelVita breakfast biscuit brand.
"Breakfast biscuits tap into the consumer need for a convenient and tasty way to have breakfast in their time-poor daily lives. The UK breakfast biscuit market is now worth a significant GBP81.6m and BelVita is the number one brand," Nash says.
"Since its launch BelVita has been on a journey of innovation, each innovation has a distinct purpose to bring new consumers to the brand through a range of taste and textures to meet their needs. A constant is the brand's core proposition – that BelVita are the only breakfast biscuits with proven slow release carbohydrates, to be enjoyed as part of a balanced breakfast, which could include BelVita, a portion of fruit, a yoghurt and a drink."
Further innovation has just arrived with the launch of BelVita Seeds and Berries. The brand also plans to launch its first ever reduced sugar variant – BelVita Chocolate Chip – with 30% less sugar.
At the other end of spectrum, Nash recognises the premiumisation trend.
"In recent years there has been a trend of switching and trading-up, from everyday, more traditional biscuits to more premium biscuits. From our insight and consumer research, we understand that consumers want to really enjoy their biscuits; they are looking for a little treat in their everyday routine that delivers a special moment. Brands with the right equity along with great taste and appropriate formats can really deliver to these need states," she says.
Other biscuit makers, too, are seeing growth linked to product development aimed at health and wellness and indulgence.
Commenting on the former, Burton's Biscuit Co. marketing director Kate Needham says: "This is very important to us. We are committed to enabling consumers to make informed choices, allowing them to enjoy biscuits and snacks which suit their individual lifestyle.
"We recognise the importance of offering a variety of permissible snacks to cater to different consumer needs and occasions and have a wide range of initiatives to drive the agenda on sugar, portion control and calorie reduction. Earlier this year, we launched a sugar-free alternative to Maryland Cookies, followed by extensions to our Maryland and Jammie Dodgers Minis range of permissible snacks under 100 calories, with the launch of Jammie Dodgers Jam and Yogurt Snacks, Maryland Oaty Cookie Bars and Maryland Chocolate Coated Cookie Bars."
Needham takes the view indulgent and permissible does not have to be an either/or choice.
"We believe it is possible for consumers to treat themselves with a little bit of indulgence whilst at the same time making a better-for-you choice, by choosing a portion controlled pack of biscuits. For example, our recently launched Maryland Chocolate Cookie Bars are fully enrobed in milk chocolate and contain just 96 calories," she says.
Its research reveals that both its special treat and healthier biscuit offerings are growing – at 3.1% and 4.3% year-on-year respectively.
"Health consciousness is a long-term trend that will only continue to drive consumer behaviour, yet consumers are increasingly choosing to treat themselves on those occasions when they do decide to indulge," Needham says. "As this growth of better-for-you products is not at the expense of indulgent products and both are growing in tandem, this is a trend that we do not expect to see change any time soon."
Graham at Pladis agrees with this take on the category.
"Whilst consumers are increasingly tapping into the healthy-eating agenda, they also continue to show advocacy for indulgent treats that can be shared, gifted or enjoyed as a reward. So, finding the balance is key," he says.
Research from another category player, Fox's Biscuits, reveals everyday indulgence is on the rise, with 28% of shoppers treating themselves four times a week or more and 41% doing so during weekday evenings.
Matthew Wilson, the company's interim marketing manager, believes innovation has an important role to play.
"Innovation is a key driver when it comes to gaining shoppers' interest," he says. "Earlier this year Fox's launched its ground-breaking Double Dough to the market. Featuring two distinct doughs brought together for the first time in a single biscuit, the new cookie was created to capitalise on the growth which the cookie category is currently experiencing."
For all the talk of product development linked to health and wellness and premiumisation, Nash at Mondelez points out that the everyday treat biscuit remains the largest sweet biscuit sub-segment.
"Oreo is the world's number one biscuit brand but was only introduced to the UK in 2008. It is now worth GBP38.7m," she says. "Growth has been sustained through continuous investment and innovation relevant to the next generation of everyday biscuit enjoyers.
"Key to the long-term growth of the category is to ensure shopper need states are being met. Oreo Thins was launched to attract a different consumer, by offering a differentiated experience to meet their needs while keeping true to the brand's essence. This innovation offers a little more sophistication to consumers, helping to recruit the next generation of biscuit lovers."