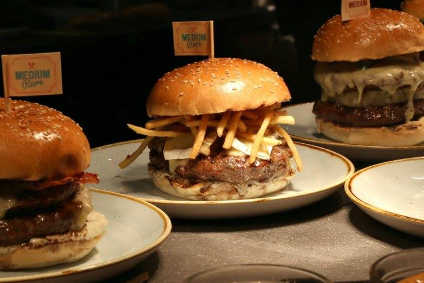 September saw UK foodservice operators meet with the country's government to discuss its plans to tackle child obesity. Staying in the UK, upscale burger chain Gourmet Burger Kitchen was sold to South Africa's Famous Brands, while US business BurgerFi joined the throng and entered the market.
UK government aiming for level playing field on obesity
In London last week, representatives from food and drink businesses in the UK met with the country's Health Secretary Jeremy Hunt to discuss the action plan on childhood obesity launched this summer – and it appears it was made plain all parts of the sector, not just food manufacturers, have a role to play on the issue.
The long-awaited – and delayed – strategy to combat rising child obesity in England was announced by the UK government last month, with measures including a levy on sugary soft drinks and a voluntary target to reduce sugar in a range of foods.
Meeting industry representatives yesterday, Public Health England, the UK government's executive agency for health policy in England, said it would set "clear targets" and publish "transparent and comparable data" to "support" the voluntary target of a 20% reduction in sugar from foods in nine categories by 2020.
Next year, PHE plans to develop "a similar overall reduction programme" on calories, while there could also be targets on saturated fat pending a review by the UK government's scientific advisers.
Reports in the UK on Friday spoke of restaurants, pubs and cafes in the UK being asked to "step up" by lowering the sugar in they foods they sell. The reports also said operators who did not comply would be "named and shamed" – an evocative version of PHE's promise of "transparent and comparable data".
A conclusion one can draw from the meeting is the desire of the UK government to create a level playing field on the issue, reiterating to the foodservice sector it too will be expected to participate in trying to tackle rising childhood obesity in England, not just the retail and manufacturing sectors.
That will be welcomed by UK grocers that see the eating-out sector as competition for share of wallet. However, such a stance will also be welcomed by manufacturers that supply both grocers and foodservice customers and who will already be embarking on ways to cut sugar in the products they sell to the likes of Tesco and Wal-Mart's Asda.
South Africa's Famous Brands buys UK chain Gourmet Burger Kitchen
At the start of the month, South Africa-based foodservice operator Famous Brands announced another acquisition – and, this time, it returned to the UK burger sector.
Famous Brands said on 1 September it had struck a deal to buy GBK Restaurants, the owner of the Gourmet Burger Kitchen chain, for around GBP120m (US$152.9m). The South African business described Gourmet Burger Kitchen as the "pioneer of the premium burger category" in the UK. Gourmet Burger Kitchen, set up in 2001, has 75 outlets in the UK and five in Ireland.
Kevin Hedderwick, Famous Brands' group strategic advisor responsible for M&A activity, said: "This acquisition will transform the future of Famous Brands. GBK is a best-in-class business and brand, with growing consumer equity, supported by a phenomenal leadership team."
Since 2007, Famous Brands has also been the owner of Wimpy, which was the largest burger chain in the UK in 1970s but is now a less fashionable, more price-conscious chain. There are now under 100 Wimply outlets in the country, a chain long ago usurped by McDonald's and Burger King and one that has seen a raft of smaller, upscale competitors enter the market in recent years (GBK being one) with more potentially on the horizon.
GBK gives Famous Brands one of the largest brands in the growing – albeit competitive – more upmarket, fast-casual parts of the burger business in the UK.
"Having GBK is of dual benefit," Fahhan Ozcelik, a foodservice industry consultant, says. "First, GBK is a reputable local UK concept to fit in the South Africa market, as well as fitting Famous Brands' aim to expand in Sub-Saharan African markets. Secondly, GBK has a well-penetrated base in the UK market to capture significant share in the fast-growing better-burger segment, which is estimated by Mintel to reach GBP3.8bn by 2020. Wimpy is unlikely to drive this growth for Famous Brands in UK with the increasing competition of US better-burger entries like Smashburger, In-n-Out and BurgerFi."
BurgerFi joins the 'better-burger' battle in the UK
On 22 September, up-and-coming US burger chain Burger-Fi opened its first outlet in the UK, in the north London district of Wembley.
The company, set up in 2011, has started to build an international business, with its first outlet outside the US opening in Mexico City last year. Last month, BurgerFi, which hopes to have a total of 100 outlets by the end of the year, added London to its locations. Next year, the company wants to open 35 more, including its restaurants in Panama and Kuwait.
In the UK, BurgerFi is working with businessmen including Jamie Wood, the son of Rolling Stones' guitarist Ronnie Wood. It aims to open a second outlet in central London later this year and has set a goal of having ten "throughout the UK over the next several years".
"Our … goal to open 100 restaurants is in sight, and adding a location in London is a significant milestone for the BurgerFi brand," BurgerFi CEO Corey Winograd said.
David Henkes, advisory group senior principal at US foodservice consultants Technomic, says the UK is "a competitive market but one that they can be successful in". However, he does have a note of caution for BurgerFi and other better-burger operators.
"Burgers are on trend in the UK marketplace, and we've seen other US players expand in the UK. For a chain with international expansion goals, the UK is a natural market to expand into, and consumers in London particularly are accustomed to high quality, premium burgers," Henkes says. "Supply/sourcing seems to be the biggest issue with many of these fresh high-quality burger concepts, and revenue needs to be high to cover the much higher rent and real estate costs."
US pan-Asian chain Pei Wei heads to… Asia
Pei Wei Asian Diner, the US business set up in 2000 that claims to be the "pioneering fast casual pan-Asian restaurant", opened its first location actually in Asia in September.
The Arizona-based company, part of the P.F. Chang's Bistro business owned by private-equity firm Centerbridge Partners, opened an outlet at Starfield Hanam, the shopping mall in Seoul and the largest in South Korea.
It is planning to open ten more outlets in South Korea by the end of next year.
"Pei Wei is the second brand of the globally popular P.F. Chang's Inc. who was brought by ELX F&B to the South Korea market. "South Korea's sophisticated yet practical customers are a perfect target for Pei Wei's simple, yet healthy and high-quality dishes," said Kwak Ki-hoon, CEO of Pei Wei's local partner ELX Food & Beverage.
The move could be seen as a way for Pei Wei to broaden its business at a time when sales in its core US market have been pretty flat.
"Pei Wei is struggling a bit in the US; in 2015 its sales were up a mere 0.6% on unit expansion of 6%," Technomic's Henkes says. "International only accounts for a small part of the business, but in a mature market here in the US many chains like Pei Wei look overseas for incremental growth opportunities. The challenge for Pei Wei is to be perceived as authentic in an Asian marketplace; by bringing many of the same popular menu items over that are successful in the US it risks being perceived as an American version of Asian food."
More casual-dining woes in the US
During the summer, we mentioned on these pages how the US casual-dining sector is one where a number of operators are under pressure. Liz Smith, the CEO of Bloomin' Brands, said in July the sector was continuing to see traffic decline, a trend she said the industry had seen for a decade.
In August, another US casual-dining operator, Ruby Tuesday, said it would shut 95 outlets by September. Last month, Ruby Tuesday announced those restaurants had closed – but it also announced the resignation of chairman and CEO J.J. Buettgen and gave some preliminary figures for the quarter to 30 August, the first of its financial year, in which its same-restaurant sales were down 2.7%.
However, September saw worse fortunes for other casual-dining operators. The owner of Zio's Italian Kitchen restaurant chain filed for Chapter 11 bankruptcy on 7 September. The 15-outlet chain said it would close five of the units, The Wall Street Journal reported.
But not all fast-casual operators are thriving
One of the factors in the decline of the casual-dining sector in the US is the rise of rival fast-casual operators, as American diners look for faster alternatives than casual dining, often with no table service, but with more upscale ingredients than fast food.
Broadly speaking, the fast-casual sector has gained at the expenses of casual-dining in the US in recent years but that is not to say every fast-casual operator has fared well.
Boston-based fast-casual business Cosi also filed for Chapter 11 in September. Cosi said it had already closed 29 of its 74 company-owned restaurants before the filing, while also agreeing on a sale to a consortium of its lenders and investment firm Milfam. The transaction is still dependent on Cosi meeting certain financial criteria.
"This was a difficult step but it was necessary to address our liquidity issues," said Patrick Bennett, Sr., the interim CEO of Cosi, said. "Cosi's core business and franchise base remain intact and we filed with the liquidity resources necessary to carry out the restructuring plan. We believe this process will allow the company to right-size its balance sheet, reduce its debt, and focus on improving the business and stabilising the brand."
In August, The NPD Group reported data for restaurant traffic in the US in the second quarter. It said the data showed fast-casual traffic was "flat" in the quarter to the end of June compared to the second quarter of 2015. The NPD Group cited the safety issues at Chipotle Mexican Grill as a factor in the slowdown and said fast-casual visits were up 2% once the operator was taken out of the numbers – but that compares to the 11% growth seen in the second quarter of last year.
Meanwhile, last month, one US fast-casual dining chain, Jimmy John's Sandwiches, announced it had sold a majority stake in the business to private-equity firm Roark Capital Group.
Jimmy John's, set up in 1983, has more than 2,500 outlets in 43 US states. The deal will see the chain's previous investor, private-equity firm Weston Presidio, sell its shares after being a shareholder for ten years.
Company founder Jimmy John Liautaud will remain the operator's chairman. He said: "I've spent two years getting to know the Roark team. They are best-in-class people that have the knowledge and expertise that will help us take this brand to the next level." The fast-casual chain says it has a "new-unit pipeline" of more than 1,100 locations "to be opened over the next several years".
Technomic's Henkes says: "Jimmy John's has been on a growth streak, up 16% last year and averaging 22% over the past five years. It plays in a desirable fast-casual niche and is known for extremely fast delivery and higher quality sandwiches. It's more or less reached nationwide penetration. Roark has been investing in restaurant brands for a long time and has a history of adding to its portfolio strong brands that generate growth and cash flow. Earlier investors had been looking to cash out so this is an opportunistic investment by Roark in a brand that continues to be on trend and still growing at a significant rate."