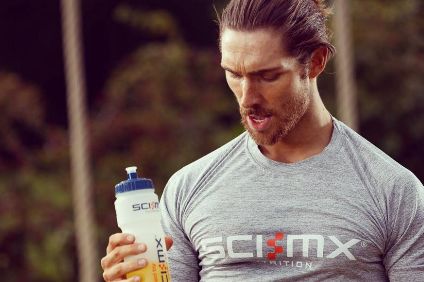 In part two of our look at the UK sports nutrition category, Andy Coyne takes a close look at the opportunities in the market and at threats to its continued growth.
As we outlined in part one of this feature yesterday, the sports nutrition category in the UK has grown rapidly over the last few years on the back of rising interest among consumers in health and lifestyle, a greater awareness of the nutritional properties of certain ingredients, government initiatives to make food healthier and the food industry's desire to meet increasing demand for such products.
It is tempting then to think as we move forward the supermarkets will increasingly fill up with power bars, healthy snacks, protein-enhanced products and the like. Things are rarely that simple.
But certainly some of those working in the sports nutrition category are confident of future growth, while accepting trends within it may change.
Max Dawson, senior brand manager at Samworth Brothers-owned Sci-MX Nutrition, sees divergent paths lying ahead.
He said: "The market is evolving and will separate into nutrition for hardcore gym users and the mass market which is where we are taking our products.
"With powders and capsules we are making sure we have something easily accessible for consumer to buy into, so not two kilo tubs but 450g bags.
"And we are trying to make our products more 'science simple' to avoid consumer confusion."
Alan Barratt, CEO at fellow sports nutrition business Grenade UK, sees a healthy future for the business and the broader category.
"There is a big driver around health and reducing sugar. Consumers want better health and longevity and I don't see that changing," he says.
"Gyms have gone through several recessions and yet people hold on to their memberships. The way people exercise can be faddish but people still try to do it in different ways."
Industry watcher John Stapleton, a food entrepreneur who brought brands such as New Covent Garden Soup Co. and Little Dish to market, tends to agree with the positive outlook but sees change on the horizon.
"The overall trend is to focus more on personalised nutrition. People understand that one size doesn't fit all," he says.
"Diet is very personalised and people are beginning to understand that. They are beginning to search out more individual solutions. But as the market is growing it is becoming more confused. It is not just the traditional sport enthusiast, it is now also healthy snackers.
"There is also the free-from part of it where it is about what to avoid in your diet and the clean eaters who search the back of packs. All four groups are now looking for supplements in a natural part of their diet, not in a bottle. It's an increasingly informed area of the market."
Taste will also be increasingly important as products appeal to consumers who are not used to traditional gym nutrition products.
Stapleton puts it bluntly. "The need to reduce sugar has driven the trend but it still needs to taste good," he says. "It's no longer acceptable for health and diet products to taste like crap."
The success of non-specialist sports nutrition products in the future is closely linked to how they are handled by the UK's major supermarket chains but supermarkets also provide competition through own-brand products.
Barratt at Grenade UK says: "We would hope that we would be the aspirational brand. We're not trying to be the cheapest in the market which is what supermarkets will always try to do. The plan is to have our products everywhere in the UK where you can buy a Red Bull, which is a well-distributed popular product."
Dawson at SCI-MX, says: "It is about targeting impulse purchasers.. This is a big shift for retailers and the market. Some retailers have moved away from own label products. For others it is price sensitive and they may end up bringing people into the market who might then trade up to other products."
Food entrepreneur Stapleton thinks retailers are now getting to grips with sports nutrition but admits that the category is a sprawling one.
"It is quite confusing for consumers when there is such a wide variety of products and lots with the word protein," he says.
"Retailers have realised this and they are trying to merchandise the product in a way that the consumers can see them and use them."
He has an idea of his own as to how retailers can further bring sports nutrition products into the mainstream.
"I think they need to revolutionise the whole 'meal deal' approach which typically offer sugary drinks," he says. "If they market more combinations with sports nutrition and health and wellness products that will appeal to more people."
It would be wrong, though, to suggest the future of the sports nutrition category is without threats.
Research organisation Mintel, which analysed the category last year in its Attitudes Towards Sports Nutrition, UK report, said: "Sports nutrition continues to enjoy growth thanks to it having attracted a more diverse user group; however, the category is facing intensifying competition from mainstream foods embracing a high-protein proposition.
"Demand for sports nutrition products made with all-natural ingredients and those without sugar highlight areas of focus for brands going forward."
Mintel pointed out a shift is taking place in the market between channels, with High Street specialists struggling while many operators are investing in their online presence.
The researchers see budget squeeze and an ageing population being among the challenges facing the category.
They said the predicted income squeeze is likely to see consumers become more budget-conscious. "This could hit sports nutrition as usage is significantly lower among consumers who describe their financial situation as poor than those that see theirs as okay," the Mintel report read
"The outlook for the market is mixed. Apart from the ageing population and budget squeeze, sports nutrition products also face intensifying competition from the growing number of high-protein mainstream foods," Mintel said.
Meanwhile, it pointed out there has been no 'up-tick' in exercise. "While a third of consumers (34%) believe that they are healthier than they were a year ago, this is failing to filter down to exercise habits. Overall exercise frequency among consumers has seen little change over the last two years," it said.
Mintel said the frequency of exercise declines among over-35s, as does usage of sports nutrition products, falling to just 6% of over-55s. "Therefore, the UK's ageing population poses a notable challenge for this market," it explained.
In what could be seen as a positive as much as a negative, Mintel also reflects on the fact 64% of users say they always read the ingredients list before buying a new product. "This highlights the need for operators to respond to concerns around specific ingredients. For example, nearly half of users avoid sports nutrition products with sugar and three in five choose products based on the protein source," it said.
Finally, it suggests the popularity of balanced diets could curb protein appeal.
Nearly half (48%) of adults think there is no need for extra protein in a balanced diet, potentially making high-protein foods surplus to requirements, it said. "An element of scepticism over ingredients is raised when protein is added to products, with two fifths of adults expressing concerns."
But Mintel's conclusion is largely positive. "Sports nutrition brands continue to report growth as the category has widened its appeal and attracted a more diverse user group," it said.
Grenade UK's Barratt takes a straightforward view of why sports nutrition products are likely to continue to prosper.
"The only way it will change is if people suddenly say they want to be unhealthy and die early," he says.