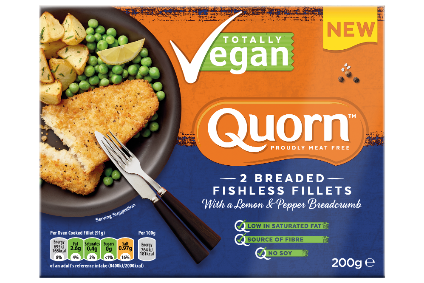 Andy Coyne takes an in-depth look at the UK vegan food category, which has grown rapidly in recent times.
To state the obvious, vegan food products are omnipresent in the UK at the moment – from faux sausages and burgers to meat-free haggis and dairy-free ice cream, through plant-based jerky and snacks to ready meals. The products are in chilled and frozen and creeping into ambient. They are in supermarkets, corner shops, garages and, increasingly, in foodservice.
Fast food giant McDonald's is offering vegan options in the UK and ubiquitous High Street baker Greggs has teamed up with meat-free manufacturer Quorn Foods on a vegan sausage roll.
The UK has now overtaken Germany – seen as a vegan food outrider – on the launch of vegan food products. Indeed, the UK-based The Vegan Society notes in 2018 the UK launched more vegan products than any other nation.
One in six products launched in the UK in 2018 carried a vegan claim, the society notes. The total value of the UK plant-based market in 2018 was GBP443m (US$580.2m).
Products are being launched from all quarters with retailers' own ranges competing with vegan specialists, plant-based food start-ups and mainstream food businesses that have decided they want a piece of the action.
And it's easy to see why. Tesco's line of 20 Wicked Kitchen vegan meals was rolled out at 600 of its stores at the start of 2018 and sold more than 2.5m units in the first 20-week period ending in May 2018 – more than double the company's sales projections.
Such results may be why fellow 'big four' supermarket Sainsbury's is now selling vegan and vegetarian versions of meat next to real meat products. Those looking for meat-free products will no longer have to search them out – they will be sitting alongside the steaks and sausages.
So why is it happening? Well, it's not because the population of the UK has gone vegan, ditching meat and dairy completely. The Vegan Society reveals there were 600,000 vegans in the UK in 2018 and, while that figure is increasing all the time, it is only 1.16% of the population, nowhere near enough to justify all the product launches.
But it also cites a statistic that one in three Brits have reduced their meat consumption and this is key. Vegan product manufacturers are targeting the 'flexitarian' or meat-reducer market, the people who take part in Meatless Monday or simply decide for one or two days a week they will go meat-free.
These are the same people who have made the Veganuary campaign – where people eat vegan for the month of January – such a success. It grew by 183% in 2018, with 168,500 participants, according to The Vegan Society.
The society points out that 35% of British consumers say they make a point of regularly having meat-free days and that 31% say they have cut back on red meat in the last 12 months for health reasons.
As Ross Mackay, co-founder of plant-based start-up Daring Foods puts it: "We don't need more vegans in the world we need more meat eaters to eat less meat."
But while everyone is caught up with the vegan product launch frenzy, the question everyone is trying to answer is whether this is a fad or a new norm.
An interesting statistic from research and analysis organisation GlobalData's Q3 2018 survey is that while 3% of UK consumers say they are following a vegan diet, amongst millennials it is 8%. If this is a fad, it's one that would seem to have a lot of support from the younger generation.
In its survey of a year earlier, GlobalData asked millennials for the main reasons they would consider eating "vegan meat". While 25% said it would be for ethical reasons (thinking it wrong for animals to be killed for our food), 26% said it would be environmental concerns and 24% cited health reasons.
It is this meeting of megatrends which is driving the vegan food market in the UK and it is that which convinces food producers, retailers and industry analysts that, far from being a fad, vegan is undisputedly part of a new norm.
Lia Neophytou, a consumer analyst at GlobalData, said: "It is really broadening out. Vegan products are not driven by veganism itself but much more about health and well-being.
"There is a perception that vegan food can be healthy because it fits in with increasing the amount of fruit and vegetables you consume. And it is also seen as sustainable. The drivers are more holistic rather than being just about ethics."
But from a product manufacturer perspective, the amount of competition in the market and the limited shelf space in retail outlets means they have to be able to differentiate themselves to stand out from the crowd.
And this is as true for foreign entrants coming into the UK market as it is for local businesses.
Nicola Yates, UK marketing manager at South African plant-based business Fry's Family Foods, says: "The market is very buoyant at the moment. People are talking about it not as a trend but as a lifestyle choice.
"We think it is about authenticity and the quality of the product. It is about trying to improve the environment and animal welfare. All brands coming to market are helping the category and that's good for all of us but people are looking for provenance."
Some of Fry's product range – which include vegan prawns, schnitzels and sausage rolls – has been launched in 500 Sainsbury's stores and its lines are also available in Morrisons.
Hitting the big four retailers is still the holy grail for vegan food businesses.
The aforementioned Daring Foods, based in Scotland, is "having very serious conversations with all the major retailers," according to co-founder Mackay.
"We differentiate ourselves by having a bigger mission, he says and the company uses the line 'saving the planet has never been this tasty'. We are very happy that lots of companies are coming to the market. It makes plant-based more accessible and helps the overall mission," Mackay says.
"Plant-based is only going to grow and we are likely to see more and more options in the supermarkets. It's going to be a battle and we are excited by it. These are very exciting times."
Someone who knows all too well about the challenge of getting big four supermarket buyers to list the products of new market entrants is Eric Woods. His Liverpool-based business Worldwide Food Associates is an importer and distributor of food brands including, most recently, the US shelf-stable plant-based 'seafood' brand Loma Linda, owned by Atlantic Natural Foods.
As a former sales director of Princes Foods, Woods has dealt with supermarket buyers for many years.
He said: "We [Loma Linda] are negotiating with all the major retailers in the UK at the moment and they are all very interested in the product. We are hoping to confirm listings over the next eight weeks."
Woods notes what he describes as an "explosion in plant-based products in the last 18 months".
He adds: "There are new product launches every day and stories about veganism everywhere. I get inundated with new products.
"Retailers are not doing their jobs properly if not picking up on this."
He believes Loma Linda can differentiate itself as most of its plant-based rivals are in chilled and frozen
"Nothing as yet has really entered the canned or packaged category," he says. "After the US we are the second largest market for consuming tuna and yet there is not as yet a tuna alternative in the market. That is what we are doing."
One UK company which is able to cast an expert eye over the meat-free space is Quorn Foods, which has been manufacturing its mycoprotein-based products since the mid-1980s.
While not traditionally vegan, as many of its products contain eggs, Quorn – owned by Philippines food-and-beverage group Monde Nissin – has picked up on the trend and has increasingly moved into the vegan area with its new product development, including its recently launched Fishless Fingers.
Alex Glen, Quorn's UK marketing director, says: "The overall message is meat reduction. We are supporting vegan where we can. With product launches, we try to produce vegan food but we need to deliver taste and texture and that is not always easy so it will be a mixture."
Glen said Quorn welcomes all the new kids on the block.
"It's a growth market and more players are coming in," he says. "It's now everything from ready meals to snacking. We launched a vegan deli range last year and it's doing very well. We believe it is an upward trajectory, based on health and sustainability. The game is getting bigger."
In part two of this feature, to be published tomorrow, we will look at where the category is likely to head next and highlight any barriers to growth.