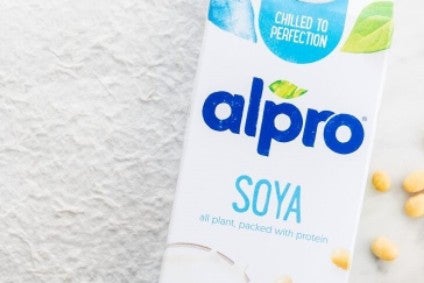 Danone has bowed to investor pressure by moving to separate the chairman and CEO roles held by Emmanuel Faber, with a plan for him to step down as chief executive. But markets – and one of the activist shareholders – have reacted unfavourably to his appointment as non-executive chair. Simon Harvey looks at the implications.
It could be a long wait before Danone is able to find a suitable, yet willing, candidate to replace Emmanuel Faber as chief executive, adding to the uncertainty and disappointment surrounding one of the world's largest dairy companies.
And the French giant risks further irking agitating investors, and longer-term shareholders alike, should its board opt for an internal appointment rather than a new face with a fresh outlook.
Danone, or more precisely Faber, has succumbed to pressure exerted by London-based Bluebell Capital Partners and New York-listed Artisan Partners in separating the chief executive and chairman functions, two roles that had been held by the Frenchman. While Faber has had those positions for coming up to four years – becoming CEO in 2014 and chairman in 2017 – the set-up had attracted criticism from some investors, due to the perceived constraints on corporate governance and an undercurrent of dissatisfaction with his strategy and financial performance.
Faber's decision to step down as CEO once a replacement is found has been generally welcomed by the investment community but the creation of a new role for him as non-executive chairman has done little to allay concerns over governance and particularly whether the incoming CEO will be given a free-hand to stamp his/her authority on strategy and decision-making.
And those concerns have been amplified by what many analysts deem to be an unusual dual vice-chairmanship role, at least for the packaged foods industry. Cécile Cabanis, Danone's former finance chief who stepped down in October and a 16-year veteran at the business, was named vice chair only two months later in December. She is now to be joined by Gilles Schnepp, an independent board member at Danone, who has also been appointed vice chair.
Essentially, it could be argued Faber will still be steering Danone's course but from a different driving seat, with a familiar passenger in Cabanis. But the reasoning behind Schnepp's appointment as joint vice-chair is unclear, other than to perhaps better balance the ship.
"This is not a clean break. It leads to one of two options: either a CEO in name only who executes the chairman's plans, or a repeat of this tense stand-off with shareholders a few years from now," Bruno Monteyne, an analyst at asset-management firm AllianceBernstein, wrote in a research note yesterday (2 March), in the wake of Danone's plans being announced on Sunday evening.
Free hand for new CEO?
The management shift might arguably be construed as a halfway house. While one of the boxes has been ticked in terms of the executive change, there was no indication of any amendment in strategy to placate the investors, who have been urging for a concrete plan, with sufficient legs, to arrest an undervalued share price based around what analysts say is an unimpressive financial performance and under-investment in brands and innovation.
"What can change if you have the former CEO who has been running the strategy for the past half a decade and you've got the former CFO as vice-chair? That's a sign of continuity to me," Vincent Lee, a colleague of Monteyne at AllianceBernstein, tells just-food. "Whilst Faber is taking a step back from any day-to-day running of operations, he ultimately still has a huge sway on the board's position of what strategy to pursue. This kind of goes halfway to what Artisan wanted. I think that the frustration is still there and they [Danone] are not really answering the desires of the major shareholders."
On the now vacant CEO role, with Danone's strategy already been put in motion by Faber, and supported by the board, Lee asks: "Who's going to want to take this job?"
Martin Deboo, an analyst at investment bank Jefferies, shares similar reservations.
"This is likely to constrain the freedom to act of any CEO, particularly if they are promoted from inside the company," Deboo wrote in a research note. But he was more sanguine over the management switch: "Faber's continuing role as CEO has been the focal point of dissatisfaction…So his decision to step down as CEO will be seen as a positive step, in our view."
But speaking to just-food, Deboo also throws in a caveat that the management shift may be a way of ensuring a subtle exit for Faber further down the line after seven years running the EUR23.6bn (US$28.5bn) revenue business as CEO.
"To what extent might it be a transitional arrangement which gives Faber a face-saving, slow exit?"
"To what extent is this a permanent new arrangement? The negative scenario implies Faber could now be chairman of Danone for the next five or even longer years. Or to what extent might it be a transitional arrangement which gives him a sort of face-saving, slow exit on a one- to two-year horizon. And, also, what we don't know is what is Artisan and the other shareholders' next move?"
Deboo made those comments before Bluebell announced it was unhappy with Faber essentially remaining as chairman, and has called for his removal. The investor instead wants to see the appointment of an independent chair before a new CEO is hired.
Meanwhile, Artisan, Danone's third-largest shareholder with 3% of its shares, is reportedly calling for a reshuffle of the board without any former executive members.
An Artisan spokesperson responded to just-food's request for comment: "We note the latest developments and will respond in due course."
Pressure from the agitating shareholders is likely to persist, according to Deboo, who agrees it's "going to be difficult", in the context of events, to find a CEO willing to take on the job.
"Each quarter is going to be closely scrutinised," he says. "A reflection on the whole process is, on the one hand, it was right that shareholders became more active because what was happening couldn't go on. Whoever is the new CEO is going to find themselves constrained by the presence of Faber as chairman and with Cécile Cabanis also on the board. But, on the other hand, let's not underestimate that a new CEO at Danone for the first time in seven years is quite a significant event."
Poor financials
Pressure on Danone and Faber over the financial performance started to mount in October, after a poor set of nine-month figures. And the annual results issued in February for the year through December weren't inspiring either.
Sales fell 6.6% on a reported basis and were down 1.5% in like-for-like terms at EUR23.6bn. The recurring operating margin dropped 117 basis points to 14%, and declined 150 points in like-for-like terms. Reported net income climbed 1.4% to EUR1.96bn.
Division-wise, sales for Essential Dairy and Plant-based, or EDP, rose 3.4% on a reported basis, the highest rate since 2012, and were down 2.6% like-for-like. But Specialised Nutrition sales fell 0.9%, reported, and dropped 4.8% like-for-like. Waters, an area of contention, declined 21.1% and 16.8%, respectively.
Danone's shares are down circa 11% over the last 12 months with negative sentiment ensuing around the recent performance in profits and margins and a claimed lack of reinvestment in the business, despite Faber's announcement in November that he was adopting a strategy focused on a "local-first" culture designed to spur relevant innovation in individual countries and improve financial metrics. He's also in the process of eliminating around 2,000 underperforming SKUs, or about 20% of the portfolio to focus on high-growth areas, and potentially up to 2,000 job cuts to save costs.
Still, the stock price headed into the red in early trading yesterday (2 March) and closed down 2% at EUR56.12 on the back of Sunday's announcement, even though some analysts said they would have expected the shares to rally on Faber's departure on expectations a new face would bring a different approach. It was moving south again today having started higher.
A new CEO will have to be a "strong character" in nature to stamp their mark at Danone, suggests Alain Oberhuber, an analyst at financial services firm Stifel, who recently advocated a number of disposal options for the business, including certain underperforming assets in water and infant nutrition, and selective dairy brands, excluding Activia, Danone and Actimel. But he also used the phrase "muddling through" to describe the worst-case scenario for Faber.
"I think the market is disappointed because at the moment none of the analysts, and neither do I, have a strong person of character [in mind] who is available that could step in immediately," Oberhuber tells just-food.
He continues: "If it's a strong character then they will come in and say 'a complete divestment of the waters business and focus on plant-based and infant and medical nutrition'. Or the other scenario is that he says 'I will really go into all these different brands and divest all the underperformers in all the different segments, doesn't matter where, but probably mostly in waters.'"
Reinvestment is key
Monteyne at AllianceBernstein says in his research that "during the CEO search, Mr. Faber will continue the execution of the controversial 'local first' plan".
But Jefferies argues it's a sound plan, in contention with Artisan's view. "Shareholder Artisan is unhappy with the plan and have advocated a global category approach. We disagree, reflecting our view that pressure from focused local competition has been at the root of Danone's problems," Deboo wrote in his commentary of events.
Potential management and business constraints aside, and Danone's plan to unwind its stake in China Mengniu Dairy Co., AllianceBernstein's Lee says growth should be the priority for the incoming CEO.
"Ultimately, the big elephant in the room is, can you reinvest in the brands?"
"Ultimately, the big elephant in the room is, can you reinvest in the brands? There's been no discussion on changing the strategy and really doubling down on investing in growth, which is probably the main crux of Artisan's argument – they've been underperforming their peers for the last decade," he explains. "For the long-term health of the business, that's what ultimately needs to be done. You can't continually under invest in brands and hope that consumers will come back when all your peers are investing more intensely."
Lee suggests Danone, Faber or any new CEO need to relax a touch on margin aspirations in order to drive the company forward in terms of growth and gain market share over competitors.
"This is a company that has grown around 3%, severely underperforming its category peers and losing market share over a year. I want to see them focus more on growth, acknowledge the problems, invest into the margins. If you look at their level of brand investment over the past decade it's fallen dramatically, whilst the industry has stayed relatively flat. We think they need to go through a period of something like 200-250 basis points of lower margins in order to get back to competitiveness."
The AllianceBernstein analyst also plays down the planned cost-savings at Danone as a means of improving shareholder value because it's not unique to the dairy giant and investors are after more. Lee also holds a similar view for the SKU rationalisation in place, saying it's not the number itself, but the investment going into new innovation that's important.
"If you look at the grocery store as a whole, the number of SKUs are falling. The problem is not in the number of SKUs, the problem is innovation. Realise that margin growth is great but, ultimately, it should not come at the cost of underinvesting in your brands and destroying brand equity. It really needs to be focused on growth, growth and growth."
Stifel's Oberhuber says it may be business as usual at least for the next three months until a new CEO is identified, but the process could very well take longer, if they can find a suitable and willing candidate at all. So it looks likely, at least in the near term, that the current environment will be dominated by the agitating investors. But will Faber succumb to their demands to step down as chairman, in whatever form? Only time will tell.
Once that roadblock can be untangled, all eyes will be on an incoming CEO.
"A good hire will be taken well by the market," Lee says. "Even if you hire the most amazing CEO, their hands are tied because Faber's still the chairman and Cécile will still be the vice-chair. You are really not going to want to tarnish your legacy if you know what kind of situation you're getting yourself into."