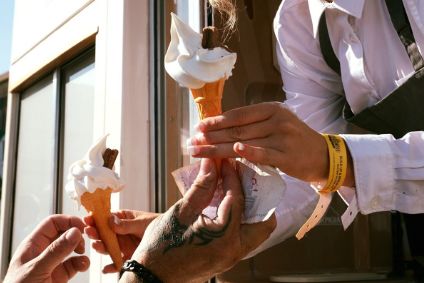 Flat sales and a guidance withdrawal no doubt weighed on Unilever's shares but, digging down, how did the Wall's ice cream maker's food business perform in Q1? And how does the FMCG giant view the rest of the year – and beyond? Dean Best reports.
Given Unilever posted flat underlying sales for the first quarter of the year – and withdrew its financial guidance for the rest of 2020 – it's not much of a surprise the Magnum owner's share price wilted a little today (23 April), closing down more than 1.7% in London.
What lay behind Unilever's sales performance in the opening three months of the year? What are the company's thoughts on the trajectory of its margins throughout 2020? And, most pertinently, how does it believe the post-Covid-19 consumer could behave?
Food sales turn stale
Overall in the first quarter of 2020, Unilever posted flat group-wide sales, resulting in a turnover of EUR12.44bn (US$13.45bn) versus EUR12.42bn a year earlier, with volumes up 0.2% but pricing down 0.2%. The group result was below analyst consensus of growth of 1.7%.
Market watchers looking for a common thread as they weigh up the performance of food manufacturers in Q1 might have expected the sales from Unilever's food and refreshment division to have risen year-on-year.
Within Unilever's Foods and Refreshment division, underlying sales declined 1.7%, with volumes down 1.8% and positive pricing of 0.1%.
Like many of its peers, the part of Unilever's food business that supplies the retail channel felt the benefit of pantry-loading, notably in North America. However, Unilever has sizeable operations in the out-of-home sector, a channel that, of course, has been hit worldwide as governments impose lockdowns to try to curb the spread of the novel coronavirus.
Unilever's out-of-home ice cream unit, as well as its foodservice-focused food solutions business, suffered during the quarter and were the main factors in the decline of the division's sales. The Cornetto owner makes about EUR3bn each year from its out-of-home ice cream business. Its Unilever Food Solutions foodservice arm generates a further EUR2.5bn.
"All the markets are different but we've typically seen out-of-home ice cream sales decline by 50% or more when a country moves into lockdown and tourist and leisure destinations are closed down," CFO Graeme Pitkethly told analysts today. "We also have a … global foodservice business, which is also heavily impacted as cafes, restaurants and canteens close. We're typically seeing sales declines of around two-thirds when a lockdown happens in our foodservice channels."
Manufacturers supplying the foodservice market will be closely watching how consumers in China are reacting to the easing of lockdown measures. Unilever had a nuanced take. "Chinese consumers … are not yet going back to how things were before," Pitkethly insisted. "There's a new normal emerging, such as the attitude of consumers to return to out-of-home dining. Although the restaurant opening rate continues to increase – and is currently sitting at around about 60% – the capacity utilisation is capped at somewhere between 50 and 70% to ensure the physical distancing is maintained in those restaurants."
What's Unilever's out-of-home outlook?
Three weeks into the second quarter and with much of the planet still under lockdowns, Unilever is realistic about the near-term prospects for its out-of-home operations, even as some countries start to relax restrictions and others set out plans to ease their curbs next month.
"I believe that in Q2 we'll see a substantial effect from out-of-home ice cream and restaurants remaining closed and that'll have an impact on Food Solutions," CEO Alan Jope said.
"This is a difficult time for our Food Solutions business and in particular the out-of-home ice cream business as we go into the summer. I think it's likely for those two businesses in particular things will get more difficultly before they get better."
As Pitkethly noted, some 70% of the sales Unilever generates from its out-of-home ice-cream business are made in the second and third quarters of each year "with the second quarter the biggest".
Unilever's retail boost
Unsurprisingly, Unilever did see its sales to retailers grow nicely in the first quarter as consumers stockpiled ahead of lockdowns. Even after the initial flurry, the retail channels in a number of markets have seen an elevated level of demand as eating occasions normally made outside the home shifted indoors.
The Knorr owner said it saw its strongest quarter in the US for eight years, with Pitkethly saying the company's sales to "mainstream retail" up more than 7%.
Unilever, also home to Hellmann's mayonnaise, said it saw "volume-led growth" in its savoury and dressings business. Knorr sales grew at a "low-single-digit" rate, while Hellmann's grew by double-digits.
And, as you'd expect, Unilever provided some commentary on the growth of its grocery sales online. "E-commerce grocery sales have rocketed," Jope said. "For example, in the US, we've seen our e-commerce sales doubling in Q1. As a total company, e-commerce sales increased by 36% in the first quarter."
Unilever's response to analysts' margin scrutiny
Almost exactly three years ago, just weeks after Unilever received – and rebuffed – a takeover approach from Kraft Heinz, the Anglo-Dutch group set a target to improve its group margins.
Back then, Kraft Heinz's strategy of ramping up profitability through a laser focus on costs had made investors sit up and take notice and, if Unilever was going to turn down the ketchup and baked-beans giant, some in the market wanted the company to make moves on its margins.
In April 2017, Unilever announced it wanted to achieve an underlying operating margin of 20% by the end of 2020. By the end of 2019, it stood at 19.1%.
With Unilever withdrawing its financial guidance for 2020 and its Q1 sales coming in below expectations, perhaps it's understandable a number of analysts on this morning's conference call pressed the company for information on how it saw its profitability developing this year, as well as whether the target was still in place.
That said, with the business having to deal with one of the biggest shocks to the consumer-goods system in generations, one could argue the market would be better off taking a longer-term view.
Asked whether the 20% margin target was still "relevant", CFO Pitkethly said: "It just doesn't make sense to focus on a target that was set well before the global crisis hit. I would point out we were very much on track with the margin. We were mostly done to be honest. Now our focus shifts to managing cash, just through the period on the short term impact of the crisis and, within that, margin is just one part of cash delivery."
Pressed on whether Unilever expects its margins to be hugely down in the first half, Pitkethly added: "In many ways, it's important to recognise we will run this business to optimise the long-term value of the company and the health of the company and that means that the margin, I'm afraid to say, is going to be as much an output of the actions we take, not a specific input. We've got to manage to make sure our people are healthy and safe and that our products are finding the way to consumers. We'll do whatever it takes to make sure we do that healthily. I don't think though that actually leads to a strongly negative margin position for the first half. You're sort of a hostage to fortune here but I don't think that's the case."
Pulling cost "levers"
Like Danone earlier in the week (which also pulled its financial guidance for the year), Unilever sought to emphasise it is looking very closely at its cost base as it navigates the volatile trading environment.
Any frustration in the market at the lack of visibility around the near-term trajectory on Unilever's margins is, to some degree, understandable but the company did give a lot more detail on its sales performance and outlook than it usually does in trading updates and was keen to show how it can, looking ahead, see benefits on cost, even as expenses increase due to, for example, social-distancing in factories.
"Margin's an outcome of doing the right things for the long term of the business. But, also, we've got tonnes of cost levers we can deploy at this time," Jope said. "Whilst there might be some increased costs from the factory standard operating procedures, media rates are plummeting and so we can get our reach and frequency goals on the media front at significantly lower cost.
"Things are swinging around wildly on the cost lines and we have many, many areas of flexibility. All those decisions will be driven by long-term thinking and not zeroed in on a particular short-term margin target, which, by and large, by the way, we had already more or less hit."
The post-Covid-19 consumer
Trying to predict consumer behaviour now, let alone when lockdowns are eased and the economic storm clouds gather, is difficult. But, when speaking to the market, FMCG chiefs are expected to try to paint a picture of how they see the landscape taking shape.
The notion of "value" will rise up the consumer's agenda as the macroeconomic impact of the Covid-19 pandemic hits spending, Jope said.
"From a consumer perspective, I think there's absolutely no doubt that there's going to be lasting changes on the importance of value. I think we are going to go into tough economic times for an extended period," he explained.
The Unilever veteran echoed comments made this week by Danone CEO Emmanuel Faber that larger brands could benefit as consumers adjust after the Covid-19 pandemic but he also highlighted how the concept of value would mean consumers more often look for lower-priced options. "At these times, consumers do seek the reassurance of big, familiar, trusted brands and high-quality products. We always see this in a crisis but in this case, in the aftermath, we do anticipate some trading down to more value-priced brands because we are facing an inevitable economic downturn."
Naturally, Unilever's management was pushed on whether it had the right portfolio to match those demands for value. "We understand very, very deeply the attractiveness of making brands affordable to consumers," Pitkethly insisted. "I don't mean just 'value' brands themselves. I also mean premium brands that are available at affordable price points to allow people to still buy a more premium brand at an attractive price point, [the] pack size etc. That's what we're very, very good at around Unilever. It's fair bet that the global economy is going to be deeply challenged in the year ahead. There'll be recession. I think we're well-equipped as a business to deal with that.
Jope also put forward another macro consideration that would shape consumer habits. "We're pretty confident that anything that's in the space of wellness – health and well-being – is going to enjoy sustained strength," he said. "Those are some of the consumer bets. There are others that I don't really want to mention because we think they're a bit proprietary, those insights, from our extremely good proximity to consumers. They're also in many cases sometimes local."
In all, the first quarter proved more challenging for Unilever than some of its peers and the company did warn of continued short-term pressures for some of its larger food business. Nonetheless, Unilever's management sought to reassure the market it can adapt to prosper in what is likely to be a challenging consumer landscape.
Not everyone in the financial markets agrees. "We think that Unilever probably has the weakest portfolio – compared with Nestlé and Danone – to be able to sail through this Covid-19 crisis," MainFirst's Alain Oberhuber wrote in a note to clients today. "Unilever has a high exposure to emerging markets (60%), larger exposure to food service and out-of-home consumption (mainly ice cream), less exposure to the long-life shelf category and categories that are resilient to consumer downtrading, which together make the company more exposed to a slower organic growth rate."