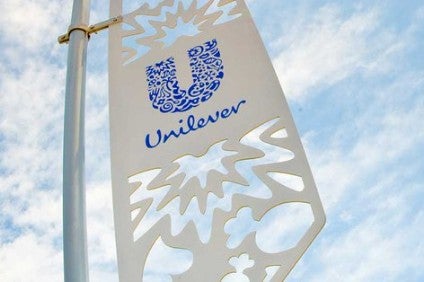 Last week, Unilever's senior management, including outgoing CEO Paul Polman and successor Alan Jope, was in Mumbai for the company's annual investor day. just-food presents what you need to know from the two-day event.
Whether by serendipity or planning, Unilever's top brass was in India last week at the same time the company announced its eye-catching takeover of a clutch of food-and-beverage assets from GlaxoSmithKline.
In Mumbai, the FMCG giant held its annual investor day, giving analysts the chance to quiz the company's senior management, including outgoing CEO Paul Polman and successor Alan Jope, on the Magnum, Knorr – and now Horlicks – maker's strategy. To our minds, there were six key takeaways from the event.
New CEO Jope and being "future-fit"
At the event, Alan Jope, the Scot set to succeed Paul Polman at the turn of the year, presented in his function as head of the Dove soap-to-VO5 shampoo owner's beauty and personal care division. He did, however, reflect briefly on what he wanted Unilever to be (after saying his "first order of business" would be "to listen carefully to many of the stakeholders for Unilever and especially to the investor community – some of whom, at times, expressed disquiet at parts of the company's strategy under Polman).
And those that did have a gripe with Unilever's corporate social responsibility agenda under Polman may not have been too happy with Jope's next line.
"I fully intend to honour and respect the enduring values and culture of Unilever," Jope said.
Nevertheless, the Unilever veteran said there was "no chance of us backing down on our 2020 commitments", which involved a target on margins.
He added: "We'll be talking about an agenda that's driven by two thoughts the first is remaining a purpose-led company. Unilever's commitment and purpose will remain very much focused on sustainable living.
"But the second half of purpose-led is to be future-fit and some of the areas that we'll be working on are making sure we have a fully future-fit portfolio; ensuring we're leading the transformation to a future-fit digital business end-to-end; that we have a strong performance focus in the company, including on our efficiency programmes; and that we have a future-fit organisation and culture."
just-food analysis: What could feature on to-do list of new Unilever CEO Alan Jope?
Accelerating sales from food
At the start of 2018, Unilever formally combined its food business with its refreshment (for that, read ice cream and tea) division, creating a unit generating around EUR20bn (US$22.77bn) in annual sales from four parts: more than EUR7bn from the condiments-to-seasonings food business, a little under EUR7bn from ice cream; more than EUR3bn from tea and roughly EUR2.5bn from Unilever Food Solutions, the unit selling to the foodservice channel.
Speaking in Mumbai, Nitin Paranjpe, the president of Unilever's food and refreshment division, said the enlarged division had – excluding the spreads unit sold to KKR last year – put in a compound annual growth rate of 3% from 2015 and 2017. "That compares reasonably favourably with many of our peer group players," Paranjpe asserted.
In the first quarters of 2018, the underlying sales growth from the division was 2.3% in the first quarter, 2% in the second three-month period of the year and 3.2% in the July-to-September quarter.
Paranjpe told the audience the "food market" is growing "at about 4% per annum" and Unilever, he said, wants to "step up" the rate of growth from the division.
The company, which has sought to reshape its food offering organically and via M&A in the last 18 months, wants to "transform" its product portfolio, Paranjpe explained, which means "incorporating more and more of the trends and preferences" consumers are adopting. He pointed to areas such as cleaner labels and to plant-based foods.
Paranjpe also cited two channels where Unilever believed it had a chance to boost its sales – e-commerce and foodservice. "Between these two opportunities in the medium term, it could easily be up to a EUR1bn [sales] opportunity we see."
Accelerating margins from food and refreshments
Unilever's food and refreshments arm generated an underlying operating margin of 16% in 2017.
As a whole, the consumer-goods behemoth is targeting a group underlying operating margin of 20% in 2020.
Paranjpe said Unilever is looking to get the margin from its food and refreshments business to 21%. However, he also acknowledged Unilever would need to invest in the division if it wanted to shape its portfolio to today's – and tomorrow's – consumer needs.
"The transformation of our costs is absolutely critical for us to think about," Paranjpe said. "In order for us to transform our portfolio with speed [and] shift to new segments, it is likely we'd have to invest. It is likely that there will be in the early days an impact on our margins in that move – but one we have to do because we won't have a portfolio which is right for tomorrow.
"And yet we need to make sure we are in the position to increase the margins by about 500 basis points. We have over the last year or so put in place a very comprehensive end-to-end solution, which looks at structurally reducing our costs of supply chain and] our overheads and is looking to have a sharp step-up in our ongoing value improvement programme.
"The combination of these three we believe needs to give us sufficient headroom to reinvest in the business for the portfolio transformation and the competitive battles and some of the capability building that is required, leaving behind 500 basis points that flow into the bottom line."
Paranjpe did face a question from the audience about why Unilever was confident it could hold on to as much of the savings it believed it could, given the changes the food industry is undergoing.
"You're being extremely bullish on the retention rate. When I think about the disruptive threats in foods I'm wondering why you can be so confident you're going to hold on to the savings," Jefferies analyst Martin Deboo said.
Paranjpe replied: "Indeed it is aggressive. It is by no means a done deal that you can sit here and say you can bank it all. The only way we will find a way to de-risk it is push the savings and keep looking for more, which will create a further cushion in order to enable us to deliver things. Graeme [Pitkethly, Unilever CFO] has said if ever there was a choice we would prioritise growth over margin but, as a totality, we find it possible to get this business in the near term to about 21% operating margin."
Optimism on India
Unilever was in India and had just announced a big bet on the market in the shape of the deal with GSK, so no surprise the company dedicated part of the event to discuss the opportunities it sees in the country.
Nevertheless, some of Unilever's commentary on what it sees as the prospects for the company and the wider Indian market was striking.
"Many of know of India as the land of opportunity and you think of e-commerce, the Flipkart deal, telecom infrastructure," Sudhir Sitapati, executive director for Unilever's food and refreshment business in India, told the event. "By far and away the biggest opportunity in India is in food and refreshments."
Sitapati described said India's food and refreshment market was worth EUR500bn but noted how less than 10% came from "value-added" foods.
"There's a huge headroom for growth like in many categories but very, very markedly here – EUR43 per capita consumption, versus EUR85 in Indonesia and versus EUR1200 in the western parts of the world."
He acknowledged how Unilever – even after the GSK deal – was a "very small" player in India's market for value-added foods, estimating its market share at 5%. And Sitapati noted how the parts of the market in which Unilever was present were saturated.
"Tea has 90%-plus penetration in India. The non-Unilever parts of the market have much lower penetration at 20%," Sitapati said. "Our strategy is two-fold. Our existing businesses we must grow faster. There's still huge potential for consumption in this country. Secondly, we've got to pivot our business to higher-growth categories. Part of that is accelerating what we call grey spaces, which are we're present in a few cities, we're present in Unilever but not present in India."
Those grey spaces include, notably, ice cream. Unilever is the world's largest ice-cream business but is, to use Sitapati's words, "surprisingly small" in that category in India. He pointed to Unilever's recent acquisition of Indian ice cream and frozen desserts business Adityaa Milk as one way in which the company is trying to expand into some of the country's smaller cities.
Does Unilever's dual listing close down corporate options?
Outgoing CEO Polman ultimately failed in his quest to simplify Unilever's corporate structure and give the company one stock-market listing, instead of the two it continues to have in the UK and in the Netherlands.
The attempted move proved controversial among some UK-based investors unhappy they would have to offload their shareholdings and, in October, Unilever abandoned the plan.
When Unilever put forward the idea in March, it said having one listing would give the business "greater simplicity and more flexibility to make strategic changes in our portfolio in the future, should we choose to do so, including through equity-settled acquisitions or de-mergers".
Polman was in Mumbai and, as well as setting out he how believed Unilever was well-positioned to continue to grow sales and profits, he took Q&A on a series of issues. One question he faced was whether the failure to simply the company's structure limits the possible corporate actions it could take, a question doubtless on many investors' minds now a new CEO is set to take the helm.
"I think our shareholder base understands unification gives us this optionality. It's better if you run a business not to draw conclusions about what you're going to do but be sure you have the maximum flexibility for what you sometimes might want to do," Polman said.
"There are certainly opportunities for us to make strategic acquisitions of size moving forward. It is not necessarily right only to assume that Unilever's strategy now – which by the way has to be decided by the next leadership and the board – leaves us only strategies to make small- to medium-sized acquisitions. There are some possibilities of bigger acquisitions out there that I think would merit looking at if they ever materialise."
Talking up prospects for foodservice
Unilever believes it can look to further grow its "highly accretive" business supplying foodservice customers by looking to generate more sales through consumer-facing, branded products.
"The opportunity that's still to be tapped there is to move from back-of-house to front-of-house with our brands," CFO Pitkethly said. "Our Food Solutions business is a back-of-house, kitchens business. How do you get from there to the front-of-house where you bring the brands together in that distribution space? It's still a big opportunity."
Polman highlighted the recent changes Unilever has made to one part of its food and refreshment division to try to increase sales of branded products.
"Take tea for example. We are the biggest tea producers but are not really present in out-of-home tea. We have deliberately put a portfolio together of the Pukkas, the Pure Leafs, the Tazo, so we now have a differentiated portfolio to go into front-of-house in tea, out-of-home. I'm convinced that more tea is drank of value out-of-home than in-home. Theoretically, you could double your tea business if you get the excellence in out-of-home," Polman said. "That's just the tea itself. All the other brands have tremendous opportunities.
For his part, Jope described the foodservice unit as a "highly accretive" part of the group's wider food and refreshment division.
"Let me be quite direct. The out-of-home food business over a long period of time – and recently – is growing at about twice the rate of the rest of the food business. That's without us probably tapping the synergies between in-home and out-of-home food. It's a highly accretive part of the foods business and likely to remain that way."
Asked if the market should expect to see Unilever Food Solutions' sales grow at a rate in "the upper end of mid-single digits, the lower end of high-single digits", Pitkethly replied: "It's in that ballpark."