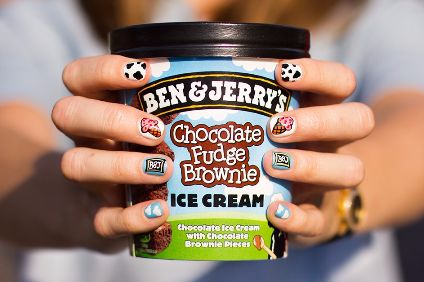 Unilever delivered sluggish sales but stronger-than-expected margins when it reported its full-year results today (26 January). The company's revenue was buffeted by issues like demonetisation in India and economic crisis in Brazil during the tail-end of 2016. While management believes such headwinds will lead to a slower start to 2017 – an outlook that hit Unilever's shares today – the group does expect things to pick up as the year progresses. just-food take a look at Unilever's strategy for growth this year.
Building profitability in refreshments
Unilever's refreshments business, which includes ice cream brands such as Magnum and Ben & Jerry's, has been a solid top-line performer within the company's portfolio for some time. During 2016, while sales dropped 1.1% on currency exchange, underlying sales rose 3.5%.
However, this growth rate slowed significantly in the fourth quarter, dipping to just 0.4% as the unit witnessed a 3.2% decrease in underlying volumes.
Nevertheless, speaking during a media call today, Unilever CEO Paul Polman insisted ice cream remains "one of our best performing units". He added: "We have grown share significantly in ice cream… We are building share in all of our categories. Especially in our out-of-home Ben & Jerry's is doing extremely well, Magnum is doing extremely well… Talenti, that we bought, is up about 60% since we became associated with them."
In particular, Unilever's ice cream operations have focused on expanding in the premium parts of the market and the strategy is allowing the group to strengthen the segment's operating performance. The annual operating profit from refreshments rose 15.2% to EUR968m as the group expanded its operating profit margin from 8.3% in 2015 to 9.7% last year.
CFO Graeme Pitkethly explained: "In our refreshment business we are finding new ways to build the equity of our brands through retail operations for example."
As a result of stronger cash flow generation and operating profitability, Polman revealed the business's return on invested capital is "coming much closer" to the group average which stood at 17.9% this year.
Green shoots for food
Unilever's food business, which has seen successive years of decline led by its spreads brands, saw sales fall by 3% in 2016. However, the decline slowed to 1.1% in the fourth quarter, with underlying sales up 1.9% in the period.
While food margins decreased 30 basis points, Unilever suggested that was primarily the consequence of restructuring costs.
Unilever said what it called a "sustained return to growth" was supported by "good performances" in dressings and savoury. "Hellmann's and Knorr both delivered another year of strong growth by successfully modernising their ranges with extensions into organic variants and with packaging that highlights the naturalness of their ingredients," the company said.
In particular, management flagged innovation at Knorr and Hellmann's feed into some of Unilever's core growth strategies: delivering sustainable products that meet local needs at a faster pace.
Sustainability as growth driver, claims Unilever
"We see evidence that sustainability can be a driver of growth. Those brands which meet the high standards we set for social environmental impact actually grew significantly faster than the rest," Polman explained.
"Take Knorr, which is one of our best-performing brands right now and growing 4%-plus when most of the food companies are reporting declines in this market. A couple of things we do with Knorr, for example in our boullion blocks, is to put in reinforced iron. Many kids in Africa don't get enough nutritional values… These brands are growing. At the same time, we are also trying to bring in variants in these products to cater for consumers that can afford more."
According to Polman, this strategy of bringing a "strong purpose" is "good for all our brands" and can be extended throughout the portfolio.
Speeding up innovation
In the challenging conditions of 2016, delivering innovation that meets the requirements of local markets became "more important than ever", CFO Pitkethly suggested.
"2016 innovations have again been the engine of the growth we have seen, differentiating product benefits, and rolling out those innovations ever faster to ever more markets," he suggested. "We are scaling our innovations much faster. A good example of that is the Hellmann's squeezy packs, which we have now launched in more than 30 countries."
Unilever claims its 'Connected4Growth' initiative has been the agent of change, enabling the company to step up its rate of product development from inception to the shelf. In the UK, for example, the company was able to reduce lead time to just six months for the launch of Hellmann's barbecue sauces.
Pitkethly said that is being achieved through "building flexibility" into the organisation. He also sought to emphasise the benefit of bringing decision-making closer to local consumers. "Connected4Growth will make us faster, simpler, a more agile business, and it will put more of our resources directly in our markets where it really matters. It will make us more consumer- and customer-centric and, above all, we will be ready in this ever changing world for a more connected world."
Polman noted the initiative should be fully implemented by the beginning of the third quarter this year.
Localisation
The move to bring innovation closer to the local markets that Unilever serves is important given the current socio-political environment, management noted.
Polman suggested the rapid uptake of new technologies is supporting the development of more local, nationalistic attitudes and strengthening local tastes.
"What you see is adoption of technology, for example, an increasingly fast occurrence. What took us 100 years to get everyone to radio, 50 years to television took ten years to mobile phone and now takes a nano second. This enormous adoption of technology is obviously disrupting a lot of markets. We have seen the world again being much more multi-polar, less globalisation, so local and nationalism and all of it is coming back. Local tastes," he stressed.
Changes in consumer preferences are also taking place at a more rapid rate, the chief executive suggested. And local competition is "very fast" in its response to these trends.
"We want to be sure… that we are taking the right steps to adjust the organisation to be ready for the future," Polman noted.
Unilever expects 2017 sales to gain steam eventually
Unilever confirmed it anticipates the slowdown it witnessed during the fourth quarter, when underlying sales increased just 2.2%, will continue in the first half of 2017.
The outlook was a central reason for the fall in Unilever's shares today, which closed down 4.55% at 3,196.15p.
"Management already warned about difficult market conditions in October 2016, but it has clearly been harsher than the market thought. Volume growth was negative for the second quarter in a row due to sluggish demand in emerging markets and Europe. In addition, Unilever faced another quarter of deflation in North America," Kepler Cheuvreux analyst Richard Withagen noted.
Polman did, however, predict that growth will pick up as the year progresses. "There are a few factors that make us feel we will be slower in the first half and better in the second half," he noted.
The company will be facing stiffer sales comps in the first half and, as it laps these moving into the final six months of 2017, it will be easier to deliver growth. Some of the short-term headwinds – primarily demonetisation in India and recession in Brazil – are also expected to abate, Polman suggested. Additionally, the prospects for global growth are looking brighter in 2017, with the IMF forecasting global growth of 3.4% versus 3.1% in 2016
"For ourselves, we will have the Connected4Growth programme having a fairly good innovation pace over the second half. So we think that our forecasts for the year to stay within the 3-5% range will be still an objective that we aim for and hope to deliver," Polman said.