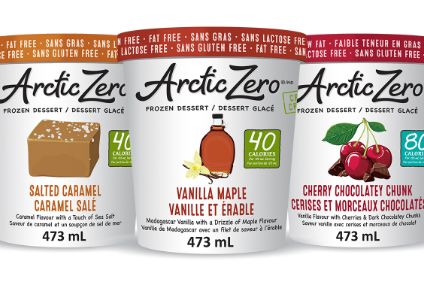 In the first of a two-part feature on the US ice cream category, Andy Coyne looks at how a sector dominated by big brands has been stood on its head.
In the fast-moving US food industry, where little can be taken for granted and disruption has become the norm, there is an argument ice cream has become the most disrupted category of all.
If someone had said ten years ago a sugar-free product emphasising its low-calorie credentials would become a market leader in the cut-throat US ice-cream market, they would likely have been carted off to a secure institution.
But that's exactly what Halo Top has done.
And disruption has come at all parts of the category as new entrants muscle in and the traditional heavyweights play catch up.
Without getting into a history lesson, this is a category that has seen disruption before. Think about Häagen-Dazs in the 1960s with its focus on indulgence and Ben & Jerry's in the 1980s with its fantastical flavours, funky packaging and Vermont lifestyle vibe.
But both of those companies are now owned by members of Big Food: globally, Häagen-Dazs is split between Nestle and General Mills (with the Swiss group owning the US rights), while Ben & Jerry's is part of Unilever, the world's largest ice-cream manufacturer.
What is remarkable about the new wave of market entrants, given their impact, is many of them remain independent (more on which in part two of this feature).
Analysts believe we are seeing something very unique and a market trend genuinely consumer-driven – manufacturers and retailers are responding to demand, they suggest, while big food companies are responding slowly.
That is not to say the traditional big boys in the premium end of the US ice-cream category – Unilever's Breyers and Nestle's Dreyer's for example – aren't still shifting tons of product.
They are but, as has happened elsewhere in packaged food, such products have become the 'squeezed middle', surrounded by younger, faster-growing brands and growth is hard to come by.
How they try to grab a piece of the action will be the story in this category moving forward.
And make no mistake, it is a piece of the action well worth having. Sales in the US ice cream segment are expected to amount to US$10.06bn in 2018, according to statistics organisation Statista, and it is clear where future growth is likely to come from.
Research organisation Mintel forecasts a 15% category increase in dollar sales from 2017-22 as brands "focus on quality and decadence while leveraging new healthy cues to satisfy cravings with less guilt".
Mintel's latest paper on the US "ice cream and frozen novelties" market pointed to a category where growth had come from the success of "higher-priced premium varieties and some newcomers in better-for-you products".
Halo Top, with its low-calorie, low-sugar ice cream, has been the standout success story in the category in the last few years, largely because it offers both of the above. It became the best-selling ice cream pint in the United States in July 2017, outselling such brands as Nestle's Dreyer's.
Alex Beckett, associate director of food and drink for Mintel, has pointed out: "The low-calorie ice cream brand has found success by conveying a diet-friendly image in a category that pivots around indulgence."
Mintel expects more new and established ice cream brands to follow in the footsteps of Halo Top and offer their own takes on a healthier ice cream. It is already happening with the likes of Breyers Delight – the Unilever brand's take on a lower-calorie product complete with a Halo Top-style prominent display of the amount of calories in a tub.
There's an obvious reason, apart from aping Halo Top's success, why ice cream companies are heading down this route.
Susie Fogelson, a New York-based food marketing strategist who runs her own consultancy – F&Co – tells just-food: "Three out of four Americans are trying to cut sugar from their diet.
"There is a contradiction. People are saying 'I want to be healthier but I want to have my rich food experience'. Halo Top lets you do this. It is very transparent in its packaging. The biggest thing on the container is calories. And everything is pronounceable and recyclable in their product.
"The question [big food companies] will be asking is 'how does a Halo Top happen'? How does it come from nowhere to do something better than you? Halo Top comes out of leading the conversation."
Tom Vierhile, innovation insights director at New York state-based analyst firm GlobalData, agrees. "Halo Top has been a really disruptive product. It's an indulgent product and yet you can eat the whole container without feeling guilty about it.
"What it has done is shown is that no company is really safe these days. Brand leaders can't depend on their leadership forever.
"Brands are more vulnerable to being knocked off than at any other time. Upstart brands are coming out of nowhere. Some of the big companies became complacent."
Such a development – and it is by no means all about Halo Top – is astonishing in a category people thought was easily understandable and, frankly, a bit boring.
"Before Halo Top, the ice cream category was a little bit staid and lacklustre – not coming up with new concepts or ideas"
Victor Martino, a California-based food sector consultant, says: "Before Halo Top, the ice cream category was a little bit staid and lacklustre – not coming up with new concepts or ideas. After Halo Top companies are now trying to catch up.
"The analogy to the yogurt category is very close, where Chobani was the challenger brand which is now number one.
"Halo Top is combining taste and better-for-you and a ton of people are buying it. Putting the calories on the side is a big part of it."
Martino's view is the big traditional brands – Breyers and Dreyer's et al – are stuck in a rut in the premium mid-market.
"All the action in the supermarket is around pints of super-premium," he says.
"The major companies in the middle are always on promotion. They are always on deal trying to keep their heads above water. I can't remember any new brands in the centre in this category."
Growth is coming from better-for-you, from super-premium/indulgent and dairy alternative brands. And, as we have seen, sometimes companies are offering more than one of these things in the same product.
One such is Arctic Zero. The San Diego, California-based company promotes its products as "fit frozen desserts" offering "guilt-free indulgence".
Its ice cream is lactose- and gluten-free and is made from whey protein and flavoured with monk fruit. It is low calorie and – it says – high in nutrition.
Arctic Zero was one of the first to enter this better-for-you ice cream space – the company was founded in 2010 by Greg Holtman, whose wife had type 1 diabetes – but manages to combine healthier and indulgent with flavours such as cake batter.
CEO Amit Pandhi says: "People didn't even think of ice cream as better-for-you when we started but a lot have now have entered the space.
"The ice cream category has been ripe for change. There was nothing after Ben & Jerry's for quite a while."
"The ice cream category has been ripe for change. There was nothing after Ben & Jerry's for quite a while.
"And there was a whole segment of people who are lactose-free or otherwise intolerant and people who don't like artificial ingredients or flavours.
"But it is also for mass consumers who are looking for a product that delivers on taste and texture of real ice cream without it affecting our commitment to clean ingredients.
"Consumers have got smarter, read labels and look at what they put into their bodies. That's not a fad it's a trend.
"The Millennial consumer is focused on a desire for more ethical, high-quality and clean ingredients."
The part retailers play in promoting this trend is crucial.
Pandhi says: "It is partly about educating retailers but these days consumers are driving what gets pulled onto the shelves and avoiding junk ingredients."
But Vierhile notes: "This is expensive shelf space and there are lots of companies fighting over it."
However, Pandhi adds: "The category is very large and retailers will only carry so many better-for-you products. We need to make sure we deliver the best-tasting, low-calorie products."
But space will still need to be found for the super-premium/indulgent part of the category, which is still going strong.
As Fogelson says: "The audience is segmenting. Some people want the ice cream experience they want and there are others who have never taken it who can now enjoy it."
In part two of this feature we look at how the category is likely to develop in the future and at the likely response from 'big food'.