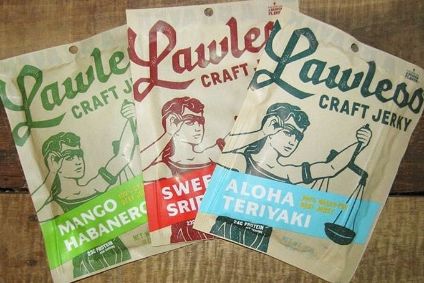 Andy Coyne takes an in-depth look at the US meat snacks category, which has evolved dramatically in recent times.
With a reputation as a gas station snack beloved by truckers, beef jerky has had a certain rugged, masculine, blue-collar image.
But growth in the wider US meat snacks category reveals things are changing rapidly and the sort of disruption we have seen in product areas such as ice cream, Greek yogurt and other bagged snacks is now being seen there, too.
And, as with those other categories, the disruptive elements in meat snacks in the US fall into a familiar pattern and might be categorised as smaller, innovative market entrants, product development and the overarching need to build health and wellness into thinking around all food categories.
Big Food has, in some instances, been left standing still, although as we will see in part two of this feature tomorrow, this is not always the case.
Data provided to just-food by IRI shows the total dollar sales of dried meat snacks – measured from grocery, drug, mass-market, convenience, military, c-stores, as well as select club and dollar retailers – was US$3.13bn for the 52 weeks to 4 November 2018, up 4.4% year-on-year. Unit sales were up 2.5%.
Part of that growth is undoubtedly down to embracing changing tastes and targeting new consumer demographics with an ever-evolving and on-the-go snack proposition while at the same time trying to embrace healthy-eating trends.
As Victor Martino, a San Francisco-based food sector consultant and analyst, puts it: "The meat snacks category continues to be robust in the US, led by premium and 'better for you' brands. When it comes to jerky specifically, soft and easy to bite and chew is what's in favour with consumers. The traditional dry, hard jerky is on the wane. Meat snacks continue to gain shelf space in grocery, mass merchandise, convenience and drugstore channels."
Martino points to the "premiumisation" of the category. "Without question though there has been and continues to be a flight to quality or trading-up by consumers when it comes to meat snacks," he says. Of particular note is most US convenience stores are now selling premium and 'better for you' meat snack brands alongside the traditional 'belly-filler' brands."
Manufacturers in the category illustrate how the market for meat snacks in the US has changed.
"The meat snacks sector has really been maturing, with more brands coming onto the scene and occupying more of the remaining white spaces in what has become a Goliath, multi-billion dollar snacking category," Matt Tolnick, the founder and CEO of Lawless Craft Jerky, says.
And Richard Cresswell, president of Red Truck Beef Jerky, outlines how US retailers have changed how they merchandise the products. "Jerky used to be in the spark plugs and oil section of the store but we have got some good retail space in stores now as jerky takes over from chips and popcorn."
The speed and scale of the change in the US meat snacks market has made it one of the most interesting parts of the US grocery sector.
And much of that is to do with the rise in demand for protein-centric products and the search for snacks deemed "better-for-you"
The health and nutrition play
Protein has become big business, being added to everything from chocolate bars to drinks.
But it is hard to think of it being in a purer form than a piece of dried beef, which has also allowed jerky to tap into trends such as the meat-heavy Paleo diet.
But then questions start to be asked about the quality of that meat and whether any additives have been put in or whether, for example, the marinade is sugar-laden.
Meat snacks have had to adapt to such consumer concerns or, in the case of more recent market entrants, build health and nutrition into their thinking from day one.
Dallas-based Le-Vel, for example, is promoting its new Thrive Bite products as "high-protein, low-calorie and low-fat premium beef snacks".
The "whole muscle beef brisket" snacks are "made from US pasture-raised cattle, fed a vegetarian and organic diet of locally sourced alfalfa, hay and corn – never animal feed or animal by-products of any kind" and they contain no preservatives or additives.
They are marketed as being "98% fat-free, only 70 to 80 calories per serving, and are a healthy source of 8g of protein per serving".
Meanwhile, a number of biltong manufacturers have also emerged in the US – and some are arguing they can offer retailers a point of difference in a growing but busy market.
The dried, cured meat snack that originated in southern Africa is marketed as an improvement on jerky and a healthier option as the drying process leaves the snacks naturally tender without having to use chemicals or sugar.
Ayoba-Yo, a Washington DC-based biltong business set up by South African expatriates, recently expanded into the north east of the US through a partnership with Kings Food Market and Balducci's Food Lover's Market. It now has a footprint from Virginia to New York. In May, the firm was named among the first cohort of small businesses taking part in Kraft Heinz's Springboard Brands' incubator programme.
Speaking to just-food earlier this year, co-owner, Wian van Blommestein, said: "The jerky industry is very big right now but retailers know the category is saturated. What we have going for us is that we are an improvement on beef jerky and we have better claims. As soon as we are on their shelves we can drive new traffic to them."
Similarly, Texas-based Stryve Foods is promoting its biltong offering as a superior, healthier product to jerky.
Stryve Foods' CEO is the former NFL player Gabe Carimi. He says: "Meat snacks has been growing year-on-year for the last eight years and it's a market that has been prime for disruption.
"Biltong is a healthier product than traditional jerky. The US is more health-conscious now but the US consumer doesn't know about a meat snacks category it knows about a jerky category.
"The problem is it is kind of hard to go after the US consumer because if you say healthy they automatically think poor taste. In fact, [biltong] is a superior-tasting meat snack which has added health benefits."
Stryve recently attracted $10m of investment from backers such as US private-equity firm Meaningful Partners. It is using the money on marketing efforts and to establish its own manufacturing facility in Madill, Oklahoma.
Having an eye on health-conscious consumers is not unique to biltong providers, of course, with jerky manufacturers increasingly trying to emphasise the quality of their product.
Tolnick at Lawless says: "Because the category has been so fleshed out, there's a real spectrum to the jerky offerings now, where the consumer is able to drill down very specifically to what he/she is looking for among more attributes than ever before, including but not limited to provenance of the meat, flavour variety, artificial ingredients and nitrites (or lack thereof), organic/non-GMO, sugar content, texture/tenderness/chew, and so much more."
However, Tolnick points out that what is 'healthy' at any given time is subject to intense debate.
"While plant protein is a hot trend, so is keto," he says. "One encourages consumption of clean-burning animal fats and the other shuns it. In a country of around 350m people, 'better for you' can mean different things to different people and still leave ample room for 'eat more meat' and 'eat less meat' trends to co-exist."
But the more general desire to eat more healthily is likely to be here to stay.
Tom Vierhile, innovation insights director at New York state-based analyst firm GlobalData, says: "If you look at the category brands that have been there forever, such as [Conagra Brands] Slim Jim, they have the perception of being highly processed. The opportunity has been sitting there all the time."
Flavour enhancers
Aside from making meat snacks products healthier, meat-snacks manufacturers in the US have sought to differentiate themselves through increasingly bold flavours or through protein variants including turkey, pork, salmon and plant-based jerky.
As Martino says: "Turkey, chicken, salmon and even wild-game meat snacks like venison and elk all form a growing niche in the category. They collectively represent a small percentage of total category sales but are important because they have expanded the category by offering added consumer options. Bringing in new consumers is key to expanding any product category."
Targeted marketing is also key in what has traditionally been seen as a working-class male-focused category.
"A key reason meat snack sales have grown so much is because women are now significant buyers in the category," Martino says. "Women prefer soft, premium quality and 'better for you' meat snack brands. The Krave brand, now owned by Hershey, played a big role in bringing women into the category."
Vierhile expects to see further innovation with products such as brisket, "a low and slow preparation for meat creating a softer textured meat", as he puts it.
Tolnick at Lawless says: "I think companies are clamouring to do something new and different, but most of the lowest hanging fruit for innovation has been cherry-picked. This realisation, and not wanting to create the tenth meat bar or 100th meat stick has inspired us to go in a different direction for our newest product launch."
Lawless plays on its "interesting and intense" jerky flavours based on world cuisine – including mango habanero and pho.
Innovation is likely to continue at pace. One business has even just launched cannabis-infused beef jerky products. Canada's Body and Mind has delivered the first shipments of the product to dispensaries in the US state of Nevada.
Vierhile sees the boundary-pushing continuing. "The category is quite fragmented based on my perception," he says. "There is a lot of room for innovation in the category flavour wise."
And he suggests the reason for this is obvious. "The strategy is increased household penetration," he says.
In part two of this feature we look at how Big Food has responded to the changing nature of the meat snacks category and at the category's likely future direction.