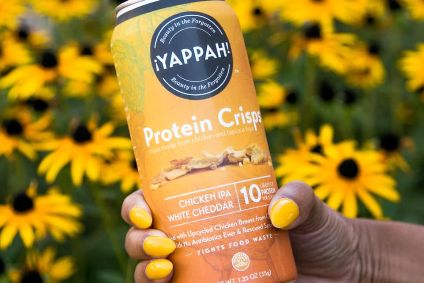 In part two of this feature, Andy Coyne looks at how Big Food has reacted to disruption in the US beef jerky category and at the prospects for the wider meat snacks market.
The well-established US jerky supplier Jack Link's has an innovation centre at its Minneapolis offices.
The 12,000 sq ft test kitchen and USDA-approved production facility allows the Jack Link's R&D and culinary teams to move rapidly from concept to production, as was demonstrated recently when the company launched, on a limited scale, its Signature Batch jerky.
Jack Link's sells more jerky than anyone else in the US. The company has a large meats snacks portfolio which includes brands such as the eponymous Jack Link's, Matador, Lorissa's Kitchen and Peperami.
Data provided to just-food by IRI shows the total dollar sales of jerky sold under the Jack Link's brand – measured from grocery, drug, mass-market, convenience, military and c-store outlets, as well as select club and dollar retailers – were US$747.8m for the 52 weeks to 4 November 2018, up 2.5% year-on-year. Unit sales, however, were flat.
The data also shows that, while the company's total jerky sales – not just those generated from the Jack Link's brand – were up 0.7% year-on-year at $789.3m, unit sales were down 2.9%.
The supplier's sales from what IRI calls "all other dried meat snacks", meanwhile, were up 5.3% year-on-year at $511.2m, with unit sales 4% higher. One interpretation of the data is the jerky side of the portfolio is in need of some innovation.
Which is where initiatives such as the "deli-counter style" Signature Batch come in. The range is available in Umami Boom, Spiced Mocha and Craft Cola variants with TD Dixon, chief marketing officer at Jack Link's Protein Snacks, revelling in "bold and unique flavours you can't find anywhere else".
In the first part of this feature yesterday, we looked at how innovation has disrupted the US meat snacks category and at how its reputation as a gas station snack has changed. New market entrants, product development and the overarching need to build health and wellness into thinking around all food categories have meant the category has broadened into one becoming more sophisticated and, arguably, more exciting.
As a consequence, larger, traditional players such as Jack Link's have turned to innovation to try to latch on to trends around flavour, texture and better-for-you.
Big Food makes a move
Added to the competitive mix has been that more members of Big Food – that oft-used shorthand for the packaged food giants operating in a range of categories – have entered the US meat-snacks category in recent years.
Confectionery giant Hershey bought Krave Jerky back in January 2015 and it was only a year later when General Mills, owner of brands such as Old El Paso, Nature Valley and Betty Crocker, snapped up meat snack business Epic Provisions.
A General Mills spokesperson tells just-food the appeal of Epic Provisions was it expanded the US food giant's natural and organic portfolio through a "highly authentic brand in an entirely new natural snacking category".
She adds: "A purpose-driven brand like Epic has tremendous potential for growth in the natural snacking category. Epic has grown since we added it to our portfolio in 2016."
General Mills has continued to innovate with the brand. "For example, earlier this year we launched the Epic Performance Bar, a whole food protein bar made with five to six simple non-GMO ingredients," the spokesperson says.
The consumer's increasing focus on building health and nutrition into his or her thinking when making food purchases is important here, she adds. "Epic's growth wouldn't have been possible without the consumer's growing interest in high-quality sources of protein for snacking."
Protein giant Tyson Foods, too, has seen the appeal of the meat snacks sector.
This summer, Tyson launched, via its innovation arm, the Yappah brand, which creates snacks using 'food waste' such as chicken breast trim, vegetable puree and spent grain.
Susie Fogelson, a New York-based food marketing strategist who runs her own consultancy – F&Co. -, is impressed with the speed at which Tyson – behind brands such as Jimmy Dean and Hillshire Farms – was able to enter the category.
"They brought it [Yappah] to market in about five weeks," she says. "They launched it regionally and that took off so much pressure as they could afford to get a few things wrong. But it is doing really well for them."
Further such launches or other big food businesses buying into the category via M&A could be on the cards, of course, but US spice and sauces giant McCormick has taken a different approach to getting skin in the meat snacks game.
It has linked up with an existing provider, Florida-based Red Truck Beef Jerky, in a deal that allows Red Truck to put out meat snack products using the flavours of McCormick's well-known branda such as Old Bay and Stubbs.
Richard Cresswell, president of Red Truck, said: "McCormick has been an amazing deal which has shaken up the market. Using the huge name of McCormick was a great deal for us. Since 2016 have used the Old Bay spice on our jerky and that has gone really well and now we are starting to market products under the Stubbs brand. That has been very well received and we expect that too to do well."
Cresswell sees other such deals coming to fruition. "We've been approached by some of the liquor and beer companies as they are looking for horizontal growth but we've turned them down because we've got our relationship with McCormick."
Meat snacks momentum – 2019 and beyond
Meat snacks providers and market analysts see a bright future for the category in the US and expect its growth to continue.
Consumer interest in health and nutrition trend will likely continue to feed into future product development, while different flavours and textures will also proliferate.
Matt Tolnick, the founder and CEO of Lawless Craft Jerky, says: "At its core, jerky is lean meat dried at low temperatures to provide for a shelf-stable, high-protein snack. So long as convenience, portability, protein, and savoury taste are priorities of premium product consumers, jerky can absolutely appeal to them."
Fogelson at F&Co agrees. "Meat-based snacks and plant-based snacks are in many ways a microcosm of what is happening in food right now. People want better-for-you choices, protein is important and so is plant-based. There needs to be bold flavour and for it to be convenient. It fits into that story."
The mention of plant-based snacks is interesting. US retailer Whole Foods Market is predicting that so-called faux meat snacks will be one of the stories of 2019.
"While plant-based foods aren't exactly a new trend, our experts noted more people – even those who don't eat only vegan or vegetarian – are exploring plant-based snacking as their palates crave adventure, want a break from meat or seek more ways to add savoury umami flavours into snacks and meals," Whole Foods says.
"Mushrooms like king trumpet will play a key role here, flexing their flavour and texture powers in tasty jerky, 'pork' rinds and 'bacon' snacks (used in both Pig Øut Pigless Bacon Chips and Snacklins Cracklins Without the Pork) to offer up a satisfying crunch."
The growth of snacking more generally will also aid the growth of the meat snacks category.
"Millennials snack three or four times a day while Gen X snack at least once a day," Fogelson says. "People snack for different reasons but meat and meat alternatives are a great option. Getting something that is good for you is smart eating. Hormel Foods has a little snacking trio made up of cubes of chicken, cheese and nuts. Little snacks that you can grab and go."
Healthy options remain at the front and centre of category growth, Fogelson believes. "Well over half of the people in the US are trying to make healthier choices," she says. "Being delicious is paramount and then to be as healthy as possible, with lower sugar and a lack of preservatives."
"Biltong is and will remain a niche item in the US. Beef remains the meat snack of choice among Americans"
In terms of different core products – biltong or salmon jerky, for example – analysts see a place for them but believe they will remain specialist offerings.
San Francisco-based food sector consultant and analyst Victor Martino says: "I think biltong is and will remain a niche item in the US. Beef remains the meat snack of choice among Americans. Reducing sugar in biltong is fine as long as it doesn't significantly reduce taste. Consumers hold taste in high regard with meat snacks. I'd say it's the leading attribute as to why they buy it, followed by convenience (portability of eating) and it being high in protein."
Cresswell at Red Truck agrees that such products will remain peripheral. "How many thousands [of such products] are they going to sell in a grocery store?" he asks.
"I don't think it can be justified in terms of shelf space. There is a market there for biltong and wild game but I don't see salmon being that big."
Fogelson is somewhat disparaging of salmon jerky. "It's not the best formula I've had in the marketplace. It's very brittle and a bit flavourless," she says.
"I feel plant-based jerky is getting it right in terms of texture and flavour but the trade-off is that it can be very salty. But there is a lot of curiosity about this."
But as in other categories, the premiumisation we have seen and the polarisation that creates does not mean that traditional or 'gas station' jerky is going to disappear.
As Martino says: "Premium and 'better-for-you' is where all the action and growth is but 'gas station' or 'belly-filler' meat snacks remain popular (sold mostly at convenience stores) because premium jerky is expensive. Not all consumers can afford premium jerky or can but aren't willing to pay a premium for premium."
Overall, Martino says he sees strong percentage growth for meat snacks for the next five years, "as long as there continues to be innovation by existing brands and any new start-up brands".
And, as a final thought, fellow analyst Tom Vierhile, innovation insights director at New York state-based GlobalData, sees the possibility of meat snacks jumping out of the category and into ready meals.
"I almost wonder whether companies have the possibility of turning meat snacks into a meal as they contain a lot of protein. I could see the upside in that," he says.