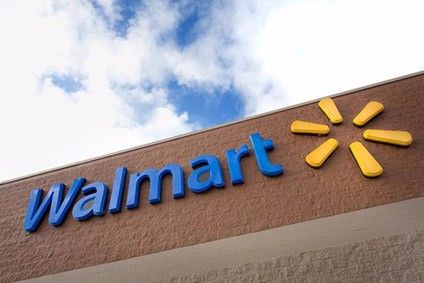 Wal-Mart Stores has launched Project Gigaton, an initiative which sees the retailer task food manufacturers to reduce carbon emissions with the aim of cutting emissions in its supply chain by 1 gigaton by 2030. Ben Cooper looks at the move.
Food manufacturers extending their sustainability aspirations 'beyond the four walls' has meant asking more of their own suppliers but, by the same token, major retailers are seeking to do the same.
Wal-Mart Stores' launch of Project Gigaton, a sustainability platform "inviting suppliers" to join it in "committing to reduce greenhouse gas emissions resulting from their operations and supply chains", is such a move. The world's largest retailer is providing an emissions reduction toolkit to a broad range of suppliers with the aim of eliminating 1 gigaton of emissions by 2030, a goal it announced last November.
Some of the commentary following the announcement suggested it was an example of a major retailer using its buying power to pressure suppliers, as it would in price negotiations, in order to optimise its performance on so-called "scope 3", or indirect, emissions.
Asked by just-food whether Project Gigaton represents a partnership opportunity or an extension of the supplier/buyer contract, a Wal-Mart spokesperson said: "Project Gigaton is a voluntary platform that suppliers can utilise to make progress in reducing emissions from their operations and supply chains."
Wal-Mart not only stresses the initiative is voluntary but also emphasises how it is designed to support suppliers in reducing emissions. "In inviting suppliers to participate, Wal-Mart is sharing the business case for why suppliers should pursue reducing emissions and consider signing on to Project Gigaton, and offering a variety of resources to help them through the process, open-sourced, called the Project Gigaton Toolkit," the Walmart spokesperson insisted.
Arguably, there can be no better business case for reducing emissions than the threat of undermining the relationship a supplier has with possibly its biggest customer. On the other hand, some major food manufacturers are themselves focused on reducing emissions. The objectives of both retailer and supplier should be aligned, as comments from a number of manufacturers appear bear out.
"PepsiCo applauds Walmart's continued focus on these issues," Mehmood Khan, vice chairman and chief scientific officer of global research and development at the US food and beverage giant, said. "We share Walmart's aim to reduce carbon emissions, advance sustainable agriculture and reduce waste and packaging. PepsiCo has set ambitious, science-based goals across our own supply chain and we look forward to working with Walmart and others to achieve collective progress."
Diane Holdorf, chief sustainability officer at Kellogg, also stresses the common ground she sees between its own commitments and those of Wal-Mart. "We've made long-term commitments to take action on both climate and food security, recognising the interconnected and inter-reliant nature of the business with suppliers, farmers, customers, consumers and governments. That's why we're pleased to join Wal-Mart and other key suppliers in making an even bigger impact, working together to achieve their supply chain target to reduce emissions by 1 gigaton."
Wal-Mart has identified energy, agriculture, waste, packaging, deforestation and product use and design as the "goal areas" for suppliers participating in Project Gigaton. "Participating suppliers are encouraged to focus their commitment in one or more of these goal areas," the company said when it launched the initiative two weeks ago. Companies can join Project Gigaton either by submitting an emissions target or goals that fall into one or more of the six categories.
Once again, these are areas where some food companies are already focusing their efforts. For instance, of the six areas within Project Gigaton, Holdorf says Kellogg "already has existing supportive commitments in energy, agriculture, waste, packaging and deforestation".
Meanwhile, General Mills insists it is "thrilled to work with strong partners like Wal-Mart to contribute more than 5m tons of CO2 reduction to Project Gigaton". The Cheerios and Yoplait maker stresses its own "full value chain" approach to sustainability and the importance of partnership. "Big challenges require big thinking and even bigger collaboration," General Mills adds.
A spokesperson for Campbell Soup Co. says it had partnered with Wal-Mart on its previous sustainability goals, and "we look forward to a continued partnership with Walmart in sustainability".
Some other food manufacturers, including Nestle and Dean Foods, declined to comment, though silence does not necessarily imply dissent. It would be expected food manufacturers with ambitious emissions targets and developed sustainability strategies of their own would not see Wal-Mart's move as a threat. Those that have lagged behind on sustainability, however, may feel differently.
The other supplier constituency that may also be apprehensive would be smaller companies that lack the kind of resources multinational food groups are putting into emissions reduction and that are, by dint of their size, more vulnerable to the pressure a large retail customer can bring to bear.
Wal-Mart says it engaged with 250 of its "top suppliers" in preparation for the Project Gigaton announcement. Asked whether Wal-Mart's heightened expectations might put unsustainable pressures on its smaller suppliers, the retailer's spokesperson again stressed the supportive aspects of the scheme.
The "comprehensive" Project Gigaton toolkit is designed "to help suppliers set and achieve emissions-reduction plans in support of Project Gigaton," the spokesperson said. "The toolkit can be used regardless of how advanced suppliers' current sustainability efforts may be, providing practical guidance and valuable resources for suppliers in all product categories."
Outreach to and partnership with suppliers has been central to Wal-Mart's approach to sustainability since it launched its first sustainability agenda in 2005. Project Gigaton could therefore be viewed as a logical next step in its sustainability journey.
Kert Davies, founder of US-based campaign group Climate Investigations Center, says the retailer's focus on reducing its carbon footprint "upstream and downstream" was one of the things that differentiated its approach to sustainability at a relatively early stage. Describing Wal-Mart as a "driver" of environmental progress, Davies welcomed Project Gigaton as a further demonstration of the retailer's potential to foster change, particularly at a time when he expects there to be less regulatory or government pressure on corporations.
WWF and Environmental Defense Fund also publicly endorsed Project Gigaton. Wal-Mart says it worked with both organisations in the preparation of the initiative.
Over the past decade, partnership and collaboration have become increasingly prominent themes in the sustainability arena. Whether between industry and external stakeholders or across the supply chains of retailers or manufacturers, they are seen as crucial to achieving progress on sustainability goals, not least on reducing emissions.
Ignacio Gavilan, sustainability director at the Consumer Goods Forum (CGF), which brings together major retailers, manufacturers and other stakeholders, says its members are scaling up collaboration on environmental issues.
"Collaboration is key. It's important retailers and manufacturers continue to work together to find solutions, a theme central to our work at the Consumer Goods Forum," Gavilan tells just-food. "It is great to see members are taking action on key climate change challenges, be it as part of their work at the CGF or beyond. Some of the largest members are among the most active collaborators, and increasingly these organisations are scaling up initiatives from small, local pilot projects to solutions that are deeply anchored in core processes."
Partnership between food manufacturers and retailers on emissions speaks to the simple truth there is in fact only one long food supply chain, to coin a now well-worn phrase "from farm to fork".
Viewed from an ecological perspective, carbon emissions are carbon emissions wherever in the supply chain they originate. Ultimately, the demarcation between corporations is irrelevant and may at times even be an impediment to progress. The capacity for Wal-Mart or other major retailers to exert influence over their suppliers is one way that challenge can be mitigated.
While it is true massive retailer customers hold huge sway over the food manufacturing sector, when directed towards ethical or environmental issues their power can potentially be game-changing.