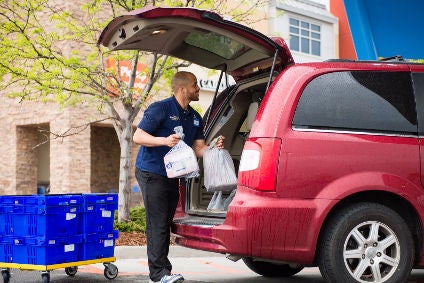 April saw Wal-Mart continue the expansion of its click-and-collect service in the US, while Kroger invested in a local retailer focused on natural and organic categories. Outside the US, there was notable news in emerging markets, with France's Casino exiting Vietnam and UK-based health-centric retailer Holland & Barrett embarking on its entry into India.
Wal-Mart makes push in grocery click-and-collect in US
Faced with the prospect of Amazon muscling further into the food sector in the US, Wal-Mart is weighing up how to invest to meet the building interest for online grocery shopping in the country.
Last year, Wal-Mart spent time testing home delivery and click-and-collect (or pick-up as the retail giant calls the service). In September, with Michael Bender, the COO of Wal-Mart's global e-commerce arm, saying "pick-up in particular has been very popular", the retailer launched the service for free in six cities.
Fast-forward to the start of last month and free pick-up and been extended to over 20 cities – and Wal-Mart then announced another eight cities, including Kansas City, Boise in Idaho and Austin in Texas, would have the service. "We're also doubling the number of store pickup locations in markets like Dallas, Houston and Atlanta, where this convenient service is already offered," Bender said. "We'll add even more locations throughout the year. While grocery pickup isn't a service our customers specifically asked us to provide, we're hearing that for many of them, it's a service they now can't live without."
There is still some debate about the prospects for online grocery in the US. However, a number of industry watchers have made bullish forecasts for the channel in the country. Online grocery sales in the US were US$7bn in 2015 and are forecast to rise to $18bn by 2020, according to UK grocery think thank IGD
Retailers are responding by ramping up their online presence, with the likes of Wal-Mart and Amazon going toe-to-toe to capitalise on online sales.
"Wal-Mart has been working hard to try and determine how it will play in this area particularly relative to Amazon," Neil Stern, senior partner at US retail consultants McMillanDoolittle, tells just-food. "It has, so far, shied away from home delivery and is attempting to leverage its store base as its main strategy. Curbside pick-up is the logical step for? this but will be challenged as to whether this is enough to blunt Amazon's growth."
The faster growth seen online in the US versus the maturity of mass physical stores means the channel will be vital for Wal-Mart's future expansion. "Online grocery is an area where Walmart needs to have a strong offering if it's going to reignite their sales growth," Bill Bishop of US retail consultancy BrickMeetsClick says. "Online grocery sales are growing much faster than in-store sales and, if they do well online, they'll increase market share as they grow their business. Wal-Mart actually has a solid online strategy and has made a big investment to ensure that their offering appeals to consumers. Where they have not done as well in the past is in executing that strategy; for example, typically, they have unacceptable levels of out of stock."
How Kroger has turned again to M&A to tap into evolving trends in US
The retailer, one of the biggest in the US, has been relatively active in the M&A field in recent years.
In 2014, Kroger snapped up Harris Teeter, a regional retailer running over 220 stores in the south-eastern and mid-Atlantic regions in the US. Last year, Kroger moved again, buying another regional player, Roundy's, which gave the company a presence in places like Milwaukee, Madison and northern Wisconsin.
However, as well as filling in geographic gaps, Kroger has been looking to make deals to tap into growing consumer trends in the US. In between the Harris Teeter and Roundy's deals, in July 2014, Kroger snapped up Vitacost, an online retailer of health products. And last month, Kroger announced a "strategic partnership" with Colorado-based "speciality" grocer Lucky's Market, which focuses on natural, organic and locally-grown products.
Founded in 2003, Lucky's Market has 17 stores in 13 states throughout the mid-west and south-east of the US. Kroger said it made "a meaningful investment" in Lucky's Market, which will "significantly accelerate" the local retailer's growth in new and existing markets.
Kroger has made in-house moves to tap into areas like natural and organic. The retailer's private-label organic line, Simple Truth, has, for instance, hit sales of over US$1bn, prompting predictions from some industry watchers that the company could overtake Whole Foods' organic sales within two years. In December, Kroger announced plans to trial a new store format, Main & Vine, that, among other things, will offer "fresh foods and beverages, as well as natural and organic products.
Retail pundits see Kroger's investment in Lucky's Market as a means of bolstering its efforts to grab a slice of the faster-growing natural and organic parts of the US food sector. "The natural and organic retail space is growing faster than traditional grocery in the U.S. and has been for some time. I think Kroger backing Lucky gives them a horse in the race so they can monitor and participate in the channel," Stern says.
At BrickMeetsClick, Bishop demand from more US consumers for more local, artisan, and healthier products is driving the fragmentation of the US grocery market. "The investment in Lucky gives Kroger a stronger presence in a retail store format that's better positioned to serve the emerging and contemporary needs of US consumers [and] a way to accelerate their growth; a retailer like Lucky is growing three or four times faster than the market and probably at least twice as fast as Kroger's core stores."
Casino seals disposal of business Vietnam
Turning to emerging markets, last year, France-based retailer Casino outlined plans to "deleverage" to the tune of EUR2bn, by welcoming investors in its real estate businesses in Colombia and Thailand and by offloading its operations in Vietnam. Casino said the moves would "significantly improve its financial structure" and enable the company "to focus on its growth strategy in its key markets in France, Latam and Asia around buoyant assets".
Casino then found itself facing allegations from US short-seller Muddy Waters. The activist investor accused Casino of using accounting gimmicks and financial engineering – suggestions the retailer denied, insisting it had "solid business dynamics" and "strictly applies international accounting standards", with its accounts certified by external auditors. Bruno Monteyne, a retail analyst at Sanford Bernstein, called Casino's response "strong and appropriate". Monteyne argued Muddy Waters had put forward "nothing that was not already understood about Casino – the complexity of Casino is well known and its leverage frequently discussed – [and] failed to uncover any fraud or misstatement, as the initial headlines claimed".
The retailer has pushed ahead with its bid to fine-tune its operations. In March, Casino offloaded its stake in Thai retailer Big C Supercenter for EUR3.1bn. That month, Muddy Waters also issued another report in Casino. "We see nothing new in their latest report, simply an attempt to drive the stock down after some positive momentum into the results," Sanford Bernstein's Monteyne reflected.
Last month, Casino closed the sale of another emerging market business. On 29 April, Casino announced it had sold Big C Vietnam to Thailand-based Central Group for an enterprise value of EUR1bn, a multiple of 1.8 times the operations net sales in 2015. Though the growth potential for organised retail in Vietnam could be argued to be high, the channel is still in its early days. However, as well as improving Casino's balance sheet, the sale will help management focus on the ultra-competitive French market and on navigating the economic slowdown in Brazil, a key overseas market for the business.
Holland & Barrett outlines Indian ambitions
UK-based health food retailer Holland & Barrett is set to open up another market – India. The company last month announced a partnership with Indian healthcare company Apollo Hospitals to set up 1,000 franchise outlets across the country in five years.
On paper, the target looks ambitious. The first store is set to open in New Delhi and will mark Holland & Barrett's entry into a market touted as one of high potential for consumer-facing companies but with significant challenges for internationa businesses, even if they team up with local entities.
As well as its home market, Holland & Barrett has stores in markets in seven markets in Europe, in the United Arab Emirates, as well as in Singapore in China. The company, owned by US vitamin and supplement giant NBTY (itself backed by private-equity firm Carlyle), has an international pedigree and clearly believes it can prosper in India.
The core of Holland & Barrett's range is in vitamins and supplements but the retailer has a notable and growing presence in health food. It is unclear at presence what type of products the stores in India would stock, although there is likely to be a similar mix of products in the Indian stores.
Kaushika Madhavan, a partner at management consultants A.T. Kearney in Mumbai, suggests there could be an opportunity for retailers like Holland & Barrett in the country. "India is a nutrient deficient country and penetration of nutrient supplements in low, alhough much of the population that is nutrient deficient tends to be from the economically weaker sections, so, while the opportunity – like with all products – is likely to be large, it will be in large volume, low-price-point product segments. The high price point opportunities will have low volumes and concentrated in urban centres," he says. "There is some presence on nutrition supplements and sports nutrition products in the country already. Apollo is the largest pharmacy retail chain and corporate hospital chain in the country and would be a good partner for H&B."