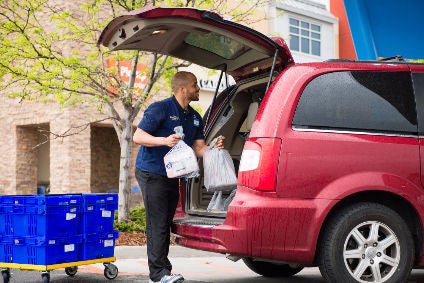 In May, Wal-Mart's latest financial results took the eye, although in some ways the numbers prompted as many questions as answers. In the US, there were more entrants into online grocery, notably recently-launched pure-play jet.com. Elsewhere, Japan's AEON and France's Picard teamed up to launch the frozen food chain in the Asian market, while France's competition regulator announced plans to investigate the buying partnership between Auchan and Systeme-U.
Wal-Mart shares jump after Q1s – despite weak US sales growth
It is not often a 1% rise in underlying sales in a company's biggest market leads to a 9% jump in the group's share price – but that is what happened to Wal-Mart Stores on 19 May.
The retailer's revenue and earnings for its first quarter – a 13-week period to 29 April – beat analyst expectations. US same-store sales rose 1%, above Wall Street predictions of a 0.5% increase.
Wal-Mart CFO Brett Biggs said some economic factors were benefiting US consumers, though he did have a note of caution. "Several things [are] working for the consumer: fuel prices, unemployment and interest rates still low. But there is an air of uncertainty that is likely keeping the consumer from being as bullish as they would like to be," Biggs told CNBC.
The retailer pointed out how, internationally "ten of 11 markets" had "positive comp sales", with nine reporting growth of greater than 4%.
However, Wal-Mart continued to see issues in the UK, where its Asda chain saw comparable sales, excluding fuel, drop 5.7% amid the growth of the hard discounters in the country and continued food deflation.
Neil Saunders, CEO at retail consultancy Conlumino, said: "Wal-Mart remains a company of two halves: the domestic US division, which is performing reasonably; and the international division, which continues to languish. The general impression is that as Wal-Mart moves onto the front foot in its home market, it is firmly on the back foot elsewhere. This is an unfortunate dynamic that hides some of the underlying progress that has been made."
Elsewhere, others reflected on Wal-Mart's slowing e-commerce sales, which grew 7% during the quarter. "Growth here is too slow," Wal-Mart president and CEO Doug McMillon said. "The US number is better than the global number but neither is as high as we'd like. We can see progress against several of the necessary capabilities we need to win in e-commerce but we're still working on a few others. We need them all to come together to see stronger growth."
As we moved into June, retail eyes returned to Wal-Mart as the company held its annual shareholders meeting. In an interview with CNBC, McMillon said work on inventory could give a further boost to the retailer's US sales. He also said Wal-Mart wanted to get the "fundamental building blocks" for its online business in place before ramping up advertising behind the service. "Until [those building blocks are] all there we won't really aggressively market Walmart.com as much as ultimately I believe that we will," he said.
Meanwhile, at Wal-Mart's shareholder meeting, there were indications of a shift in strategy at Asda. "With the US business recovering, you can expect that we will shift the balance from protecting profit to protecting share," David Cheesewright, the head of Wal-Mart's international arm, said, reflecting on Asda's performance. The statement caused shares in the UK's listed supermarket chains to fall on Friday (3 June).
May also saw Wal-Mart outline its expansion plans for its operations in India. The company has operated in India independently since the autumn of 2013 after the end of its wholesale venture with local conglomerate Bharti Enterprises. Within six months, Wal-Mart had set a goal of opening 50 cash-and-carry stores by the end of 2019. Last month, it emerged that target had been increased.
"Walmart India currently has 21 cash-and-carry stores in India serving small businesses – neighbourhood kirana stores and other small businesses. We plan to take our store count to 70 by 2020," a spokesperson says. "India is an important and attractive market for us and we are committed to growing our cash-and-carry business in the country."
BFresh and jet.com enter US online grocery fray
May saw two more US retailers launch online grocery operations.
BFresh, the fledgling fresh foods chain set up last year by Netherlands-based Ahold, has launched an online service alongside US-based CartFresh, which a provides white-label online grocery platform.
At present, BFresh's 10,000 sq ft stores are centred on two locations – Allston in Massachusetts and Fairfield in Connecticut. Given the size of the chain, BFresh's launch may not be as significant on a national scale as some of its peers in the US but, nonetheless, the move will be of interest to competitors operating locally and is a further sign of the interest bricks-and-mortar retailers are taking in the channel.
"Online grocery is a natural fit given Bfresh's target shopper, Ahold's deep expertise in the area, and the growing availability of online grocery services in major metros like Boston," Keith Anderson, vice president of strategy and insights at Profitero, says. Anderson also sees benefits in BFresh teaming up with CartFresh. "Ahold's decision to partner with CartFresh is interesting primarily given the former's ownership of Peapod, a leading online grocery service with an ageing user interface. CartFresh may benefit from Ahold's operational expertise, and Ahold's Bfresh could benefit from a more modern online grocery ordering interface."
Perhaps of greater interest to Wal-Mart will be jet.com's decision to test online grocery delivery.
jet.com will deliver fresh food in New Jersey and Washington, D.C., as well as parts of New York City, Connecticut and Pennsylvania.
The New Jersey-based jet.com was only launched last July but the business, with a strategy with price at its centre, is seen as a potential challenger to the likes of Wal-Mart and Amazon. Time magazine reported in May jet.com was adding 350,000 customers a month.
Profitero's Anderson says jet.com could see grocery as central to meeting its target of gross merchandise volume on the site worth US$20bn by 2020. "Food and consumables drive traffic and order frequency that earn these retailers the right to build baskets of higher-margin discretionary goods. Given Jet's aggressive growth targets, Jet may be looking at perishable food staples as a potentially attractive hook," Anderson says.
jet.com is just in test phase at the moment but Anderson suggests its initial announcement poses some questions. "Online grocery is, of course, a capital and labor intensive business. It's unclear whether Jet plans to invest in a full stack online grocery service – that is, its own temperature-controlled warehouses and delivery fleet–or whether it plans to operate a platform on which its marketplace sellers can offer groceries, more akin to Instacart," he says. "Both approaches are high-commitment, and as online grocery choices in the US continue to expand, Jet will need not only to deliver compelling value but also offer relevant selection and convenience. To this end, Jet's unattended delivery option may be convenient but will need to overcome questions about freshness."
Japan's Aeon teams up with France's Picard
At the start of May, Aeon, one of Japan's largest grocers, announced a deal with Picard to take the French frozen food retailer into the Asian market.
The two companies plan to set up what Aeon called Japan's "first specialty frozen food supermarket chain". The stores will operate under the Picard banner.
Aeon and Picard have been working together in Japan for eighteen months, with the French firm selling frozen food in the Japanese company's namesake general merchandise stories and Daiei supermarket outlets.
Announcing the development, Aeon said economic and environmental reasons presented an opportunity for the two companies. "In Japan, there is a growing need for frozen foods requiring little preparation time amid an expanding population of senior citizens, single-person households, and working women. In terms of environmental protection, the wider adoption of frozen foods is expected to reduce the amount of spoilage-related food loss that is said to be 5-8 million tons a year. With these advantages, the frozen food market is expected to expand in the future," Aeon said.
Japan becomes Picard's sixth market – and first outside Europe, where it has over 1,000 stores across France, Belgium, Sweden, Switzerland and Italy.
Retail analysts at UK-based think tank the IGD claims there is an "untapped frozen food market" in Japan.
Data from Euromonitor suggests there is growth to be had in frozen food. The analysts there cited frozen processed vegetables as among the categories seeing "strong" growth in sales in 2015 due to the rise in smaller households and the entrance of a growing number of women into the workplace. It also pointed to "record" ice cream sales in Japan in 2015.
France's competition watchdog to probe purchasing deal
There was less positive news for others in the French retail sector in May. France's competition authority announced plans to launch an in-depth investigation into plans for a purchasing partnership between two of the country's largest grocers – Auchan and Système U.
The two retailers – France's fifth- and sixth-largest grocers – announced in September 2014 they were to team up on buying, with the companies to work together when dealing with international brands. Auchan and Système U said the agreement would not cover fresh produce, some cheese products, bakery lines, meat and seafood. The deal was also to exclude private label, which accounts for 25% of the two retailers' sales on average.
The grocers sought to further emphasise their independence with the insistence that they would continue to operate independently on setting the product ranges available in their stores and on setting price and promotion policy.
A year on, in September last year, the European Commission referred the deal back to France's Autorite de la Concurrence. Two weeks ago, on 24 May, the French regulator announced, after a consultation process with "market stakeholders", the agreement between Auchan and Système U warranted "an in-depth examination considering its effects, both upstream markets of supply of everyday consumer products and downstream at the distribution stage".
The competition body said its prove would look into the impact on competition where both retailers are present, with a "particular focus" on click-and-collect formats. It will also study the impact of the plans on suppliers that were excluded from the terms of the retailers' agreement almost two years ago.
In October 2014, two other French retailers, Casino and Intermarche, announced a similar agreement. At the time, French food manufacturers expressed their concern. "Neck and neck, only four players now share 90% of the market," Jean-Philippe Girard, president of ANIA, the French food industry association, said at the time. "We fear that this new merger marks the end of any prospect of improvement for our food industry and threatens jobs, our investment capabilities and upstream agricultural partners further." Girard added the agreements would "accelerate the deflationary spiral on food".
In December that year, Carrefour and a smaller French retailer, Cora, then struck a deal to co-operate on the listing of national-brand consumer products, excluding lines from the agricultural sector, "raditional fresh products and private-label items.
All three deals came in the content of a fierce price war in France that was putting pressure on margins.
Retailer joint-buying organisations are not a new dynamic in Europe. However, the agreements in France involve co-operation between retailers that are competitors in a specific country, whereas most other buying organisations pair companies with limited geographic overlap.
The deals between Casino and Intermarche, as well as Carrefour and Cora, did not come under the scrutiny of competition officials. Last year, Casino and Intermarche extended the buying alliance to include equipment and services.
The regulator's conclusion on the deal between Auchan and Système U will be closely watched by manufacturers.