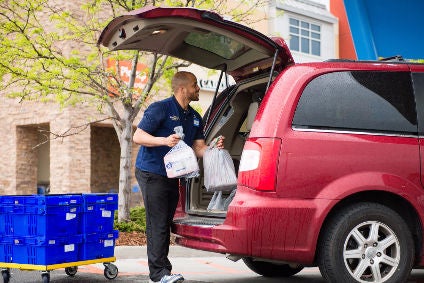 October saw Wal-Mart underline its ambitions in e-commerce, Supervalu sell under-pressure US hard discounter Save-A-Lot and Russian retailer Lenta add to its operations through M&A.
Wal-Mart to step up investment in e-commerce
Wal-Mart Stores has steadily built sizeable e-commerce operations in a number of its markets and has dabbled in others.
In the US and the UK, to take two examples, Wal-Mart has developed online businesses that are among the largest in the countries. In Canada and Mexico, two smaller markets for e-commerce, Wal-Mart is establishing online operations in certain parts of both countries. In China, meanwhile, Wal-Mart is to some extent starting again after selling its local unit, Yihaodian, this summer.
However, Wal-Mart is stepping up the support it is giving to its e-commerce operations, especially in the US and in China. Last month, Wal-Mart set out its stall for its e-commerce businesses, announcing it would "accelerate" its investment in the channel. "We're going to become more of an e-commerce and technology company," Wal-Mart president and CEO Doug McMillon said. "We know we need to invest in e-commerce to get to scale. It's about the longer term for the company."
Wal-Mart is facing significant competition in the online channel in its home market. Wal-Mart's online business has been growing but industry watchers believe the retail giant's expansion has been slower than the channel overall and is perhaps one of the reasons why the company moved to buy fledgling, pure-play business Jet.com earlier this year.
The acquisition of Jet.com, which Wal-Mart finalised in September, is part of the acceleration in investment but, speaking to analysts and investors last month, the retail behemoth's management said the company was investing in its Marketplace, the online portal on which it sells a range of merchandise from third parties, and in its own Walmart.com site. Wal-Mart's ambition is to grow its e-commerce more quickly. The channel, the Wal-Mart executives said, would account for a greater chunk of the retailer's growth going forward.
"We will grow the company. As we grow it, the composition of growth is going to change. We're bringing the new store number down. We're putting more pressure on the comp store sales number. We're going to grow e-commerce faster. This company, over time, is going to look like more of an e-commerce company. We'll still run great stores, and we know how to do that. Customers want a seamless relationship. That's in our favour. But we've got to build this e-commerce business in this country and in others to be there in the future," McMillon said.
Neil Stern, senior partner at US retail consultants McMillanDoolittle, said the acquisition of Jet.com has "changed the game" at Wal-Mart. "Prior to this, e-commerce sales were modest for Wal-Mart and significantly trailing Amazon in total sales but more importantly, the growth trajectory was slowing-only 8% in the last reported quarter. They are hoping that Jet's leadership and model will help them jump start the business. Why are they doing it? Physical brick-and-mortar growth in the US will be harder to come by in the US and they need to get this growth somehow. It remains to be seen whether they can dampen Amazon's momentum but they have shown their commitment.?"
At the conference with analysts and investors, much of Wal-Mart's discussions of its plans for its e-commerce operations focused on the US. However, China is another market where Wal-Mart is looking to significantly develop its e-commerce operations. October also saw Wal-Mart up its investment in Chinese online retail group JD.com.
In June, Wal-Mart sold its own Chinese e-commerce unit to JD.com in return for a 5% stake in the business. Last month, filings showed Wal-Mart had upped its stake to 10.8%. McMillon said he saw benefits for both businesses. "In China, people talk about an O2O relationship, online to offline. That's seamless. That's what we're trying to create in partnership with JD. They bring, obviously, an understanding of the Chinese market, an e-commerce business that's big and scaling, an ability to manage first-party inventory, which we think is important. We bring a supply chain, stores and Sam's Clubs, which are performing really well that we can pour more volume over. We can help with last-mile delivery because of the presence of our stores and where fresh food is," McMillon said.
David Cheesewright, the head of Wal-Mart's international operations, told investors the online channel was vital for the retailer in China. "It's a market we want to win. To win in China, we believe you've got to be relevant in e-commerce," he said.
Late last month, Wal-Mart said it would invest US$50m in Chinese online grocery and delivery firm New Dada, a venture part-owned by JD.com. Wal-Mart said the deal was an "extension" of its agreement with JD.com and co-operation with New Dada. A day earlier, Wal-Mart announced it would be using the Chinese firm's network to offer customers two-hour delivery on groceries ordered from Walmart stores through the JD Daojia Dada app.
US retailer Supervalu sells discount chain Save-A-Lot
October saw US grocery wholesaler and retailer Supervalu sell its discount grocery chain Save-A-Lot.
Supervalu offloaded the business to Canadian private-equity firm Onex Corp. in a deal worth $1.37bn.
A year ago, Supervalu went public with plans to spin off Save-A-Lot, which is one of the largest hard-discount grocery retailers in the US.
Save-A-Lot owns and operates 472 corporate stores, and services and supplies another 896 licensee-owned outlets across the US. The chain has, in recent years, been one of the better-performing parts of the Supervalu business, a wholesaler and retailer that is much smaller than it was at the start of the decade after selling five of its retail supermarket chains at the start of 2013.
However, a look at Supervalu's financial numbers for its last full financial year – which ran until 27 February – and for the first six months of the current fiscal period showed Save-A-Lot has come under some pressure.
In the year to 27 February, Save-A-Lot's net sales were down more than 7% year-on-year. Supervalu does not give annual same-store sales for Save-A-Lot but, in the fourth quarter, the chain saw comp sales decline 2.2%.
In the first six months of Supervalu's current financial year, numbers the retail and wholesale group reported last month, Save-A-Lot's net sales and operating earnings were down. In the second quarter, Save-A-Lot's operating earnings were hit in part by staff-related expenses but also by promotional costs and a 5.2% drop in identical-store sales.
The new owner, Onex Corp., looks to have some work on its hands. The fund's current investments span industries including hair salons, electronics manufacturing and foodservice. It, however, has little experience in food retail and the US grocery market is facing a period of intense competition. It is a time of deflation; in September, for example, Kroger, one of the largest grocery retailers in the US, lower its forecast for full-year earnings per share due to the deflation it is seeing in parts of the grocery sector.
In Save-A-Lot's segment, Aldi continues its expansion and its fellow German discounter Lidl is set to enter the market. "This is a curious buy," McMillanDoolittle's Stern says. "The private-equity firm does not have a lot of retail experience and they purchased a troubled asset. Save-A-Lot should be performing better than they have so this is going to be a challenge. And Aldi's growth coupled with Lidl's entry will make it a much tougher market."
Changes in Russia's food retail market
October saw a number of notable stories in Russia's grocery sector.
Lenta, the country's fifth-largest retail chain, struck a deal to buy the local food retail business of Finnish retailer Kesko.
The UK-listed Lenta agreed to pay RUB11bn for 11 stores operating in the St. Petersburg and Leningradskiy regions.
Jan Dunning, Lenta's CEO, said: "The stores all have excellent urban strategic locations and are complementary to Lenta's existing network. They have a strong team of well-trained store staff who we look forward to welcoming into the Lenta family. Completion of the acquisition will significantly strengthen Lenta's network in Saint-Petersburg, giving many more customers the opportunity to shop at a Lenta store close to their homes."
In the first nine months of 2016, sales at the Kesko food stores in Russia grew by 26.6% in rouble terms. In 2015,
"Kesko's strategic objective is growth in the Finnish grocery trade, in the building and technical trade and in the car trade. We concentrate on the development of the Finnish grocery trade and dispose of the grocery trade in Russia, the growth of which would have required significant capital expenditures. The disposal will have a minor impact on Kesko's net sales, but it will improve Kesko's profitability and cash flow," Kesko president and CEO Mikko Helander said.
Russia's economy is stagnating, with the country's GDP set to fall by 0.5-0.7% this year, according to a forecast last month from the Bank of Russia. The political discord between Russia and the West have led to sanctions and counter-sanctions that have created distribution and sourcing challenges. Kesko no doubt took the view it would be better to focus more of its resources on other parts of its operations.
Elsewhere, Magnit, Russia's largest food retailer, last month indicated it could end 2016 with fewer net store openings after speeding up the closure of loss-making outlets after a period of rapid expansion.
"As to a net increase this year, it could be less because we've made a decision to aggressively close loss-making stores and will shut more than planned," Magnit CEO Sergey Galitskiy was quoted as saying by Reuters.
Magnit's revenue growth has slowed amid depressed household expenditure and intensifying competition. The retailer's net revenues still grew 14% in the third quarter but that was lower than the 24.5% the company enjoyed in 2015. The company is revamping its stores and has seen growth rates climb.