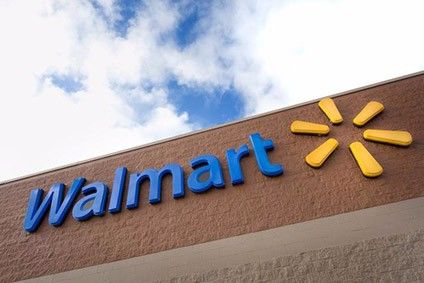 February saw Wal-Mart signal an acceleration of the price war brewing in the US grocery sector, while discounters Aldi and Lidl continued to progress their own agendas in the country. Tesco's steady improvements in the UK continued and the group revealed plans to further adjust its staffing strategy. Here are some of the highlights from the world of grocery retail over the past month.
Wal-Mart increasing focus on price
Once synonymous with keen pricing, Wal-Mart has in some of its key markets seen itself outflanked by the likes of Aldi.
However, in February, Wal-Mart reported a set of fourth-quarter results for its US market industry watchers argued showed the retail behemoth had upped its focus on price, while a notable report from Reuters suggested the company was, in its domestic market at least, looking to take the fight to its cut-price rivals.
Higher service levels coupled with an increased focus on pricing – and consumer communication to land that message – contributed to Wal-Mart's 2.8% increase in sales at its namesake US stores during the fourth quarter. Like-for-like sales at stores open a year or more rose 1.8% in the quarter, supported by a 1.4% increase in traffic, the company revealed.
Greg Foran, the president and CEO of Wal-Mart's US arm, said deflation presented a headwind for the group, putting pressure on the value of a basket. "We're pleased with grocery comp, despite continued significant headwinds from deflation, which we believe negatively impacted our food comp by about 90 basis points in Q4 relative to last year," he said during a media call.
But while pricing made Wal-Mart's like-for-like comparisons more challenging, some analysts argued Wal-Mart's move to cut prices during the quarter helped its performance.
Global Data Retail MD Neil Saunders said Wal-Mart's actions on price were "foremost" among the factors supporting its top line. "We believe that a number of things helped Walmart over the holiday quarter. Foremost among these was the strategic decision to invest in price and to heavily promote this fact to consumers. After a long period in which Walmart has seen some erosion from the one-dimensional pricing tactics of the dollar stores and new low-price entrants like Aldi, we believe that its now back on the front foot of being an EDLP leader," he suggests.
A Reuters report, citing unnamed "vendor" sources, said Wal-Mart has launched a price comparison test across 1,200 of its US stores as it looks to pit itself against the dollar stores and discounters. In these markets, price competition would seem to be intensifying further still.
While Wal-Mart is swallowing some of the cost of lower prices – the group's gross margin was down by eight basis points in the fourth quarter – the company is also looking to suppliers to fund the cuts. According to Reuters' "vendor sources", who did not want to be named for fear of reprisals, Wal-Mart expects suppliers to help fund its pricing initiatives "80% of the time".
Foran may have hinted at such measures during the conference call when he indicated Wal-Mart would "lean" into buying "better" from its suppliers. "The margin did come down a few basis points in the fourth quarter. I'm sure you can appreciate there are lots of things that affect margins, and we are working on lots of things, so improving our fresh food, throwaways, improving our inventory results, unknown shrinkage – both of those things will move margin up, as will continuing to lean into ensuring we buy better from our suppliers. And then, of course, we'll invest some of that improvement in margin and price and we continue to run the program we initiated a couple years ago."
Aldi "enhancing" shopper experience in US
If Wal-Mart is stepping up its efforts to compete with Aldi and others on price in the US, it would seem that the German discounter is shifting its own strategy to meet Wal-Mart on service levels.
Aldi announced last month that it will invest an "aggressive" US$1.6bn in its stores, with an "extensive plan" to remodel and expand more than 1,300 US stores by 2020.
Announcing the move, Aldi said it aims to deliver a "modern and convenient shopping experience" with an increased emphasis being placed on fresh items through "more robust" produce dairy and bakery sections.
Expanding in the higher growth sectors of the US food market is a savvy move from Aldi and it is likely that the company will build on its other initiatives including the introduction of LiveGfree brand of gluten-free foods, SimplyNature organic products and a full line of baby items under the Little Journey brand.
Jason Hart, CEO of Aldi's US business, said: "We're continuing to expand our fresh offerings, which means we need to provide more space for produce, meat, and bakery items. We've also made a number of improvements to our products – such as removing added MSG, certified synthetic colours and partially hydrogenated oils from all of our Aldi exclusive brand foods. But one thing that hasn't changed is that our customers still save money on the groceries they buy the most."
This strategy has enabled Aldi to report impressive growth in the US market. Today, the retailer serves 40m customers each month, which is a nearly 60% increase since 2013. The company is coupling its store improvement programme with continued geographic expansion into more territories throughout the US. By the end of 2018, Aldi expects to operate nearly 2,000 stores throughout the US.
Lidl entry could turn up the pressure
The much-hyped expansion of fellow German discounter Lidl into the US is also drawing nearer, it emerged in February.
The company revealed it is preparing to open its first stores this summer, instead of the end of the year as originally announced. The first 20 stores will be located in Virginia, North Carolina and South Carolina, the company said.
Details of Lidl's plans for the US have been kept under wraps. But the company is typically viewed as more of a "soft discounter" than its compatriot and rival Aldi. Looking at its European operations, Lidl typically carries a wider assortment with a broad fresh offering and more of a branded presence. It will be interesting to see what adjustments are made to cater to US consumers.
The expansion of the German discounters will likely have significant ramifications in a retail market that is already operating at – or near – saturation point. There are around 38,000 supermarkets that generate sales of $2m or more in the US. Increased competition as Aldi and Lidl open new stores mean more pressure on existing retailers and – at some point – something will have to give.
Tesco staff shake-up
The UK is a market where the implications of Aldi and Lidl on the wider sector can be clearly noted. For years, the German discounters have been stealing share from traditional grocers such as Tesco, Wal-Mart-owned Asda, Sainsbury's and Morrisons.
After suffering a period of decline Tesco, the country's largest supermarket group, has mounted a defence that has included price cutting and SKU reduction. In an approach that, to an extent, mirrors that taken by Aldi and Lidl, Tesco has dedicated its store space to higher frequency lines in a bid to optimise its shelf space. And its efforts have met a degree of success.
As HSBC analysts noted in a report last month: "Tesco's recovery remains on track and its growth is better and more profitable than first appears" given the tough trading environment UK retailers are grappling with as inflationary pressures start to show. "Manufacturers are starting to put prices up, with some retailers welcoming the increase (and the opportunity to protect margins) while others are resisting. This gives Tesco, in particular, an opportunity to use inflation as a competitive weapon," the analysts suggest.
In order to invest in price, Tesco is working to do more with less and last month's news that it will be scrapping deputy manager roles at its Express convenience format should be viewed in this context.
The company revealed that it will eliminate 1,700 deputy managers from its convenience network. These positions will be replaced by 3,300 shift leader positions.
The supermarket chain said the changes form part of its ongoing transformation to meet evolving shipping habits and expectations.
Tracey Clements, managing director of Tesco's convenience division, explained: "To help improve our service to customers in our Express stores we are aiming to have more of our colleagues on the shop floor, more often."
The move follows the announcement of 1,000 job cuts in January and, Jon Copestake, retail analyst at The Economist Intelligence Unit, suggests that there could be more job cuts to come. "With Tesco shedding jobs in a number of initiatives since Dave Lewis's appointment in July 2014 it seems that the CEO's turnaround plan will result in more redundancies over the coming year," he predicts.
However, Copestake says, the impact on Tesco's profit margin of this latest shift is unclear. "The impact and rationale of Tesco's move here in unclear. Cutting the deputy managers role could be costly in the short term as redundancies would need to be accommodated. Equally, the retailer is committing to 3,300 new shift leader positions which implies an overall increase of 1,500 staff in its convenience store division, which is likely to push up overall staffing and employment costs. While this may benefit British consumers by putting more personnel on the shop floor, the problematic nature of the restructure looks unlikely to win Tesco Express staff over."