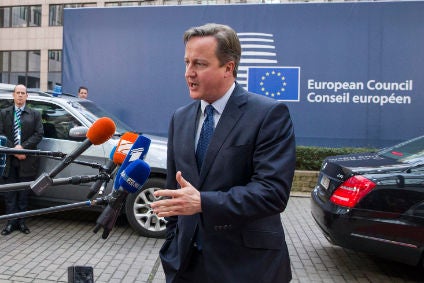 The UK could vote on its membership of the EU in little more than four months but little attention has been paid to what impact an exit could have on the country's largest manufacturing sector. Ben Cooper weighs up the issue, speaking to executives from across the industry.
A prevailing theme in the debate over the UK leaving the EU is it is focusing on the wrong issues. Proponents of continued membership see the emphasis on immigration and welfare benefits as disproportionate, while the pro-Brexit lobby say political elites are ignoring the issues that matter to ordinary people.
Amid the acrimonious clamour, one topic that has so far failed to feature significantly is the impact Brexit might have on the UK food sector. Even agriculture, an EU political football since the whole European integration movement kicked off, has not featured prominently to date.
The omission of food from the debate so far was the reason Brexit was chosen as the topic for the sixth annual City Food Symposium in London in December. Tim Lang, Professor of Food Policy at City University and the symposium's convenor, said it was "staggering" food was not being discussed in the Brexit debate.
Prof. Lang also said he had never found it more difficult to line up speakers for a conference, underlining an apparent unwillingness on the part of interested organisations and companies to express views publicly on the topic.
That seemed to be underlined when Ian Wright, director general of the Food & Drink Federation, told the audience the organisation representing UK food manufacturers did not have a position on Brexit, yet.
Wright's deliberate inclusion of the word "yet" is significant. The FDF has conducted a consultation with its members, asking members what information they required to make an informed decision, and whether they think the association or the UK food and drink industry should take a view.
The FDF confirmed to just-food this week the results of its survey are to be presented to its executive committee at the end of the month, and "next steps will be a matter for that committee".
In the meantime, Wright summarised his personal view that Brexit would have negative consequences for the UK food manufacturing sector, focusing on the implications for trade, labour, inward investment and legislation/policy. "We are an industry that exports and imports. If access to markets outside the UK is affected that will have a material and detrimental impact on our business," Wright said.
Wright's view is echoed by Kevin Brennan, chief executive of UK-based meat-free supplier Quorn Foods. "Europe is our largest export market with huge potential," Brennan tells just-food. "A move out of the EU would undoubtedly make expanding this business more difficult so we are strong supporters of staying in the EU."
According to the UK's Department for Environment, Food and Rural Affairs, UK food exports total around GBP18.8bn and imports GBP39.5bn. Of the UK's food supply, some 54% is produced in the UK, 27% comes from other EU countries and 19% comes from the rest of the world.
Wright alluded to the "chaos" Brexit would create "for years" as the UK sought to renegotiate treaties and trade agreements currently in place by dint of EU membership.
In his previous role at drinks giant Diageo, Wright had worked with then CEO Paul Walsh when he was an advisor to David Cameron on the implications of Brexit. Wright said there were then 187 such treaties that would have to be replaced. How the UK would renegotiate its membership of the World Trade Organization was "not a given", he added, a view supported by Alan Swinbank, Emeritus Professor of Agricultural Economics at Reading University. Prof. Swinbank told the symposium any post-Brexit solution short of a complete customs union, which he believes is unlikely, would result in "disruptions to the supply chain".
The UK's import-export balance serves to highlight that Brexit is not just a concern for UK food producers but also for any EU food manufacturer serving the UK market.
Finnish food group Raisio does not believe Brexit would cause it problems, however, provided the necessary free trade agreements are in place. "Assuming that Brexit does not stop free-trade, bearing in mind that in the past before "Brenter" EEC and EFTA co-existed, nothing dramatic to be expected for us," says Raisio CEO Matti Rihko.
Patrick Cairns, CEO of the UK arm of Netherlands-based Wessanen, is rather less sanguine. "As a business, we have a preference for certainty, and as a large proportion of our sales are exported to Europe we would rather the terms of trade were as simple and unencumbered as possible. A Brexit is not going to be helpful in either of these regards. What the impact of such a move would be and how this would affect our business and the investment decisions that we make would very much depend on the new terms agreed with the rest of Europe."
The EU's food and drink industry association, FoodDrinkEurope (FDE), said it was not in a position to comment on Brexit, adding "our members have not asked us to look into this very political question", a fact which may surprise some observers.
Given the UK's current food balance of trade, Prof. Lang believes Brexit would raise worrying food security and sustainability issues. Brexit would create gaps in environmental policy which, according to David Baldock, director of the Institute for European Environmental Policy, would lead to a "prolonged period of uncertainty with environmental consequences".
Speaking at the symposium, Baldock added: "In the debate we've had up to now the risks [of Brexit] to the environment have been very considerably underestimated." Meanwhile, Wright pointed to the impact on specific food regulation and policy, relating for example to labelling and food safety, currently under EU aegis.
Several speakers at the City Food Symposium suggested government subsidies for food and farming would almost inevitably be reduced in a post-Brexit scenario. Support for agriculture, environment and sustainability no longer mandated under EU directives may fall victim to Treasury parsimony in the current culture of austerity, potentially adding to the cost base for food manufacturers.
Access to labour markets was another crucial factor Wright highlighted. Food manufacturing, like agriculture and foodservice, employs vast numbers of unskilled workers, many coming from the EU. The FDF points to official figures showing that migrant workers account for as much as 38% of the UK industry's 400,000-strong workforce.
There are also concerns over skilled labour, Wright said. "This industry has a skills gap of 100,000 workers between now and 2025. We are currently 100,000 short because of the age profile of the people working in our industry. A whole lot of that is going to have to be filled from the EU. If we don't have access to that talent pool who knows what will happen."
Wright also said Brexit could lead major food companies to reconsider locating in the UK. "Many, many companies headquartered here are here because the UK is a great place to do business in the EU," he said. In the event of Brexit, he argued "all the American companies will reconsider", adding: "They may not move but they will reconsider and many of the European companies will downgrade their operations here and upgrade them elsewhere. Why would they not?"
However, Unilever CEO Paul Polman recently told The Guardian that Brexit would not affect Unilever's decision to locate in the UK. He said Unilever based such decisions on critical mass rather than on whether or not a country was in the EU, though he also said he personally believed the UK should remain in the EU.
On the other hand, Nestle chairman Peter Brabeck-Letmathe told Sky News back in 2014 Brexit "would isolate the UK economically" and "every company would be forced to re-evaluate the implications of investing in the UK".
When contacted by just-food, Unilever and Nestle declined to comment on the implications of Brexit, as did General Mills, further underlining the palpable reticence on the part of many companies to venture opinions on the issue.
Uncertainty over the past year or so may have exacerbated corporate caginess, and in that sense recent events and particularly news the referendum is likely to be held this year, probably on 23 June, rather than being delayed until 2017, is positive.
The Brexit issue could soon be resolved. If the vote is to remain, the UK's relationship with the EU will remain the highly politicised issue it always has been, but the particular uncertainty created by the spectre of Brexit will have been removed.
A vote to leave would of course also remove that pervading uncertainty, but it would unquestionably presage many others for UK policymakers, the public and its food companies to ponder.