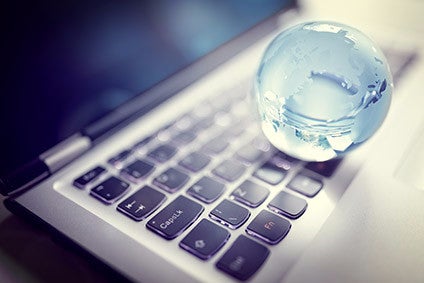 From shoppable recipes, to online marketplace stores and voice technology, Ben Sillitoe looks at the opportunities, challenges and emerging trends for food manufacturers developing online strategies.
No grocery retailer or supplier, in any territory, can afford to downplay online retail and the impact it is having on their sector.
That was a key message from a joint study by UK-based research group IGD and industry association The Consumer Goods Forum, detailed at the latter's Global Summit in Singapore in June.
It forecast UK online grocery sales will grow by 48% by 2022 and account for 7.5% of the total market. Meanwhile, in China and the US, respective growth of 286% and 129% is expected during that time – meaning online will account for 11.1% and 2% of total grocery sales in those markets.
Global supermarkets are setting up their businesses accordingly for a digitally-influenced consumer, with, to use a UK example, Sainsbury's recent acquisition of Argos as much about the online and distribution capabilities it generated as it was about scale. But what does a growing online market mean for global manufacturers?
A standout figure from the IGD-Consumer Goods Forum survey, was 75% of the 225 industry respondents from 42 different markets expect more manufacturers to sell directly to consumer (D2C) online. Factors such as the rising sophistication of artificial intelligence and voice technology are predicted to support this trend, as well as consumers' apparent continued demand for convenience.
Simon Mayhew, online retail insight manager at IGD, says: "I saw the D2C statistic as a watch-out for manufacturers and retailers to understand that, as a business, you have to change or you will fail."
He cites dental products manufacturer Colgate's recent investment in contacts lens supplier Hubble as an example for the food manufacturing industry. Now, Hubble customers can receive toothpaste and related items as part of a subscription service.
"It's an example of a manufacturer saying 'we need to get control of this, wouldn't it be great if we could test new products and get more data and understanding of shoppers' use of products, while locking in loyalty and spend via subscription?'"
Mayhew adds: "I think we'll see more and more of these in different categories but, with D2C, these services have to offer choice and something better than visiting a physical store or grocer's website.
"It might be the ability to customise a product or it might be something that isn't available anywhere else. Companies need to ensure the value equation adds up."
Subscription services such as UK-based Graze and Germany-headquartered HelloFresh have blazed a trail for the D2C model in the food space. Snack provider, Graze, for example, which is now supported by a presence in third-party retailers, reported revenue of GBP75.8m in the 12 months to the end of February 2017 – up 8% year on year.
The story so far
The concept of food manufacturers going D2C is not new, and there are examples of it working in the past, notably Nestle's Nespresso coffee arm. But, aside from brands selling on marketplaces such as Amazon and Alibaba, the online D2C route is still at a nascent stage.
FMCG titan Unilever has been trialling several D2C models with varying degrees of success via its start-up incubator Unilever Foundry, with its mayonnaise brand Hellmann's teaming up with delivery platform Quiqup to launch on-demand recipe delivery.
The plan was to target impulse buyers by allowing them to choose a favourite recipe online and get all fresh ingredients delivered to them directly within an hour. A spokesperson for Unilever was unavailable to discuss the success of the initiative but suggested another Unilever brand D2C project is set for testing later this year.
Unilever already sells Maille mustard directly through a dedicated brand website, with this product line also supported by flagship stores in locations such as London's Piccadilly and Barcelona.
Bryan Roberts, global insights director at retail marketing agency TCC Global, says it is more marketing exercise than a comprehensive retail channel.
He says, for example, the stores "might wash their face commercially but arguably it's more of a marketing budget initiative rather than anything else".
Elsewhere in the UK, Premier Foods does not sell directly through its own websites but is fast developing an e-commerce team to drive overall online sales on third-party sites.
Rachel Pitman, who rose up through Premier's graduate scheme, was appointed online commercial executive in 2017 – and it is her task to lead the e-commerce operation, which including her comprises three members of staff.
Detailing the online proposition to date, she says: "We're on Amazon Food Cupboard and we have a sales team for Amazon which looks after that account, but in terms of selling D2C we don't at the moment – the focus is on retailer partnerships."
One major project currently underway involves the standardisation of product-information and imagery for use on retailers' websites. Premier is part of a working group, led by standards organisation GS1 UK and involving Coca-Cola, Unilever and Kerry Group, where manufacturers are setting guidelines around product data.
Pack shots are being simplified, picking out standard key messages relevant to shoppers' decisions, including net weight and special dietary information. Premier rolled out its first images with these guidelines on 19 July for its Lloyd Grossman pasta sauces.
The move to standardisation is welcomed by manufacturers because they were "going down different routes", according to Pitman. "The partnership with retailers over the last nine months has become even more important for online," she adds.
"We've been working with our retail partners to make it easier for our customers to shop online, looking at product titles and search results. Little things like that make a real difference."
Dedicated digital departments
Premier creating its own department dedicated to the rise of grocery e-commerce is part of a wider trend within food manufacturing.
Denmark-based dairy products provider Arla Foods created a combined e-commerce and digital function in its key UK market last autumn, hiring former Tesco, Jacobs Douwe Egberts and Burton's Biscuit Co. executive Steve Millard to lead it.
Arla's '2020 Good Growth' strategy focuses on stepping-up digital and e-commerce efforts in an overt attempt to modernise and create a more distinctive offer targeted at younger and digitally-savvy shoppers.
Reporting its 2017 results in February, Arla said "significant investment" in digital marketing communications resulted in "double-digit growth" in its e-commerce and e-tailing channels, although it did not disclose more detailed numbers.
Millard added in an interview with just-food in April the proportion of Arla's sales in the UK generated online is in the "high single-digits" and, by 2020, the business wants to take that chunk to 15% – and then on to 20% by 2025.
"Having a team where a digital marketeer sits together with their e-commerce guys and create 360-degree integrated plans, I strongly believe we are better placed than most other companies," he noted.
In the US, Campbell Soup Co. is a company eyeing making inroads in the country's relatively more fledgling food e-commerce channel. Last year, the group brought in former Kellogg digital director Matt Prichard as vice president for digital marketing. He says his role is to help Campbell upskill in the digital space "as quickly as possible".
So far, Campbell has brought in 26 experts in an effort to drive its capabilities in this area, including last year's appointment of Shakeel Farooque as chief digital officer to oversee it all. Former Amazon and eBay man Farooque was previously senior vice president for digital and omnichannel experience at Kohl's department stores.
Campbell also recently partnered with UK-based digital e-learning company Circus Street to help develop its digital team's skillset.
"We're rolling out that e-learning capability to over 300 marketeers across the globe, with the idea of getting everyone up to speed using the same terminology and making sure they are asking the questions that will enable them to make better consumer connections at a personalised level," explains Pritchard.
Innovative initiatives from Campbell in recent months include the June unveiling of click-to-buy recipes on the Campbell's Kitchen website.
"Consumers were frustrated looking at recipes and then having to go away and populate the ingredients themselves, so we launched a partnership with Chicory and we have shoppable recipes on Campbell's Kitchen," Pritchard says.
"It means over 3,000 recipes are available at the click of a button, and you can take constituent parts and populate that in the form of an online shopping basket or export it to a list that can be fulfilled offline."
The Campbell's Kitchen orders are fulfilled by partners. Type in a San Francisco zip code, for example, and Amazon Fresh, Instacart or Walmart are the fulfilment options.
Pritchard says early indications suggest the site is having a positive commercial impact, with sign-ups to the Campbell's Kitchen newsletter reportedly up as a result. He argues that it is resulting in "a much deeper level of engagement from consumers".
"We have various sites to engage consumers, and those sites are there to allow consumers to find out about our products and our stories, making it as easy as possible to go from there to purchase," he notes.
"We have clear calls to action, either 'buy now', or 'where to buy'. We try to create an experience where all of our assets, be it a video, a banner, or a website, are a quick step away from being shoppable to ensure the journey is seamless for customers."
New models and grocery market disruptors
New opportunities in the digital space are continually emerging, resulting in a steady chain of fresh business models.
In July 2017, online platform Brandless launched in the US selling its self-manufactured everyday essentials, including organic food. It ships D2C, promising average savings of 40% on cost mark-ups against national brand retailers.
Co-founder and CEO Tina Sharkey recently said the organisation's purpose was to create "an authentic new kind of relationship between people and the companies built to serve them", adding it was a case of fixing "a broken system" with cheaper prices.
Meanwhile, the INS Ecosystem – which announced its arrival in 2017 – has the potential to disrupt the status quo on an even greater scale, with Unilever among the businesses already signed up to test selling through the blockchain-supported platform.
Peter Fedchenkov, the Russian entrepreneur behind INS Ecosystem and the founder of same-day grocery delivery service Instamart, claims consumers' grocery bills could be slashed by 30% through his platform, which allows suppliers to sell D2C, set prices, gain direct customer feedback and reward shoppers who are loyal to brand, not retailer.
And manufacturers are also closely monitoring the growing voice-enabled technology trend gaining momentum in the US and UK, but already pervasive in Asian markets.
Arla, Premier and Campbell are among the companies with voice search on their radars, and they are all working on strategies to prepare for a world when Amazon Alexa and Google Home are used more regularly for shopping or seeking product information.
For now, it appears mainly a case of working with retail partners to overcome challenges and identify consumer engagement opportunities, but it is impossible to predict how this type of interaction will evolve. Pritchard promises "a real push" in the voice tech space from Campbell over the next 12 months, while it's also high on Pitman's agenda at Premier.
"Favourites will be even more important because if you're searching and ask to 'add pasta sauce' it will add what's in your favourites list – it's about making sure product titles are accurate," Pitman says.
"This is being driven by the retailer but we're making sure we're in partnership with the retailer to be aware of what they are doing and the opportunities. We haven't had any conversations with Alexa or Google Home, but that's not to say we won't in the future."
Whether it is through INS Ecosystem or other emerging platforms, IGD predicts food manufacturer collaboration will increase. Websites offering multiple brands in one place would be welcomed by consumers, it says, but they would clearly need a new angle from Tesco.com, Ocado et al, which already provide one-stop shops for consumers.
At the IGD, Mayhew suggests any collaboration between manufacturers on D2C would require significant differentiation from the supermarkets as well as providing "online exclusives". It would have to be cheaper than the grocers with "super convenient" fulfilment, he adds.
"There are lots of challenges to get there but I can understand why manufacturers want to move in that direction," he explains.
"They will have that direct relationship with a shopper to drive loyalty, they'll be able to test new products and get data to move their businesses forward in the future. We definitely see it as a new route to market rather than an 'either-or' situation – it would be complementary to existing models."