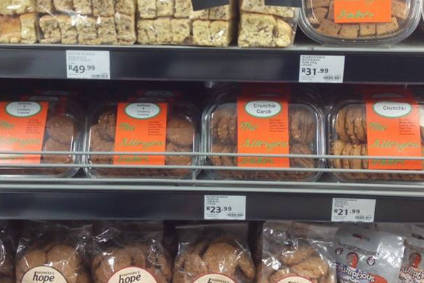 The gluten-free market has taken root quickest in markets in North America and western Europe but manufacturers looking for more business opportunities could look to South Africa, a country where the category is in its early stages but one touted for expansion. John Shepherd reports.
Bakery products have long been a staple of the daily diet in South Africa. The number of in-store bakeries has grown dramatically since deregulation in 1991.
Alongside major national manufacturers like Tiger Brands, the South African Chamber of Baking estimates there are some 600 in-store bakeries across the country's major supermarket groups, 250 franchise bakeries and between 3,500 and 4,500 small independent bakeries and in-store café bakeries.
"Bread," the SACB writes, "is the second most important supplier of energy in the national diet after maize products".
However, South Africa's bakery sector has, until recently, been largely the domain of conventional bakery products. Gluten-free lines did not feature on the shelves of the major retailers. But that is changing and industry analysts now list South Africa as one of the next five key international markets for gluten-free.
The nascent category is, however, the domain of South Africa's wealthiest consumers. "South Africa is a massive bakery market, bread is a staple food and the country has one of the largest per capita consumption levels in the world. For the vast majority of the population, bread is a cheap source of food, so gluten free is not necessarily going to appeal to low-income groups. We are talking here about the top end of the market and gluten free being quite a niche premium product, largely available to those who can afford it. We are really talking about the high-end, premium channel," Chris Brockman, Mintel's research manager for food and drink in the Europe, Middle East and Africa region, says.
Nevertheless, Brockman points out South Africa "is also a market where there is a very strong health and wellness focus at the moment", which is why he agrees the country is set to be one of the up-and-coming growth markets on which manufacturers of gluten-free products should focus. South Africa is, Brockman adds, a market that follows "a lot of the trends that we have seen in Europe, such as gluten free".
Data from Mintel says around 7% of total food and drink launches in South Africa over the last 12 months, up to September, were gluten-free, an increase of 6% compared to the previous 12 months.
Interestingly, given the usual development of a new category, the data from Mintel lists private-label lines from two of South Africa's largest retailers as among the top five gluten-free brands in the country.
Woolworths Holdings is one the retailers and, although it started selling gluten-free bread in 2003 it launched what it calls "an updated range" of products two years ago.
"One of South Africa's major retailers, Woolworths, launched a range of gluten-free products in 2014, including bread, rolls, cakes, muffins, biscuits and crackers," Brockman says. "Gluten-free breakfast cereals are also developing well."
Woolworths' focus on gluten free is part of a corporate responsibility push launched in 2007, which the retailer said at the time aimed to "make a difference in eight key areas on our journey towards sustainability", including health and wellness.
Today, Woolworths-branded gluten-free products sold in its stores range from bread to crackers and pizza bases, through to pasta (including Dinosaur Shapes pasta for children) and confectionery.
The other major retailer named is Shoprite Holdings. Wellness has become a key feature for Shoprite's Checkers supermarket chain, which the retailer says serves South African customers in the upper "living standards measurement" level, a national indicator used to segment a retailer's consumer target market.
A Checkers spokesperson told just-food that the majority of the brand's stores now have a dedicated wellness destination in the grocery aisles housing branded products that are Gluten Free, Wheat Free, Diabetic friendly, banting (similar to low carbohydrates and high-fat diets) friendly and preservative free. "Gluten free lines include pasta, flours, breakfast cereals, snack crackers and biscuits and are listed in selected stores across South Africa according to customer demand."
A Checkers spokesperson says the wellness market "remains small in comparison with regular counterparts" but the chain recently introduced a range of convenience foods under a private label featuring banting-friendly and gluten-free products such as rusks, bread and snacks. "Suppliers manufacture, pack and label them for the Checkers brand according to the Shoprite Group's specifications and own-developed recipes." However, the spokesperson says it is too soon to give an indication of growth at this stage.
A channel in South Africa, albeit again in its early days, that could prove fruitful for gluten-free products in the country is online. Natural, organic and free-from products, including gluten-free, are now also a staple on the digital shelves of South African online retailer Faithful to Nature, founded in 2007. The e-commerce retailer sees one of its niches as serving the gluten-free sector around the clock and being a convenient alternative for those looking to stock up when their local store or health shop runs out of a product.
Last year, Faithful to Nature secured investment from local private-equity firm Silvertree Capital, which is now the biggest shareholder in the retailer. Peter Allerstorfer, a founding partner of Silvertree, represents the investment firm's shareholding on Faithful to Nature's board. He also works with the retailer's management team on the day-to-day business. "We saw that the organic and natural sector, including gluten-free, was growing much faster as a business than others in South Africa. This is one of the main reasons we became excited about Faithful to Nature. We wanted to develop the company, so there was money that went into the entire business, such as marketing and logistics, but most of the funding that we put into the business was to build up for further growth in the future," he says.
"If you went into a retailer five years ago there was not a lot of shelf space for natural, organic or gluten-free products. If you go to a retailer here today, there is usually one big shelf dedicated to those products. An increase in awareness of health issues has increased the growth of the industry and the use of e-commerce has increased alongside that. We have not done any major research into the space in the market for gluten-free itself, but we can see from the results of our business that this sector is growing. There is an underlying growth trend we can see that is not just based on the growth of e-commerce or internet shopping."
Cape Town-based The Allergen Baker is a start-up growing in-line with demand for gluten-free products. The firm was founded by coeliac Diane Swales in 2001, after a master baker in a local store told her it was impossible to produce anything gluten-free that she could enjoy.
"I took him up on the challenge and started working from my kitchen at home, converting my grandmother's old recipes to gluten free," Swales says. "Back then, all the flour I could use was only found in many of the Indian stores where I used to shop."
Up to 2013, Swales and a handful of colleagues grew the business organically, supplying some specialist shops and outlets, but then she was approached by one of the country's largest retailers, Pick n Pay, who asked her to supply them.
"Today we supply them in the Western Cape, which is the Cape Town area, and we are allowed to supply about 80 Pick n Pay shops although we do not supply them all," Swales says. The bakery supplies around 150 stores in total, 54 of which are Pick n Pay.
Last year, The Allergen Baker realised a turnover of ZAR900,000 (US$63,000) – with its 13-strong range of products all hand-made in a 55 square metre factory. But Swales says all that is about to change following a new offer from Pick n Pay.
"We have been asked by Pick n Pay to go national, which will give us access to 1,000 shops," Swales reveals. She says although the offer is under consideration, she and her colleagues are enthusiastic to go-ahead and are now looking for equity investors to enable them to move into bigger premises. The Allergen Baker aims to move out of its current facility next February to ramp up production and serve Pick n Pay's additional stores. The expansion plan is estimated to require an investment of around ZAR2m ($139,000).
"We estimate that, compared to what we currently produce in one week, we will be able to produce about three times that amount daily after the expansion," Swales says.
In addition, The Allergen Baker is looking to develop a sugar-free product range and gluten-free frozen short crust pastry and puff pastry items, following on from its existing range of gluten-free premixes.
"We have also been asked by someone if we would start exports early next year, so we are starting the negotiations for that and are maybe looking at starting next March," Swales says. Botswana, Kenya and Namibia are in the firm's sights for African exports and Swales is also eyeing potential exports to the UK, Europe and the US. "I would love to challenge my product against others to see how it compares," she said.
South Africa is a market where the gluten-free category is in its early stages, so much so Euromonitor does not yet have retail sales for the data for the market. However, it is clear on the ground gluten-free has taken root and a category is building.