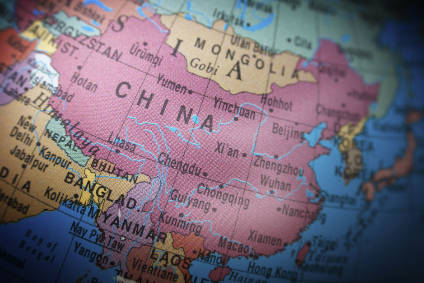 When I arrived in China as a student in 1975, I knew most Chinese didn't like dairy products in general and particularly disliked cheese because of its smell. I was surprised to find small amounts of domestic Chinese cheese from Heilongjiang, the province bordering Russia, in a special store for foreigners.
During the past few years, more and more consumers in larger cities like Shanghai, Beijing or Guangzhou like to try foreign foods, including cheese. Pizza was one of the first cheesy products introduced in China (Pizza Hut opened in Beijing in the mid-1980s). Consumers also got acquainted with cheese during their foreign travels.
Like all dairy, cheese is perceived as a healthy food in China. In a speech laste last year, a vice agricultural minister in the Chinese government even encouraged the consumption of cheese in schools. Try to imagine what that would mean for the cheese demand in China. The CEO of Beijng Sanyuan stated during the same meeting cheese production would see an annual growth of 20% in the next five years.
Almost all cheese consumed by Chinese is still processed (and sold packs of five or six slices), as this minimises the product's smell.
Reliable production figures are notoriously hard to get. According to one Chinese source, the country has produced 27,000 metric tonnes of cheese in 2016; some 10,000 metric tonnes made from domestic raw milk and the remaining from imported bulk cheese. The OECD-FAO and USDA statistics are considerably higher but I suspect those figures include some yoghurt, which is sometimes named suanrulao or 'sour cheese'.
Still, most cheese consumed is imported. The nation imported 97,000 metric tonnes of cheese in 2016, 6.9 times the volume of 2008.
Some 17,000 metric tonnes was used for processed cheese sold in stores, with 80,000 metric tonnes going into the catering sector and to other food processors.
Overall, the largest source was New Zealand (42.2%), followed by Australia (27.2%) and the US (18.6%). The Europeans are lagging behind. However, most of the natural cheese I have seen in Chinese supermarkets is European, from markets like the Netherlands, France and Ireland.
In November last year, China lowered the import tariff for cheese from 12% to 8%. The import volume of the first nine months of 2017 was 84,800 metric tonnes, up 20.4% year-on-year.
Mozzarella is a major item among imported cheeses. Fonterra has even increased its production of Mozzarella in Australia to better supply the Chinese pizza market. Mengniu Dairy and its partner Arla Foods launched mozzarella earlier this year.
The main distribution channel for cheese to consumers is the restaurant and catering business (64.9%); followed by retail (32.1%) and online sales (3%). The reason is it is necessary to maintain the cold chain for cheese. Many small grocers cannot provide this service yet.
According to the China Top 10 website, operated by e-commerce platform Maigoo, the most popular cheese brands among Chinese consumers in 2018 are:
1. Bright*
2. Sanyuan*
3. Milkana
4. Anchor
5. Suki*
6. Président
7. La Vachequi Rit
8. Milkland*
9. Arla
10. Tala Eji*
Note: Domestic producers (including processors) are indicated with an asterisk.
The oldest industrial producer is Sanyuan. It imported a Danish cheese production line in 1985 to service the foreign community in the Beijing. Sanyuan still produces this cheese under the Beijing Cheese brand. It now has a capacity of 10,000 metric tonnes per year.
Two notable Chinese companies outside the current top ten are Le Fromager de Pekin and Yellow Valley. Both are producers of artisan cheese, which I expect to become the most interesting growth sector in the Chinese cheese business.
Le Fromager de Pekin is a company set up by Liu Yang, a native from Heilongjiang. Liu spent seven years in France studying business administration and cheese making. Upon his return to China in 2007, he set up Le Fromager de Pekin, which sells about 5,300 pounds of cheese a year. Although Liu's mission is to promote cheese to fellow Chinese, almost all of his clients are expatriates in Beijing. Still, he is convinced that will change. Liu is developing Chinese mouldy cheeses with strains used in traditional Chinese foods. Le Fromager de Pékin sells 120g of Beijing Grey for CNY48. A Kerrygold reserved cheddar can be bought in a supermarket for CNY45.
Yellow Valley was set up by the Dutch agriculturist Marc de Ruiter in Taiyuan in 2004. It is a small production facility linked to a dairy farm. The business grew rapidly but had to close down after the melamine milk scandal which had a significant impact on China's dairy industry, even for firms not directly implicated. De Ruiter, however, restarted as a producer of artisan cheese. The cheese is sold directly and online – not in stores. Yellow Valley offers a wide range of Gouda cheeses. Nearly 90% of its sales go through WeChat, Weidian and Taobao channels.
The Chinese are developing a taste for cheese but what would it take to bring this market to maturation? One problem is cheese is hard to integrate in Chinese cuisine. You can try to make cheese-filled dumplings but these may taste more like (bad) ravioli. The same would happen, if you would sprinkle grated cheese over a bowl of noodles. That is not likely to become a hit.
Some producers of traditional Chinese rice cake (niangao) have launched cheese-flavoured varieties, using South Korean recipes. Powdered cheese may be used to flavour other Chinese snacks as well.
Another problem is the little natural cheese that is actually produced on Chinese soil is not linked to the local food tradition (terroir). An idea for the cheese entrepreneurs in China would be to promote their cheese in combination with local alcoholic beverages. Yellow Valley has exhibited its cheese together with wine from the same region: Grace Vineyard.
There is plenty of room for European cheese suppliers to enter or expand the Chinese markets. Bulk cheese for processing will remain the leading product for some time – cheese sold in packs of five or six slices, as well as the cheese used as an ingredient by other food manufacturers and the catering trade.
However, the most interesting challenge is to start promoting your artisan cheeses now to cash in on the expected growth. Young, more educated Chinese consumers are developing a taste for new flavours. Sales of artisan beer are booming in China, both domestic and imported. I expect the same to happen with cheese, in particular those flavoured with herbs and moulds.
I see two strategies for promoting such cheeses. The first is to contact Chinese food technologists who are willing to think along how your products can be fitted into the local tradition. The second is to hook up with wine, beer or spirit makers from your own home region and promote your products as complementary.