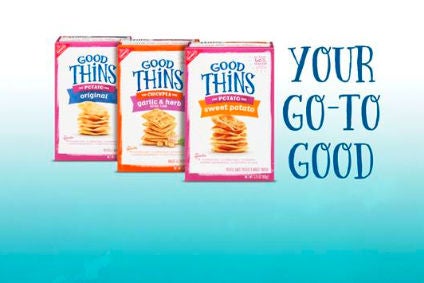 Mondelez International, the owner of brands from Oreo to Cadbury, is looking to have half its portfolio in the "well-being space" by 2020. In its domestic market, Mondelez is rolling out a "wholesome, savoury snack option" Good Thins. Hannah Abdulla discusses whether the new baked snacks could be a success.
Mondelez International, the home of some of the world's biggest chocolate and biscuits brands, is adding a savoury, baked snack to its portfolio in the US.
The snacks giant does have some big savoury brands in its portfolio. Ritz crackers, for example, are sold in 14 markets from the US and the UK to China and Vietnam.
However, with the launch of Good Thins in the US, Mondelez appears to be trying to tap into growing interest among consumers for healthier snacks. The Good Thins range comprises three lines – snacks made with potato, snacks from chickpeas and a line of snacks made from rice. Laying out the Good Thins range, Mondelez touts "The Potato Ones" as having "60% less fat than the leading regular fried potato chip" and "The Rice Ones" being gluten-free.
"It's a snack that you can feel good about," Danielle Brown, marketing director for the Good Thins brand, said at the launch of the product.
Introducing entirely new brands to market is a little rare for Mondelez. The company itself said Good Thins marks the first time it has launched a snack brand in the US for "over a decade". However, Mondelez is looking at building a bigger business in healthier snacks. Last year, Mondelez chief growth officer Mark Clouse said the company planned to have half its portfolio in what he called the "well being space" by 2020.
"We intend to become the global leader in well-being snacks, with 50% of our portfolio in the well-being space by 2020, up from more than a third of total revenue today," Clouse said. "Our goal is to simplify and enhance the ingredient and nutritional profile of our base business while also focusing on breakthrough innovation to address consumers' well-being needs." Mondelez plans to focus 70 percent of its new product development efforts on well-being platforms over the next five years.
It could be said Good Thins has similarities to another of its brands on sale in North America, Wheat Thins. Available in the US and Canada since 2013, Mondelez describes Wheat Thins as "crispy wheat crackers". Brand extensions include Wheat Thins Toasted Chips, which are made with whole grain and trans-fat free.
Tom Vierhile, innovation insights director at Canadean, questions whether the launch of Good Thins is to counter the problem of wheat becoming "increasingly demonised" in the US.
"While the percentage of consumers that actually suffer from coeliac disease may be small, a much larger percentage are actively trying to avoid gluten," Vierhile says. "According to a 2015 consumer survey by Canadean, 34% of US consumers are either avoiding gluten entirely or are trying to limit their intake of gluten. This is a problem for anyone selling a cracker based on wheat and known to contain wheat gluten."
The launch of Good Thins, Vierhile suggests, could be a way for Mondelez to "sidestep some of the issues and appeal to younger consumers at the same time".
Mondelez has positioned each of the Good Thins variants to boast some sort of health and wellness claim. The four "Rice Ones" variants speak to a gluten-free audience. Mondelez is anchoring the marketing of the three "Potato Ones" SKUs on their low-fat attributes.
Vierhile believes the Good Thins brand gives Mondelez the opportunity to target a wider range of consumers. "The Good Thins branding is not nearly as limiting as Wheat Thins and the brand opens up the Thins franchise to more aggressive ingredient and flavour innovation," he says. "And that is exactly what is offered with a line featuring iconic health ingredients like chickpeas, rice, spinach, and sweet potato. The absence of artificial flavours, colours, high fructose corn syrup and more are intended to appeal to more ingredient-aware consumers".
According to analysts at Euromonitor International, in 2010, the health and wellness snacks market in North America was worth US$7.7bn. In 2015, it reached US$8.2bn.
"Increasingly, consumers in developed markets are buying free-from type food products they consider to be healthier," explains Lianne van de Bos, senior food analyst at Euromonitor. "Traditional food manufacturers like Mondelez and PepsiCo are trying to [move] with the times and win those customers over. Before, reduced calorie / portion control packs worked. Now consumers are shifting away from diet food to products considered both healthier and better-tasting. With Good Thins Mondelez is trying to answer to that demand."
The in-house development of Good Thins came a year after Mondelez's a major, inorganic move in the parts of the snacks market perceived to be healthier with its acquisition of US free-from snack maker Enjoy Life Foods. With each move, there could be some consumers who may be wary of the owner of Oreo and Cadbury moving into the so-called "better-for-you" arena.
Among a cohort of committed, health-focused consumers, smaller brands and companies dedicated to better-for-you products may be more trusted than a major snacks multinational with a portfolio packed with biscuits and chocolate. "In recent years, sales growth of organic and so-called naturally healthy foods have outpaced growth of conventional processed foods," van den Bos says. "Small niche brands have performed particularly well, as they have proven adept at spotting and responding quickly to new trends and gaps in the market."
However, Mondelez use of ingredients such as sweet potato and chickpea in the Good Thins products could benefit the new brand, Vierhile says."Consumers are more likely to buy into the health story of a brand if the story is rooted in ingredients generally recognised as being healthful," he says. "Canadean's 2015 consumer survey found that 65% of US consumers deemed a product 'naturally high in nutrients' to be highly appealing versus just 27% that said the same for a product that had been 'fortified with added nutrients'. Healthfulness that is engineered in from the ground up is perceived to be much more authentic and desirable than fortification that is not intrinsic to a product."
A further challenge is competition. Good Thins finds itself competing against similar products like Blue Diamond Growers' Almond Thins or Hain Celestial's Garden of Eatin tortilla chips for the attention of those looking for healthier savoury snacks.
Van den Bos says these lines are competitively priced, which could hinder Good Thins. On a per ounce basis, Garden of Eatin's Blue Corn Tortilla Chips are US$0.80 and Blue Diamond's Almond Nut Thins are priced at US$0.72 compared with Good Thins at US$0.98.
"We will find out if Good Thins can engage and draw new consumers to the sector when many of those consumers are more elusive than ever," Vierhile reflects. "The cracker category has become increasingly dynamic, with brands like Blue Diamond Nut Thins helping consumers become more ingredient aware. Consumers, especially younger consumers, increasingly look to new, upstart brands that successfully combine flavour, fun and experimentation with authenticity. Can a multinational brand hit those notes without coming across as overly processed and pandering? Time will tell. It looks like Mondelez is prepared to spend aggressively to get Good Thins off the ground. The firm has already produced a trio of television ads for the launch and it reportedly plans to conduct in-store sampling which is something that can be very effective, but expensive. I suspect that the company would like to get Good Thins to $100m-plus in the first year of sales".
A spokesperson for Mondelez declined to comment on what the sales target for the brand is in the first year, adding its success would be determined by sales figures and "overall consumer sentiment". But Mondelez appears confident there is enough of a gap in the market for Good Thins and contribute to its ambitions in better-for-you snacks.
"Based on what we've seen, there's a demand for a brand like Good Thins," the spokesperson says. "A brand that delivers on taste, a real ingredient base and a 'no' list that consumers can feel good about. We're excited to be able to make a brand like this widely available to consumers at a competitive price point."