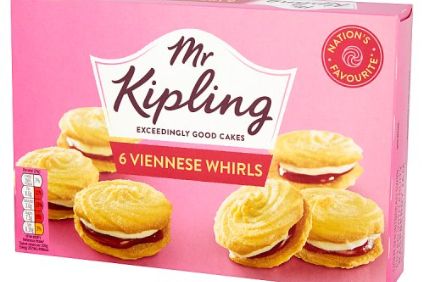 The UK's Premier Foods announced this week it is to look again at its strategic options. Andy Coyne asked analysts who follow the company what they think this means.
The market has been digesting what Premier Foods' "review of strategic options", announced this week, could mean for the future of the UK manufacturer.
And, while interpretations differ, analysts agree the review looks set to signify change is in the offing.
Setting out the review on Wednesday (27 February), the Mr Kipling cakes and Bisto gravy maker said the examination of the company's options was a result of discussions with its largest shareholders.
Premier also said its second- and third-largest investors, Oasis Management and Paulson & Co. respectively, would now have representatives sitting on its board, despite the fact those 'activist' investors fought a bitter battle with the company over its strategy last year.
The announcement comes just weeks after Premier revealed it had called off the planned sale of its Ambrosia custard brand, saying a disposal at that time would not garner a "satisfactory financial outcome".
Analysts have interpreted the decision on Ambrosia to mean offers did not meet its valuation of the brand and that Premier is now having to think again about how to turn around a business burdened with large debts and a sluggish share price, which stood at 39.35 pence when the London Stock Exchange closed yesterday. A year ago, Premier's shares were at 39.4p
Nicola Mallard at Investec Securities says: "They are in a state of flux really. The strategy to sell Ambrosia has been sidelined because they are not going to do it at the wrong price. The two shareholders both have a 12% stake. I don't know whether they have asked for seats [on the board] but I suspect they have."
Mallard also points to the fact Premier has no permanent chief executive officer at the moment. Former CEO Gavin Darby, who came under fire from Premier's activist investors last year for the way he was running the company, announced he was stepping down in November, just months after winning a rancorous re-election fight at the company's annual meeting. He has now left the business.
The company's chief financial officer, Alastair Murray, is currently filling in as acting CEO.
"With no CEO in place to plan how to reduce debts they have probably decided that they have to think again," Mallard says. "I'm not sure where they are with a CEO. It's probably not the best job in the world. It [Premier] is still viewed as having problems as it stands."
Clive Black, an analyst at Shore Capital, suggests Premier's major shareholders are "probably agitating for a major event to move the share price".
He tells just-food: "The reality is that Premier has an enormous millstone around its neck in the shape of GBP500m (US$661.8m) of debt. It can't pay down that debt anytime soon with its current trading performance. It looked to the Ambrosia disposal as a mechanism to breathe life into the story but they quite clearly didn't get [an offer] anywhere near what they were expecting for it."
What could result from the review? One analyst who has followed Premier for more than a decade suggests the review could lead to assets being sold – or perhaps the whole business.
"We assume that the review is code for the potential disposal of all or parts of Premier," Jefferies analyst Martin Deboo says.
But he cautions: "We welcome any attempt to unlock value and reward long-suffering shareholders. But, at the same time, we are mindful of the constraints. Given debt and pension leverage and the challenge of stranded costs, our view has been that disposals will only unlock value at high single-digit EBITDA multiples or above."
Asset sales are seen as vital to reduce Premier's debt pile.
"No doubt Premier will have to look at other assets to sell. Getting its debt down is absolutely essential as this is a major overhang for the business," Julian Wild, a corporate finance partner at law firm Rollits, says. "It is hard to see Premier's depressed share price improving any time soon. There are lots of clouds on the retail horizon – Brexit and a new CEO coming in. It will be a challenging task and shareholders will not forget the rebuff of McCormick, which now looks like an unwise decision."
US spice maker McCormick & Co. weighed up making a bid for Premier Foods back in 2016 but subsequently decided against an acquisition, insisting the price Premier's board wanted for the business was too high.
McCormick went on to buy Reckitt Benckiser's food arm instead.
Analysts are unsure whether a takeover bid for Premier from another party is a likely prospect as things stand.
Investec's Mallard says: "We always thought it was bid-proof until McCormick came along. McCormick was big enough to be able to absorb the debt. It could have re-financed it.
"It [a new potential buyer] would have to be someone big. Premier also seems a bit UK-centric. It sells stuff in markets a bit like the UK. So it has got to be someone who wants to have an operation in the UK."
Black at Shore Capital agrees an outright sale might not be the likely outcome.
"If there was a hot buyer out there it would have turned up by now," he says. "It could be looking at a new structure, the fragmentation of the business. Premier has a mixed portfolio in truth. Brands such as Sharwood's are in decent categories but there is also a long tail of legacy brands stuck in the middle of the grocery aisle that risk getting de-listed."
At Jefferies, Deboo seems to be taking a similar view on the prospects of an outright takeover.
"Disposal of the entire business remains a compelling option, given the opportunity for a strategic buyer to unlock not just cost synergy, but also financing synergy, through absorbing Premier's liabilities within a larger balance sheet. But only McCormick have made a public approach during this analyst's 12 years covering the stock," he says.
In which case, what might be the game plan of the activist investors now sitting on the Premier board?
"There is probably pressure on the chairman [Keith Hamill] to try and extract some greater value out of the business than the current share price represents," Black says. "It's interesting that Paulson increased its share position after [then CEO] Gavin [Darby] left."
Deboo the moves by Oasis and Paulson as the investors looking after their own interests through having a greater say in how the company is run.
"Paulson were a cornerstone investor in Premier's 2009 refinancing and will have sustained substantial losses on their initial investment. Oasis commenced stakebuilding in Premier in 2016, in the aftermath of an abandoned bid approach from McCormick," he said.
"Neither Oasis nor Paulson have made any secret of their dissatisfaction with past board and management actions at Premier."
Generally, he sees the moves announced this week as positive.
"We welcome the fresh minds and accelerated moves to unlock value. But we also note that Premier has many constraints, not least around the nature of its balance sheet, that makes such unlocking difficult," he said.