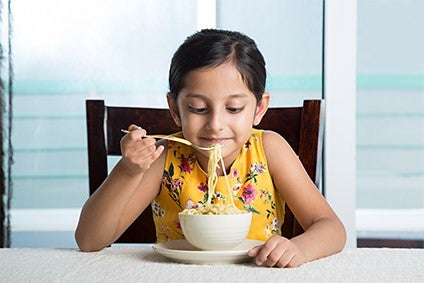 Instant noodles have taken hold in India, which is now the fourth-largest market for the product, according to industry figures. But how could the category continue to grow? Raghavendra Verma reports.
The future looks bright for India's growing instant noodles category.
India-based consultants Technopak forecast sales will rise at an average annual rate of about 7% until 2023.
If that growth is delivered, some 8.7 billion packs of instant noodles would be sold in India by 2023, equating to a market worth US$1.2bn, based on data from the World Instant Noodles Association, which says 5.4bn packs were sold in 2017, with the average serving costing INR10 (USD0.13).
And the market size – and potential – means all noodle companies can co-exist, Suman Dabas, Technopak's associate director food and agriculture, tells just-food. "It looks like that they are competing against each other but, in fact, they are only trying to capture a different taste profiles and regions," Dabas argues.
Innovation varies, Dabas says. India FMCG group ITC has incorporated dried vegetables in its noodle paste while Ching's is playing especially on Chinese and other east Asian tastes. "Every company has created its own niche," she says.
"Noodles are no more a south-east Asian dish"
Even though noodles have never been part of the traditional Indian platter, they are now very popular. "Noodles are no more a south-east Asian dish," said Ms Dabas, "They have become an integral part of the Indian consumer diet."
According to Maarten Geraets, the general manager of Nestlé foods business in India, the demands of the country's urban consumers are evolving as they travel abroad and become exposed to different palates, opening them to products, like instant noodles, more synonymous with countries and regions thousands of miles away. And he adds: "Even the ones who do not get to travel as much expose themselves to social media content across platforms – Facebook, Twitter and Instagram," he tells just-food.
Instant noodles sold in India have often been given an Indian flavour. For example, in August, Nestlé launched Maggi special masala noodles for which 20 different spices and condiments present in Indian kitchens are used. "Each variant of instant noodles appeal to a specific category of consumers," Geraets says.
And, given that Indian food consumer preferences are fragmented and often specialised, noodle manufacturers must innovate and introduce new product variants to stay ahead of the competition, Himanshu Manglik, president of India-based consultancy firm Walnutcap, says. "Companies with stronger brands will continue to stay ahead but those with deeper pockets can also make inroads, provided they stay focused on consumer insights and invest in R&D."
Manglik says larger companies such as Nestlé start developing products up to two years in advance and it is very difficult for new entrants to compete. However, he adds: "The new guys are not going to sit back and be happy with small [market] share. All of them will try pushing the market and in the process make it much larger."
What tactics could they use? "In addition to higher margins to retailers, salesmen could help in decorating the shops, creating shelf space for their products to push visibility and also sell items on trial basis," Manglik suggests.
Smaller shops continue to be the main source for food retail in India. According to a report last year from India-based researcher Mordor Intelligence, traditional grocery stores still account for about 60% market share of food retail. Sales within this retail segment will grow at 5.5% annually until 2023.
However, other sales channels, such as online sales, which, according to the Confederation of Indian Industries' India Brand Equity Foundation, are expected to grow 31% annually for all products until 2026.
"We believe that every medium of sales and distribution holds its own importance in the mix," Nestlé's Geraets says. "While we have at times associated with e-commerce platforms to launch our products, we believe that the traditional retail continue to play a key role."
The e-commerce channel can provide a means for fledgling brands to gain a foothold in categories across the industry and instant noodles are no different, Manglik says.
"E-commerce provides newer brands a low-cost option for distribution but success depends on how well they engage with consumers, creating excitement with a strategy for building brand equity. E-commerce can be a successful route provided the brand adds value," Manglik explains. "Special sales, contests, cross promotions with established non-competing products are, amongst others, low-cost opportunities for putting a brand at the forefront of consumers' minds."
"Rural consumers try to aspire to what city dwellers are eating"
The inhabitants of India's 600,000 villages are another frontier for the instant noodles market and signs are encouraging. "Rural consumers try to aspire to what city dwellers are eating," Manglik says, "They can't go to restaurants, don't have access to canned food or ready-to-eat stuff and therefore for them something like instant noodles is out of the ordinary."
With the spread of mobile internet, the digital divide between urban and rural India is collapsing, ensuring countryside consumers are exposed to the same ads and other digital content as their urban counterparts, Geraets explains. "This is serving as a brand equaliser as far as brand aspirations are concerned," he said.
Affordability could be a key issue in poorer rural markets, however, and companies are sensitive to this. A 35-gram pack of Wai-Wai pre-cooked noodles, that can be eaten straight from the package or cooked in soup, are sold at INR5. "It is not a full meal but like a snack," a Chaudhary Group spokesperson, the maker of Wai Wai, says.
Noodles, meanwhile, will continue to remain very popular in India's mountainous regions as they are easier to cook compared to traditional dishes from these areas, Girish Gupta, CEO of the Foodees Group of Consultants, in New Delhi says. "In northern states, noodles have always been very popular," he said, "In Assam, there are ten noodle manufacturing plants and all of them have expansion plans."
Expansion will continue as the Indian noodle market is a long way from saturation point with some estimates suggesting just 10% of the population are today eating instant noodles, Manglik says. "Their demand will continue to grow, primarily on the back of the strong and positive franchise that [Nestlé-owned] Maggi has created."
Nestlé agrees. "We foresee continued consumer interest in the years to come," Geraets says.
For part one of our deep dive into India's instant-noodles market, click here.