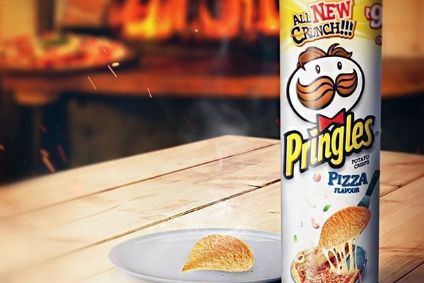 India's market for potato chips is buoyant – but what could drive further growth? The second part of Raghavendra Verma's deep dive into the category outlines possible factors.
India's fast-growing potato chips market has huge potential for future growth, driven especially by rising demand in the rural markets, where two-thirds of India's 1.3bn people still live.
The country's rural market accounts for 40% of overall FMCG sales and is growing at about 10% annually, a faster rate than urban markets, a report issued by the India Brand Equity Foundation in March 2017 suggested.
One major potato-chip manufacturer says demographic trends in rural parts of India are becoming favourable.
"In the last one-and-a-half years, the per capita consumption and purchasing power in rural areas has risen and people are getting more brand conscious, thanks to digital and television access," Gaurav Mahajan, head of marketing for Haldiram Snacks tells just-food.
In the potato-chips market, larger brands have opened up this rural demand by innovating and exploiting all the retail channels available, Ankur Bisen, senior vice president at Gurgaon-based consultancy Technopak, says. "You can now buy potato chips at a betel leaf shop, in a small 'kirana' [family-run store], 'dhaba' [roadside eatery] or restaurants," he says. "Wherever there is convenience retail happening, in any form, these guys have managed to penetrate it."
Put another way, there are more than 1 million shops in India that potato-chip manufacturers can target, Shumitha Periyasamy, founder and CEO of Food Buddies, a consultancy based in Chennai, says.
Manufacturers have sensed the opportunity and have been ramping up production capacity. In February, PepsiCo announced a new snack manufacturing facility, which will also make potato chips, in the state of West Bengal, through its plan to double the volume of its Indian snacks sales by 2022 (https://www.just-food.com/news/pepsico-to-invest-in-india-snacks-plant_id140980.aspx).
One technique to penetrate the rural market, Technopak's Bisen says, has been to reduce portions. "We are seeing the proliferation of different formats of potato chips that have been able to partly crack the rural markets by reducing the pack sizes and making them more affordable," he explains.
At present, such moves have helped local brands to flourish in rural areas little known nation- or even region-wide. These sales have also been boosted by the fact smaller players offer retailers higher profit margins and hence potato chips displace less profitable items from their shelves.
Smaller manufacturers can also enjoy more comprehensive penetration due to their knowledge of local markets and reduced awareness among local consumers of national brands, Girish Gupta, CEO of the Foodees Group of Consultants in New Delhi, explains. "This is despite the fact that the pricing of both the products are the same [on a by weight basis]," he tells just-food. Examples of lesser known local brands include Priniti Foods' Priniti chips in Delhi and Kashi Quality Food Processing's Kid Fun Moon Shape Chips, made in Jharkhand.
At Haldiram, one of the largest potato-chip manufacturers in India, Mahajan confirms that in rural areas, smaller-size packs of 15 grams that cost just INR5 (US$0.07) are the most popular formats. Moreover, at least for Haldiram's, the total volume of these sales is far bigger than for larger packs.
Furthermore, rural sales growth far exceeds that in urban areas, where the potato-chip market is more saturated, Mahajan says. "As the per capita income goes up in rural areas, we are pushing bigger packages of potato chips," he said.
For now, this growth has come without marketing, Mahajan says, with Haldiram's eschewing rural advertisements for its Chips brand – but this lack of proactivity may change soon. "The size of the market is huge and since this is a slightly different area to our traditional 'namkeens' [salty snacks], we feel that there is a need for beginning some kind of advertising."
Meanwhile, in urban areas, strategies to further grow sales are more sophisticated, Food Buddies' Peryasamy explains, with companies eyeing the introduction of innovative products, such as non-oil fried ranges and nutrient-fortified chips, she said.
Such innovations could also help overcome sales challenges created by concerns among a growing number of urban – often wealthier – consumers about salty and fatty foods. At Technopak, Bisen says anxiety among manufacturers these concerns would prompt consumers to reduce their consumption of potato chips is more intense than disquiet among suppliers about future government regulations limiting salt and fat in food products.
"We are focused on improving our snack portfolio through a step-by-step reduction in sodium," a PepsiCo spokesperson tells just-food. "We have reduced sodium by between 5% and 25% across popular variants of our snacks' master brands, Lay's and Kurkure puffs, and we aim to reduce sodium in 75% of our food portfolio by 2025."
Indians love snacking and, hence, branded salty snacks have found high acceptance across major metropolitan cities, towns and even in the rural market, the PepsiCo spokesperson says. "Lay's is a perfect snack for fun time with friends, Kurkure is a staple tea-time snack and Doritos is the go-to snack for binge TV-watching sessions," he suggests. "We will further expand the Lay's portfolio with newer formats, flavours and textures, as well as reduced salt and sodium varieties."
Flavour is central to innovation. Brands track the popular flavours in the market for their new launches, says Srirama Chaitanya Manyam, manager of the food processing and retail practice at Sathguru Management Consultants in Hyderabad. Spice remains to the fore, even if tastes in urban markets are internationalising: two years ago, flavours similar to those popular in other Asian countries, such as Thai red chillies, were popular, but since last year most new launches have incorporated Mexican or North American flavours, such as jalapeños or cheese jalapeños, Manyam tells just-food.
Indeed, according to Sumit Mathur, the marketing director for the south Asia operations of Pringles owner Kellogg, flavours such as original salted, sour cream and onion, peri peri and jalapeño will continue to attract more sales because of their international profile and hence marketing appeal. 
However, Mathur adds: "Our recent innovations like Fusion Chutney, the first ever sweet-and-savoury offering from the brand, are truly designed to cater to the Indian palate and are receiving [a] warm response."
For the time being, imported potato chips, although available in urban centres, remain too expensive for many Indian consumers. These include more unusual variants, such as red beet chips, red carrot chips or sweet potato chips, Manyam says. "If imports increase, their price [which is currently as much as US$4.30 for 150 grams] might come down, but not to the level of mainstream [India-made] potato chips."
Typically, new companies tend to concentrate on modern retail in major metropolitan areas, such as Mumbai and Delhi, and then later expand into smaller markets. However, Manyam warns importers and new Indian entrants against positioning their products as premium. This is because it could limit their availability, deterring distributors who might worry sales would be weak in retail outlets serving lower-income consumers.
Therefore, if a company launches a potato chip line as a premium product it could impede efforts to scale up and reach out to multiple markets, Manyam suggests. He says products like PepsiCo's Lay's Maxx and Mumbai-based Kettle Studio are performing well but launching premium potato-chip products in India poses risk. Restricting markets is the main reason food companies can come a cropper in India, he says.