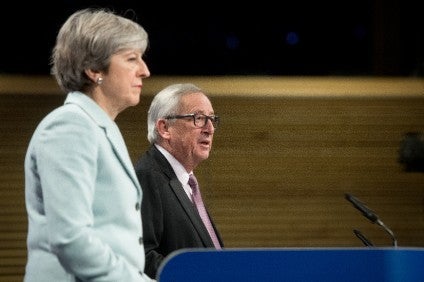 The prospect of the UK and the EU not reaching a deal on the country's departure from the bloc has risen in recent weeks amid close votes at Westminster and Brussels expressing opposition to London's latest proposals on customs. As food-industry concerns mount, Rose Pengally surveys what could be the impact of a no-deal Brexit on the sector on both sides of the Channel.
The food industries in the UK and the EU are becoming increasingly anxious about the prospect of Britain crashing out of the bloc without a replacement trade deal.
It is a scenario that could leave UK manufacturers facing crippling tariffs, border delays and reams of red tape. Irish food exporters are increasingly nervous about trading with its largest market post-Brexit and continental European food companies also have increasing cause for concern.
Officials at the European Commission have confirmed failure to secure a deal with the EU before 29 March 2019, the end of the UK's Article 50 two-year withdrawal notice, will mean a planned 'transition' or 'implementation period' to December 2020, which many British businesses are relying on as an adjustment phase, will be scrapped.
That will immediately make the UK a 'third country' trading partner (ie outside the EU and its associated European Economic Area – EEA) overnight, meaning trade in food with the EU will be subject to World Trade Organization tariffs and the EU's own stringent checks on the safety of food entering the bloc.
"It will be a brutal divorce", Nathalie Loiseau, French Minister for European Affairs, said, speaking to UK media on Wednesday (25 July). She added although neither Europe nor the UK would like to see a "no-deal" Brexit, "the clock is ticking" on negotiations and no deal would be better than a bad deal for both sides.
What might happen at the border?
A key potential barrier facing UK exporters of food to the EU if there is no deal, is products originating from non-EU member states may be required, depending on the circumstances, to comply with the bloc's sanitary and phytosanitary requirements before being introduced into the EU. The UK might impose similar checks on remaining EU exports.
These mainly relate to food and feed safety, including rules on hygiene, traceability, microbiological criteria, rules on genetically modified food and feed, animal health and welfare and plant health.
According to the Brexit preparation documents published by the European Commission so far, if the UK leaves the EU without any kind of bilateral deal on sanitary and phytosanitary measures applicable to trade in animals, plants and products derived from these, UK exports to EU member states may face the full gamut of EU border checks to ensure compliance with its own and WTO rules.
A Commission spokesperson told just-food the executive is not yet in a position to speculate on what a no-deal Brexit could mean for the application of sanitary and phytosanitary checks on food traded between the UK and the EU. "While the EU is working day and night for a deal ensuring an orderly withdrawal, the UK's withdrawal will undoubtedly cause disruption – for example in business supply chains – whether or not there is a deal," the Commission official said.
Unsurprisingly, UK food exporters and their representative bodies, including the Food and Drink Federation (FDF), are lobbying hard for the UK government to reach a tariff- and restriction-free trading agreement with Brussels as soon as possible before next March.
The FDF has noted the particular vulnerability of British exporters in a no-deal scenario, with tariffs and health checks plus customs administration restricting trade. "The FDF is working closely with a range of industry partners including to raise awareness in government and industry of the unique challenges [a no-deal Brexit poses] for the UK food and drink sector, as well as for our EU counterparts," an FDF spokesperson told just-food.
"We are focusing on providing options to ensure government secures a deal that provides the most generous rules … for food and drink as it negotiates future trade relations, as this would be in the best interests of producers and consumers in the UK and the EU alike."
Of course, a no-deal outcome also threatens food exporters within the remaining EU, with shipments to the UK of critical importance given the country is a net food importer.
Figures from the European Commission's statistical service, Eurostat, show the UK imported around EUR36.2bn of food and beverage products from EU member states in 2017, while exports from the UK to the EU totalled around EUR10bn. FoodDrinkEurope, the industry association that represents Europe's food and drink manufacturers, has indicated the risk of disruption to this trading relationship resulting from a no-deal Brexit is a major concern for its members.
Fears the UK food market might become isolated and hard for EU exporters to reach after Brexit were heightened last week after the UK's new Brexit secretary, Dominic Raab, admitted to MPs the country's government is making plans to stockpile food to avoid shortages and mitigate price increases in the event of no deal.
Raab's comments followed warnings by several experts that food imported from the EU, which government statistics show supplies around 30% of all the food consumed in the UK, is likely to become more expensive, restricted or could even be cut off altogether due to tariffs and border checks.
On 18 July, the London School of Economics released research, commissioned by Danish dairy conglomerate Arla Foods, suggesting dairy products such as cheese and yoghurt could become significantly more expensive in the UK after Brexit, with major price rises, especially for lower-value bulk items.
The paper said: "An increase in check-in times to 20 minutes, the introduction of declarations and POAO [products of animal origin] checks will increase the cost of goods…" High value goods – where transport makes up a lower proportionate cost of production – would rise "a small amount in percentage terms", the paper added, while cheaper goods would see increases that are "significantly higher."
In addition to tariffs on imported European dairy items, non-tariff barriers including customs controls may constrict supply and push prices up, the LSE said.
On 23 July, a report published by the Food Research Collaboration (FRC), an academic group specialising in food policy, claimed the UK government is considering waiving border checks on certain imports to protect food supply.
"In recent months, we have learned from a senior government advisor that plans are being prepared to 'suspend food controls' if there are any delays to imports of perishable foods at our borders," the FRC report said.
It added the suggestion had been condemned by senior industry figures as it could threaten exports from the UK to the EU.
"If the UK were to suspend food safety controls, others might block exports from a country taking such a cavalier approach to public health," the report stated.
The UK denies it is considering relaxing import rules to shore up food supply.
"The government will not suspend food safety controls or weaken our high standards, even in the event of no deal," a spokesperson for the Department for Exiting the EU told just-food. "Our aim is to agree a deal with the EU that keeps trade as frictionless as possible and maintains the current system of checks and controls at the border. Food imports from third countries will be subject to the same robust checks as they are now, and our high standards will be upheld."
But, with fewer than 250 days to go until the UK officially leaves the EU, failure to negotiate substitute legislation for current EU rules covering everything from food labelling to veterinary checks on animal products means that in a no-deal scenario, both the EU and the UK would almost certainly have to fall back on existing EU trade rules for non-EU 'third countries'.
Rules of origin in the spotlight
Food manufacturing bodies have warned abandoning EU rules of origin (ROO) for designating the geographical source of food products after Brexit for UK-EU food trades could harm the food and drink industry, and be potentially catastrophic for the UK and Irish food sectors due to the globally integrated nature of food supply chains.
The European Commission specifies 'non-preferential' and 'preferential' categories of origin for food products and ingredients.
Non-preferential origin goods can be subject to any EU trade protection measure, including anti-dumping, quantitative restrictions and tariff quotas.
Preferential origin designation, on the other hand, which applies to all food wholly produced and traded within the EU customs union and to some foods assembled in the EU with ingredients imported from non-member states, confers a reduced or zero rate of duty when traded within the bloc.
Both the FDF and National Association of British and Irish Flour Millers (Nabim) have called for EU ROO to be maintained after Brexit to avoid punitive tariffs on UK foods made with non-EU ingredients and exported to other member states.
They warn relinquishing EU ROO in favour of other rules, such as pan-Euro-Mediterranean (PEM) agreements with EU neighbours, or the Comprehensive Economic and Trade Agreement (CETA) deal struck with Canada, may automatically disqualify many UK-made foods from EU preferential tariff treatment.
According to the FDF, UK producers that rely on imports of meat, dairy, cereals, rice and sugar from outside the EU to make their products may be particularly at risk of having to pay significant trade duties over such ROO concerns.
Whither geographical indications?
A no-deal Brexit could also result in distinctive food and drink products from specific towns or regions of the UK – such as Cornish pasties, Melton Mowbray pork pies and Arbroath smokies – losing their geographical indications (GIs), which are protected under EU law. The same applies to remaining EU exports of traditional products such as Parma ham and Roquefort cheese in UK markets.
Losing GIs would not only mean regionally-specific UK products could be copied and traded within the EU but their GI protection elsewhere in non-EU jurisdictions that accept EU GIs could also fall away.
At present, 86 products originating from the UK benefit from EU GI protection.
According to UK-based consultants The Whitehouse Consultancy, the UK could negotiate for the continued protection of GI status under a new free trade agreement with the EU (with EU GIs being recognised in the UK) – but, of course, that would require a deal to be struck. "GIs are often included in the EU's trade agreements [with other countries]," said a Whitehouse Consultancy expert. "Under the CETA deal with Canada, for example, 143 EU products have GI status."
The UK government has confirmed it wishes to enable producers to apply for GI equivalent status under domestic law, post-Brexit. In a note to the House of Commons environment, food and rural affairs committee released in April, it said: "Once the UK has left the EU it will be able to use domestic law to protect GIs," with UK law replicating protections offered by EU GI schemes.
Of course, this only covers the UK market and the country's government was less certain that GI protection for UK products would be offered in the rest of the EU, after withdrawal. "Existing UK GIs protected under relevant sectoral EU legislation should remain unaffected by the UK's withdrawal from the EU treaties as they have already been recognised as qualifying for GI status," said the UK government, without saying how this could be guaranteed.
UK law firm Mills & Reeve says replicating EU GI status legislation in British law may face opposition from Brussels. "Unless the UK government is willing to continue its share of the EU's funding commitment of over EUR100m a year to promote protected foodstuff and agriculture products across the EU, a domestic protection regime could be swimming against the Channel tides from the very beginning," the firm tells just-food.
One of the main arguments put forward for leaving the EU customs union by Brexit supporters is the UK would be able to take back control over its trade policy and negotiate free trade deals with countries across the world, independently from the EU.
However, such deals take time to agree and the UK cannot strike bargains with non-EU states until it has clarified what its ongoing relationship with the EU will be. In a no-deal Brexit, with no implementation period, the UK could be immediately excluded from participating in the EU's free trade deals with other third countries – such as Canada, Japan and South Korea.
"The UK wishes to roll-over the EU's free trade agreements during the implementation period and renegotiate where deemed necessary," The Whitehouse Consultancy explained. "There are concerns that the roughly 40 free trade agreements the EU is already signed up to cannot be rolled over in time (…) If the UK fails to roll over all these trade agreements, disruptions in trade for businesses could materialise," it added.
Without any trade deals with the EU or any other country in place, the UK would effectively be ring-fenced by trade tariffs on both exports and imports.
Danish consultancy Copenhagen Economics has calculated the potential increases in trade costs associated with a variety of post-Brexit scenarios.
These range from a 12% in an "EEA scenario", where the UK will be subject to trade costs currently observed between the EU and other members of the EEA (Norway, Iceland and Liechtenstein) to 32% in a "WTO scenario", under which the UK will default to WTO trading rules.
The EU levies tariffs of around 15% on products such as red meat and dairy items imported from third countries – rates which many UK exporters say would cripple their trade with Europe.
Kevin Roberts, chair of the industry body Meat Promotion Wales, said last week a no-deal Brexit that led to the imposition of tariffs "at any level" on exports of Welsh red meat "would be a tourniquet on trade".
"To be blunt, in that scenario there would be no European exports," he added.
EU food exporters are likewise concerned about the potential sudden erection of major tariffs, administrative and health checks hindering access to the UK market.
"FoodDrinkEurope is convinced … a customs union would be the best way to ensure certainty for business over the long-term, providing mutual market access for agri-food products free of customs duties, of additional agricultural components or any other equivalent border taxes," the association said in a statement.
According to some experts, EU exporters of perishable foods, such as fresh fruit and vegetables, will probably retain significant UK custom for their produce, even if there is no Brexit deal, although they risk losing some of their market share to other nearby suppliers.
"Given the geographic proximity of mainland Europe, the UK will continue to source a large proportion of its fruit and vegetable imports from the EU," UK-based data analysis company, Gro Intelligence, stated in a report published in May.
But for products such as apples, oranges and tomatoes, EU exporters could lose out to suppliers in Morocco and Egypt, which already ship significant volumes to the UK and are eager to send more, Gro Intelligence said. The company also noted apple production in the UK has rebounded over the last ten years and consequently reduced imports.
The possible impact on UK-Ireland trade
Meanwhile, Ireland has expressed particular concerns about its food trade in the event of a no-deal Brexit. According to FoodDrinkEurope, more than a third of Ireland's food and drink exports are destined for the UK and about half of its imports stem from the UK.
A study by Ireland's Economic and Social Research Institute (ESRI) published on 6 July estimated around 26% of all exports by Irish-owned firms are to the UK and that food products account for around a third of these, with a total value for UK-bound sales of around EUR3.4bn.
If the UK leaves the EU without a trade deal and falls back on WTO trading rules, tariffs on food products shipped from the UK to Ireland could average around 18%, the ESRI study found.
Replacing UK food imports with continental export sales is not straightforward for Irish exporters, as the UK provides a land-bridge for the majority of Irish trade with mainland Europe, it noted.
Unimpeded by tariffs or cumbersome customs arrangements, this route provides an uninterrupted minimum transit time of just over ten hours. But a no-deal Brexit and the resulting customs controls on goods passing through British ports may force freight carriers to go around the UK by ship, which would take 36-48 hours – too long for many perishable food items, warned the ESRI.