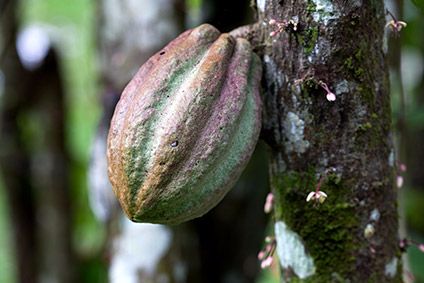 Twelve chocolate and cocoa companies, including Nestle, Mondelez International, Hershey last week announced plans to work together to "end deforestation and forest degradation in the global cocoa supply chain", focusing initially on Côte d'Ivoire and Ghana. Ben Cooper speaks to industry and campaign representatives to set out what that plan could look like.
As actions speak louder than words, the "statement of collective intent" announced last week by 12 of the largest cocoa and chocolate companies to end deforestation and forest degradation in the cocoa supply chain has to be seen as just that.
However, while noteworthy it was only an announcement. Far more critical stages in the process are yet to come. In November, the partners will present a framework of action at the UN climate change conference (COP 23) in Bonn. Even more crucial will be further steps as those actions are carried out and their effectiveness is assessed.
Speaking to just-food, Richard Scobey, president of cocoa industry body the World Cocoa Foundation (WCF), which organised last week's meeting where the statement was announced, says the partner companies are following a "two-step" process. The first, he explains, was to agree among themselves to make the undertaking announced last week and work with other stakeholders – government, civil society and farmers – to devise an action plan, looking initially at Cote d'Ivoire and Ghana, the two largest cocoa-producing countries.
"The second step, which is the much more difficult and time-intensive process, is to actually roll up our sleeves, work with all these partners and map out the key interventions that are needed from the governments' actions and the companies' actions," Scobey says. "So we have not pre-cooked what the right solutions will be for Ghana and Cote d'Ivoire. We genuinely want those to come out of the collaborative, multi-stakeholder platform process that we are now launching this month."
It is notable Greenpeace was represented at the launch event last week, with John Sauven, executive director of the campaign group's UK arm, saying the initiative "must be warmly welcomed". Meeting the expectations of campaign organisations and NGOs will be one of the requirements that makes devising the framework for action an exacting process but the necessity to do so is clear.
Gemma Tillack, agribusiness campaign director for US-based environmental organisation Rainforest Action Network, says having a plan to begin with is the first key step.
"One of the real lessons from the last few years is a number of companies have adopted no deforestation commitments and when they've adopted those commitments they have not had a clear implementation plan that outlines how they will work towards that goal and what performance milestones they would set themselves and their suppliers to reach these goals. A paper promise is not a goal. The goal is to achieve the outcome of no deforestation and no degradation in this case for cocoa."
A second prerequisite, Tillack continues, is the need for traceability of supply. "Having transparency and traceability around where they are sourcing from within these two countries is key. I imagine these companies are all well on that journey given their longstanding history in the region."
Upholding the rights of existing landholders is another basic requirement, ensuring particularly the mitigation measures themselves do not have unintended negative consequences for indigenous peoples, Tillack argues. She says the action plan will also have to be very clear about how it defines deforestation and forest degradation, suggesting some initiatives had found "loopholes" in the past to allow continued deforestation. For campaign groups, such as RAN and Greenpeace, the requirement is for "zero deforestation" commitments rather than "zero net deforestation" which allows forest clearance to be offset by replanting. An action plan, Tillack continues, should also include incentives "to enable suppliers continue to have their livelihoods without expanding into new regions".
In this context, Scobey says the "single most important action" of the initiative is to improve the productivity of cocoa on existing farms in suitable land areas. "What's unusual about cocoa is that it's a crop where deforestation has been driven by individual poverty household who farm very small and scattered plots. In the case of the smallholder farmer our challenge is to increase productivity on existing land so that they don't need to continue to encroach into forestlands to grow more cocoa to make more income."
Scobey points out that the lack of progress to date means there is still great potential to do this. "The yields in cocoa are literally a third to a half of what they should be. With proper management, good agricultural practices, improved planting materials, the application of fertiliser, you can see your yields double within a few years. So the number one priority intervention for companies is to support this productivity transformation for farmers."
Another key requirement of any action plan, Tillack adds, is transparency. "That really is around being … able to adequately demonstrate that there are improvements being made, or where there are grievances raised or where they are not getting it right for there to be an adequate grievance mechanism in place so that any stakeholders that have concerns can raise a grievance with a proper mechanism that can move towards remedy."
Scobey's comments suggest the industry partners are well aware of what external stakeholders expect. Not least, he stresses the emphasis that will be placed on transparency and reporting. While not wishing to "second-guess" the outcome of stakeholder discussions during the coming months, Scobey says a likely path will be the development of "a series of targets and action points that will be subject to monitoring so we can all hold ourselves accountable".
He also believes new technology can be used to support the monitoring process. "There have been a lot of exciting developments in accountability and monitoring of corporate commitments to end deforestation. A lot of these involve the use of satellite imagery, particularly developed by World Resources Institute and Global Forest Watch, and I very much hope we will embrace using an industry-wide monitoring tool like that which will be telling us exactly what is happening with forest cover over time."
In a sense, transparency and reporting are the most crucial aspects of all. Scobey is at pains to stress the process should not be seen as industry-led but derived in partnership with other stakeholders. "I want to be very clear that this is not designed as an industry-led partnership," he says, also stressing the involvement of Netherlands-based public-private partnership IDH Sustainable Trade Initiative as a "neutral convenor", bringing together all parties which will be "equal stakeholders".
However, Scobey does not envisage the formation of a multi-stakeholder structure, such as the Roundtable on Sustainable Palm Oil (RSPO). A huge and diffuse sector like palm oil or soy, he suggests, may need such an organisation, but cocoa production is far smaller and more concentrated.
Scobey says the action plan will include a range of activities, ranging from government policy interventions to investment activities of companies. Governments will need to own government actions, he continues, while he sees the investment activities of companies, for example around boosting productivity or traceability, to be the responsibility of companies to implement, but he stresses a verification process would be part of the initiative. "I don't think we need at this point another organisation that then becomes the monitor for that. I hope we're going to have independent transparent monitoring and verification of what all the actors are doing."
He continues: "The individual companies and WCF as a whole is very focused on the importance of accountability and transparency and that's why I wanted to ensure this process puts together a monitorable framework of action with specific commitments which people, particularly the media and civil society organisations, will be able to hold the companies, and the governments and the civil society organisations, accountable for what they promise, and indeed there should be concerns if we make promises and don't deliver."
Tillack too expresses reservations about the formation of large multi-stakeholder organisations. She says the key attribute any approach must have is to be "bottom-up", beginning with the needs of farmers and involving farmer groups in defining problems and solving them.
This requirement is also reflected in Scobey's comments. He says the companies have committed "to work together with the key partners, including governments, civil society organisation and most of all the farmers and farmer groups" in putting together the framework for action.
The initial focus of the initiative is Cote d'Ivoire and Ghana, which are the world's largest cocoa-producing countries accounting for around 60% of global production. Nevertheless, there is a commitment to extend the initiative to other regions and NGOs and campaigners will be urging the partners to do this quickly. Sauven's comments last week underlined this point.
Scobey stresses the partners are looking to learn from the process of developing the plan for these two countries before moving on to discuss other regions. "We want to do it in a sequence-based process, learning as we are going and making the necessary mid-course adjustments and then bringing the best possible practices that we've learned in west Africa to other regions."
While not prepared to give a precise timeframe for this expansion, Scobey believes work on action plans for other countries could begin within 2017 and expansion into other markets will certainly take place during 2018. He is also keen for the partnership to extend to other companies, notably involving small and medium-sized chocolate firms.
Arguably, the pace of progress, whether in putting the first two national action plans into effect, or in expanding the programme, will be something independent observers will be watching closely. Both Scobey and Tillack observe one of the advantages this initiative may have is the principal industry partners have been working collectively on sustainability issues for some time, most notably on child labour in cocoa.
At times, collective progress on child labour was glacially slow, resulting in further adverse publicity for the industry's collective efforts. Latterly, the pace of progress has undoubtedly picked up, and it is clear the experience gained in those collective efforts, for example in relation to building partnerships and improving traceability, will benefit this new initiative. Equally, these companies will know well the reputational impact of such efforts becoming mired or, worse still, failing to achieve stated targets.