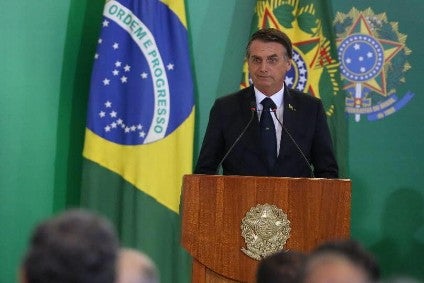 Brazil's new far-right President Jair Bolsonaro has proved a divisive figure, with pledges to clean up corruption, crime and economic mismanagement coming alongside remarks on gender, race and sexuality that have angered many. Ivan Castano looks at how the new administration could impact Brazil's food industry.
Brazil's food industry expects to grow up to 8% this year – a reversal of a near 4% decline in 2018 – amid hopes new President Jair Bolsonaro's reforms will continue to steer the country's economy out of a painful, four-year recession.
The new administration has given some in the industry cause for optimism. "Employment growth is expected to rise while inflation should be controlled, Cleber Sabonaro, head economist at Brazil food industry association Associação Brasileira das Indústrias da Alimentação (ABIA) tells just-food. "And [Bolsonaro's] agenda of structural reforms, notably reducing the number of taxes and taxes in general, should help our industry."
Streamlining Brazil's messy tax code – both by cutting their rate and number – could bring the biggest benefits to the industry, if such changes are indeed implemented in the second half, following a pivotal pension reform. "We have a 35% tax rate which could come down to 20% or even 15%," Sabonaro says. "This will allow us to gradually invest more in R&D and make better products."
As wages rise, consumer confidence is expected to strengthen, driving higher sales in one of the world's largest markets – still recovering after a meat scandal that raised headlines last year and in 2017 – sending leading meatpackers BRF and JBS into a tailspin.
The industry, which saw sales contract 3.7% last year to US$10bn, could also see the value of investment surge 20-30% from BRL7.3bn (US$1.96bn) in 2018, a year when that metric declined 13% amid food-safety probes, high-profile executive arrests and sluggish growth ahead of general elections.
Investment apart, ABIA's Sabonaro forecast exports will surge 10% to BRL40bn, led by meat, packaged and frozen foods, as well as canned fruit, pulp juices and biscuits. "It's too early to say how much production [in the local market] will grow but this positive sentiment should translate into greater consumer confidence, higher income and more purchases of higher-value products such as frozen foods, convenience food, health and wellness and organic products," sales of which are already growing rapidly, Sabonaro says.
Executives at Predilecta Alimentos, which makes canned vegetables and condiments, are optimistic. "We expect to grow 15-20% this year to BRL1.9bn," a spokesperson says, adding last year the firm grew 8%. "The increase in confidence in the country, lower taxes and a crackdown on corruption is going to help increase our sales."
Thiago Tsuda, an investor relations officials at Brazil-based meat giant BRF, agrees business is looking up, adding the company will post historic profit margin improvements in the "low double digits compared to mid-single digits" last year – and even lower numbers in 2017 when it reported a record loss amid the industry-wide Carne Fraca scandal.
The affair has contributed to a painful restructuring at BRF, which posted an BRL812m loss in the third quarter of 2018 (with annual results due out later this month). The company, which just named well-regarded, former Petrobras finance chief Ivan Monteiro as CFO, also completed a major asset divestment programme last week that fell short of targets, triggering a sell-off in its shares.
"We are expecting growth in Brazil after all these years of crisis," Tsuda said. "The scenario is very positive with this new president and in terms of our costs, grain prices such as corn and soybeans are coming down. We also see revenue increases from higher sales volumes and prices."
Tsuda declines to provide earnings forecasts and adds BRF also won't boost investments this year "as we are operating with high idle capacity after production fell in the recession."
JBS, another Brazilian meat giant implicated in the Carne Fraca affair, also plans to roll out new products under its ready-to-eat and frozen lines, investor relations manager Andre Menezes says.
The company plans to sell more premium pieced-or-seasoned chicken products as opposed to whole chickens, which were popular with budget consumers in the downturn, but could now gain favour as incomes rise and busy professionals get back to work, Menezes explains.
"We are going to have more items, skus and do more category trade-ups," he says. "We expect consumers will trade up, resulting in a higher value-added product mix."
There are, however, some concerns about the impact Bolsonaro's administration could have on the industry.
Observers say Bolsonaro's fledgling government has yet to execute its much-trumpeted package of market reforms, the promise of which has triggered a spurt of investment, the speed of which some analysts say is worrisome given reforms have yet to be introduced.
Perhaps, more crucially, Bolsonaro has pledged to disband food safety watchdog Consea, triggering criticism from experts who say the move, under provisional decree 870, could worsen Brazil's already tarnished food safety profile.
Consea helped "Brazil attain international recognition" in food safety and nutrition management, "becoming a reference model for several countries," Patricia Constant, public health professor at Sao Paulo University, wrote recently.
But Ricardo Ferreira, a lawyer with Pereira Neto Macedo in Sao Paulo, argues dismantling Consea may not jeopardise food safety, adding Bolsonaro views the agency as inefficient, part of a string of redundant government bodies that must be merged to build a more effective government.
"I don't think that by removing this agency, the government won't look to improve food safety to export more meat products, which make up most of our exports," Ferreira counters. Moreover, he notes the future of Consea, which the new administration plans to merge into the Ministry of Science and Technology, has yet to be fully decided, meaning it might still survive as an independent body.
Food safety enforcement could, in fact, be tougher as Bolsonaro has appointed Sergio Moro, the judge who headed Brazil's stinging Car Wash graft probe, as the country's chief justice.
"There have been no discussions on whether there will be more food inspectors but that doesn't mean they won't be stricter in their investigations," Ferreira says. "Also, these companies are listed on stock exchanges and their businesses have been hurt because of the scandals so we expect changes and more moves to clean up their image," such as BRF's appointment of Monteiro, who led an accounting purge of at corruption-hit oil giant Petrobras.
Bolsonaro is also expected to relax the regulatory regime governing food companies, hastening new product registrations and simplifying export taxes, especially for goods destined to the Mercosur free-trade bloc, which comprises Brazil, Argentina, Paraguay and Uruguay.
"An agrochemical can take years to gain approval but most products can take up to a year," Ferreira says, adding these time frames should be sharply reduced, helping companies launch products faster and more profitably.
That – and how the industry will actually benefit from the policies of the new administration – still remain a big if, one executive concedes.
"Bolsonaro just started his mandate so we really have to wait and see what he actually does," he said, adding that in Brazil, "not everything is what it seems".
It is early days but the general feeling from the pronouncements emerging from Brazil's new administration is of plans to open the country's economy.
"Brazil is the world's eighth-largest economy but the 130th in [the] degree of openness, close to Sudan. It's also ranked 128th in terms of ease of doing business. I mean . . . Jesus Christ!" Paulo Guedes, Brazil's Economy Minister, said this week in an interview with The Financial Times, which says the former fund manager plans to introduce a "free-market perestroika" in the country.
Many a manufacturer, in food or elsewhere, are likely to receive such comments with optimism.