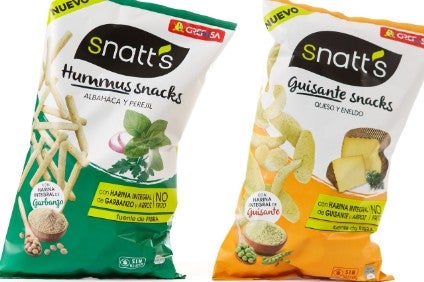 Shoppers across Europe are looking for healthier and lighter options when it comes to food and drink choices and we're also seeing the rise of the 'on the go' consumer, which is helping to drive demand for more convenient products. Europe's salty-snacks category is not immune to these trends, as IRI's senior regional insights manager, Olly Abotorabi, explains.
Health and convenience are two major macro trends shaping much of Europe's food industry and salty snacks is no different.
Consumers are snacking more regularly, with light bites often seen as an alternative to traditional meals. Add to this growing urbanisation, enhanced availability through the growing convenience channel and a preference for eating on the go, especially among younger people, we are seeing something of a snacking revolution. A growing interest in health and wellbeing, and particularly about what goes into our food and where it comes from, is also changing consumer behaviour – and ultimately what we put on our shopping baskets.
IRI has analysed the top-selling FMCG categories in 2017 across six European countries: the UK, France, Germany, Italy, Spain and the Netherlands.
Within ambient categories, salty snacks appear to be benefitting the most from changing lifestyles and preferences.
The fastest underlying volume growth in salty snacks last year was in Italy, where volumes were up 7.5% and where the base rate of sale was a key driver. The slowest rate of growth was in the UK where a weaker NPD programme among top players delivered little change year on year and sales inched up 0.5%.
Cross-country, category sales topped EUR6.3bn last year, with value ahead of volume growth (3.7% versus 2.2%).
However, broadly speaking, natural and organic are two trends becoming increasingly important and are helping drive product innovation in terms of ingredients and flavour combinations, particularly when it comes to baked and vegetable salty snacks.
European shoppers now spend EUR69m on vegetable-based snacks, up 24% in value and 27% in volume in 2017. This double-digit growth is being fuelled by developments with ingredients like root vegetables, such as beetroot, parsnip and kale, as well as pea, rice and lentil variants.
Much of this is being led by niche and mainstream manufacturers who are offering interesting new flavours. Emily Crisps in the UK, for example, recently launched 'Spring Greens' (using French beans, sugar-snap peas and black edamame as ingredients) and 'Root Veg' (containing carrot, beetroot and sweet potato) flavours as part of its range.
Grefusa, Spain's fourth strongest crisp manufacturer, has got behind its Snatt's brand with the addition of a line of vegetable crisps, making the company the fastest-growing player locally in 2017.
Salty snacks, of course, has some significant, entrenched manufacturers and brands. Established, upmarket players, such as Kettle and Tyrrells, were last year snapped up by bigger US manufacturers (Campbell Soup Co. and Hershey respectively) to help strengthen their foothold in a growing category but also in recognition of the premium positioning and modern product portfolio carried by both brands.
However, while the humble potato continues to dominate the salty snacks sector, we are seeing a much slower rate of growth – around 1% in both value and volume. As well as the growth in baked and vegetable snacks, extruded chips, are also seen solid growth, with sales up 6.5% in value year-on-year and worth a healthy EUR1.6bn last year.
Ridged snacks are the fastest growing of the largest segments, highlighting the importance of manufacturers that offer a more filling alternative as well as innovation through bold flavours.
Beyond the crisps category, salty snacks, such as nuts and popcorn, continue to gain in scale as lighter and healthier 'grazing' alternatives versus sugar confectionery.
In value terms, the sales of nuts grew 7% year-on-year in France and Germany and even faster in Spain at 14%. Meanwhile, strong innovation in flavour and portion controlled, calorie-counting packs are driving double-digit growth rates in the sales of popcorn in some markets, which saw sales jump 33% in Spain and 15% in the Netherlands.
On convenience, attributes like portability, re-sealable packaging and portion sizes are increasingly desirable for shoppers and a huge opportunity for manufacturers, and also for retailers looking to maximise growth opportunities in 'food-to-go'.
As the market continues to grow and more brands and retailers recognise the potential to bring time-poor shoppers into stores with ready prepared food, we can expect to see more experimentation with snack portion sizes for meal deals.
Overall, we should expect to see continued development and growth in lighter snack options, including non-potato chip NPD. The negative focus on sugar provides more point-of-purchase display opportunities.
Flavour innovation is of utmost importance; taste remains the number one driver to purchase salty snacks. Expect to see more bold flavours via heat and meat-based variants and more originality in flavour combinations to stand out.
Aligned to World Health Organization guidelines, local government initiatives and an increasingly discerning consumer, the trend toward healthy snacking shows little sign of letting up. Manufacturers and retailers need to collaborate and bring into focus the variety of shopper snacking missions in order to fulfill demand and win share of transaction.