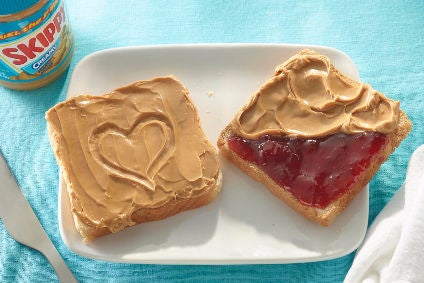 Hormel Foods raised its full-year earnings outlook this week on the back of a "record" first quarter. The US company stressed that it was able to increase earnings by 23% in spite of lower sales – the consequence of avian influenza hitting its Jennie-O turkey business.
Significantly, Hormel has demonstrated its ability to perform over time. As Athlos Research analyst Jonathan Feeney notes, Hormel has "led the industry" in returns for the past 15 years and grown dividends every year for the past 50 years.
"For 125 years, they've been the protein company everyone else would like to be. And through the recent acquisitions like Skippy and Muscle Milk, they're very quickly becoming the food and CPG company everyone would like to be," Feeney suggests.
Addressing analysts at the Consumer Analyst Group of New York conference in Florida this week, Hormel shared some details on the factors supporting the company's performance.
Consistent goals
CEO Jeff Ettinger stressed Hormel has established clear, consistent and "aggressive" goals the company as a whole can get behind. "One of the questions you could ask anybody in there is what does five and ten mean to Hormel Foods. Five and ten have been our consistent goals within our corporation for the past ten years, what we strive to achieve 5% revenue growth each year and 10% earnings or operating income growth. These are among the most aggressive goals within the food industry," he explained.
Over the past five years, the company has delivered a CAGR of 5% on the top line and 12% in earnings, the chief executive added.
Targeted, well-executed M&A
Hormel has used targeted M&A as a means to grow sales and expand in on-trend areas. Hormel had a "very American dominated portfolio" and core products like Spam or bacon are not "going to be accused of being health oriented items any time soon", Ettinger conceded. "Our portfolio is really dominated by kind of sit-down, meal-type items," he continued. In other words, Hormel's well-established legacy brands were off-trend. The company took decisive action and over the past four years it completed a number of large-scale acquisitions designed to "move the needle" – Wholly Guacamole, Skippy, Muscle Milk and Applegate Farms. The deals aimed to address portfolio weakness, making Hormel's business "more global, more multi-cultural to add that element of health and holistic attributes and to provide on-the-go solutions", Ettinger said.
As it took on these new businesses, Hormel also realised it needed to integrate them differently based on their various needs and connections to customers. The company has, for instance, adopted a structure that sees Skippy's China unit responsible for operations in Asia, while Applegate Farms continues to operate on an entirely stand-alone basis.
Innovation
New product innovation has also been a "key element" to Hormel's growth strategy, Ettinger insisted. "Our founder George Hormel founded the company on the principle of innovate, don't imitate. We've had a number of notable successes over the years including our party trays franchise, Natural Choice, our Bacon 1 items for the foodservice trade.
Growing the core
But while Hormel has used M&A and innovation to update its portfolio, the company has remained in touch with its roots. It has, for instance, successfully grown its core brands such as Spam. Ettinger continued: "I'm going to share a secret, Spam is still growing. It's growing at 3% CAGR over the last five years in the US and a 7% CAGR outside of the US. But in addition to Spam, we own a number of other items within the portfolio that we've been able to create really nice household penetration growth, ranging from our flavour bacon portfolio, to Herdez authentic Mexican sauces, to Jennie-O Turkey Store… to our Hormel pepperoni items."
Balance
Hormel has been able to deliver consistently strong results thanks to the balance that is built into its portfolio and brands, president Jim Snee added. According to Snee, the spread of Hormel's business means the group can offset changing commodities or consumer environments – when pork takes a hit, perhaps peanut costs will go down and so on. The group's business is also spread between retail and foodservice channels, affording greater stability.
Snee concluded: "One of the reasons we're able to consistently set and hit our aggressive long-term growth goals is the balance that's built into our business segments. And when you put it altogether, our business model supports growth that exceeds the average for packaged food companies but is also inherently less volatile than our protein peers."
"Continual" cost focus
Unlike many food sector companies, who have announced plans to reduce costs by X amount over Y time-frame, Ettinger said Hormel's efforts on costs are "continual". He explained: "We don't tend to have kind of active projects going on; we try to really watch this on a continual basis…. We had over 1,500 such projects during the past year. And these projects drive cost control; they allow us to better utilise our raw materials; they can create yield improvements; and they can allow us to better utilise our capacity."
This approach to efficiency has contributed its share to Hormel's improved profitability, with operating earnings showing CAGR of 12% over the last five years.
People
Ettinger said Hormel is proud of its people. And if tenure is taken as an indicator of satisfaction levels, it would appear the feeling is mutual. "One last aspect of the secret behind Hormel Foods that I'd like to share with you really relates to our team, where we are… a little bit of a throwback in that regard. When someone joins our organisation, they tend to join it for a life and indeed our average tenure of our officer team at Hormel Foods is 26 years, that's not 26 years of industry experience, that's 26 years of experience at Hormel, which I think does make it somewhat unique in the industry."
Future growth
Hormel management also has a weather eye out for future growth opportunities. The company believes there is considerable scope to grow its international sales and expand its global footprint, particularly given it is "still primarily a US-based business".
Snee said Hormel also plans to grow its footprint in ethnic products. "We also view multicultural items with new and adventurous flavours such as those items that you'd find in our MegaMex portfolio of items as a strong growth platform. We believe there are more opportunities to expand our multicultural food offerings going forward."
Elsewhere, the company is focusing its efforts on foods that fit "on-the-go lifestyles" and "the growing interest in products that are not only nutritious but has significant holistic attributes", Snee revealed.
As Hormel seeks to expand in these areas, the group remains watchful for M&A opportunities that fit its strategy, Ettinger revealed. "We certainly have a number of hooks in the water and keep looking for the things we know we can handle financially, we also know we can handle in terms of the capacity of our company to integrate and handle more businesses."