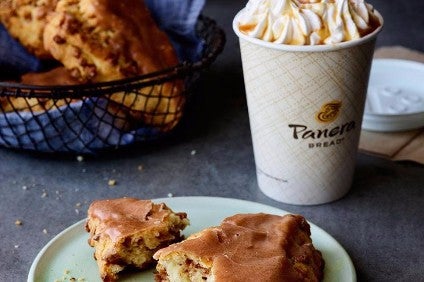 One of the biggest M&A deals in the foodservice sector came in April, with European investment firm JAB Holding moving to buy US bakery-cafe chain Panera Bread, for more than US$7bn. Elsewhere, Restaurant Brands International set out its ambitions for Burger King in sub-Saharan Africa.
JAB's Panera deal
Panera Bread, the US bakery-cafe chain that has been one of the strongest performers in the country's fast-casual channel in recent years, is to become the latest asset of European investment firm JAB Holding after a deal was announced last month.
On 5 April, Panera Bread announced it had agreed to a takeover bid from JAB Holding worth around US$7.5bn, a deal that would mark the privately-owned investment firm's latest acquisition in the US foodservice sector.
The Luxembourg-headquartered JAB Holding already either owns or has majority stakes in US coffee chains Peet's Coffee and Tea and Caribou Coffee, US coffee and bagel purveyor Einstein Noah and doughnut and US coffee chain Krispy Kreme.
As well as owning those coffee-shop chains, JAB Holding is also one of the world's largest coffee processors, having been behind the creation of Kenco owner Jacobs Douwe Egberts and having snapped up US coffee business Keurig Green Mountain last year.Keurig Green Mountain last year.
The deal for Panera Bread is to give JAB Holding another outlet for its coffee – but also gives it ownership of one of the better-performing players in what has been a buoyant fast-casual market in the US in recent years. According to The Financial Times , Panera Bread's shares have grown in value by five times over the last two decades.
Announcing the deal, Oliver Goudet, one of the three partners at JAB Holding and its CEO, described Panera Bread's growth – it has more than 2,000 outlets in the US and Canada – as an "incredible success story".
Ron Shiach, Panera Bread's chairman and CEO, who appears set to stay with the business, said: "By any measure, Panera has been one of the most successful restaurant companies in history."
With its sandwiches and salads, Panera Bread also gives JAB Holding more access to lunchtime consumers, with the firm's previous investments having focused on businesses more centred on breakfast.
JAB Holding has agreed to pay Panera Bread investors $315 a share, 20% higher than the US chain's closing share price on the last day before Bloomberg first reported it was considering a sale. At the start of the year, Panera Bread's shares stood at just over $205 but, while there was some recognition JAB Holding had struck a deal at the top end of valuations, the move was greeted positively by industry watchers.
However, there are some concerns the US fast-casual market is slowing.
"Panera has been growing in the US for years with a modern fast casual format and its health-oriented brand positioning. The rapid growth enjoyed by fast casual chains in the US, however, is expected to slow as the market for fast-casual concepts inches closer to saturation," Stephen Dutton, consumer foodservice analyst at Euromonitor International, says. "Panera likely believes now is the best time to sell to one of the many global-oriented foodservice operators that have been open to brand acquisition and market consolidation, and the chain will hope to tap into a potential parent company's influence and resources to assist in continued growth."
Dutton's views were echoed by David Henkes, advisory group senior principal at US foodservice consultants Technomic. "Panera has been a strong performer on its own, which attracted JAB in the first place. However, the fast-casual category is maturing in the US, and while the growth forecasts still indicate a segment outpacing the broader restaurant industry, Panera's challenge will be to maintain its growth trajectory. Additional investment may be able to drive new unit openings and in particular international expansion (right now Panera's international units account for less than 2% of total outlets."
Restaurant Brands International announces new move in Africa
In the last 18 months or so, Restaurant Brands International has added Cote d'Ivoire and Kenya to the markets in Africa for QSR chain Burger King.
Last month, RBI announced a "multi-country development agreement" in sub-Saharan Africa with catering business Servair, which had been its partner in the forays into Cote d'Ivoire and Kenya.
José Cil, the president of the Burger King brand at RBI, said the deal would "accelerate the expansion" of the fast-food chain in sub-Saharan Africa, describing the region as "a high-potential consumer market that remains a priority for us".
Cil added Servair, now part of Swiss airline caterer Gategroup, itself owned since last year by Chinese conglomerate HNA Group, had "a tremendous amount of experience in the foodservice segment and particularly with the Burger King brand, which will serve them well in continuing to expand the brand's presence in the region".
Burger King opened its first outlet in sub-Saharan Africa in Cape Town in 2012 and its business region remains in the early stages. RBI is not disclosing for the moment where next it plans to look in sub-Saharan Africa but there is no doubting the importance it is placing on the market as part of its plans to expand internationally.
"Africa, and especially Sub-Saharan Africa, is a market that is extremely underdeveloped and hasn't been a focus for most restaurant chains. RBI obviously believes that they can achieve some first mover advantage in moving into markets that have a lot of headroom," Technomic's Henkes says. Clearly the focus needs to be on stable countries with growing economies and having a local partner like Servair that knows the area is a critical success factors for any chain expanding into new markets. Key challenges in those markets – as with many – include navigating labour regulations and cultural differences, reacting to local flavour and taste preferences, and establishing a value proposition in markets where many consumers still live on very meagre existences."
Yum! Brands' KFC chain is one of the few western foodservice businesses to have had a crack at sub-Saharan Africa and even it has yet to open outlets across the region, highlighting how on-the-ground realities can sometimes lag ambitions.
Foodservice industry consultant Fahhan Ozcelik has a further note of caution for RBI and Burger King. "Chicken consumption attributes are much more developed in these markets compared to beef, as well as the supply chain development in parallel. These are the main challenges for BK to face, which has been the case for McDonald's, which entered South Africa long before BK in 1995 and has still not expanded to all of these markets."
A one-two from Yum! Brands
US foodservice giant Yum! Brands featured in the foodservice headlines in April, with an announcement on international expansion and another on its supply chain catching the eye.
Restaurant Brands International and Burger King are not the only multinational chains to be targeting sub-Saharan Africa. At the end of April, Yum! announced plans to take its Pizza Hut business into Ethiopia.
There are already around 70 Pizza Hut outlets in the region and Ethiopia is set to become the latest market for the chain. According to Bloomberg , Yum! and its local franchise partner Belayab Foods and Franchise will open three Pizza Huts in Addis Ababa, the Ethiopian capital this year. The agreement between the two companies could see up to ten outlets open, the newswire reported.
Yum! is facing challenges with Pizza Hut in the US, which still accounts for just short of a majority of the chain's revenues but where its sales are in decline. The company does not break out the percentage of Pizza Hut sales are generated in Africa but said its combined Middle East, Turkey and Africa accounted for 4% of the chain's sales in 2016.
With Pizza Hut's US business under pressure, Yum! Brands is facing some calls on Wall Street to consider offloading the chain but, for now, it continues to look to grow the business internationally and, like its peer RBI, sub-Saharan Africa is part of that process.
Meanwhile, elsewhere at Yum!, KFC issued an announcement on antibiotics that would have eased the criticism targeted at the chicken chain.
By the end of next year, KFC will no longer sell chicken raised using antibiotics important to human medicine in its US outlets.
The last year-and-half has seen the use of antibiotics in the food supply chain become a growing campaigner and consumer issue amid fears their application could contribute to antibiotic resistance among humans.
In April last year, Yum! announced a pledge on antibiotics for its Taco Bell chain but, at that stage, its commitments for KFC frustrated some in campaign circles.
KFC's announcement on 7 April this year takes in all the chicken sold in its US outlets, which the company claimed was "the first time a major national quick service restaurant chain in the US has extended an antibiotics commitment beyond boneless chicken to its chicken-on-the-bone menu items".
Kevin Hochman, president and chief concept officer for KFC's US business, said: "Making this change was complex and took a lot of planning. It required close collaboration with more than 2,000 farms, most of them family-owned and managed, in more than a dozen US states where they raise our chickens."
The move won praise from campaigners. "KFC's new policy will be a game-changer for the fast food industry and public health," Lena Brook, food policy advocate at The Natural Resources Defense Council, a US environmental campaign group said. "The market is responding to consumer demand for better meat. This commitment from the nation's most iconic fast food chicken chain will have a major impact on the way the birds are raised in the US and in the fight against the growing epidemic of drug-resistant infections."