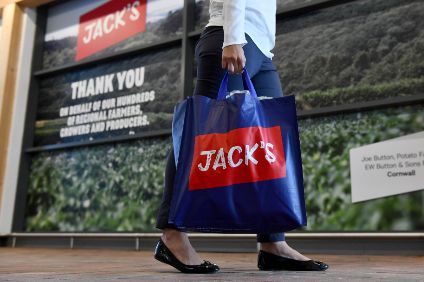 Tesco is fighting back in the UK against Aldi and Lidl with the opening of its own discount chain, Jack's. Simon Creasey outlines what the move could mean for manufacturers.
When London businessman Jack Cohen opened the first Tesco store in the north of the city in 1931, he could not have possibly imagined how big the grocery retailer would one day become. Today, Tesco operates more than 3,400 stores in the UK and has a circa 28% share of the grocery market but unless you're a grocery aficionado it is highly unlikely that you would have ever heard of Jack Cohen.
However, all of that could be about to change. Last week, Tesco opened its first Jack's discounter stores – named after Cohen – in Chatteris, Cambridgeshire and Immingham, Lincolnshire. The retailer plans to open a further ten to 15 Jack's over the next six months and, if the format proves to be a hit with shoppers, it will open more stores under the Jack's fascia over the coming years.
So why has Tesco decided to launch its own discounter chain now, what does it mean for suppliers and how will its new strategic play pan out?
Over the last few years Tesco has been losing market share to the discounter groups Aldi and Lidl in the UK and Jack's is an attempt to claw some of that business back.
"What they are recognising with this move is that the discounters have got 12% to 13% of the market," says David Sables, CEO of Sentinel Management Consultants. "It will eventually even out and the discounters will get somewhere like 19% of the market, so there is another 6% or 7% to go. That represents a heap of business and they [Tesco] want a share of that business."
Sables suggests Tesco "knows and accepts" the launch of Jack's will inevitably lead to some cannabilisation of sales from stores within Tesco's main estate but it would be almost impossible for the company to address the challenge of the discounter groups through its traditional stores.
"This is because the operations and economics of those stores are not competitive enough to compete with the discount formats," explains Neil Saunders, managing director retail, at GlobalData. "It is also the case that the multi-level offer, which necessarily includes premium elements, affects consumer perception and makes it more difficult for people to do a low-cost shop. Jack's solves these issues and, as such, gives Tesco a fighting chance of taking back some market share – so long as they roll out the concept in sufficient numbers."
The other significant upside of Jack's is it helps Tesco address the issue of a number of underperforming stores within its estate. Clive Black, head of research at stockbrokers Shore Capital, estimates Tesco has around 80 to 100 UK stores that he describes as "problem children" – many of these were acquired from Kwik Save and Somerfield.
"In a drive to classify everything, a lot of these stores became Tesco Metros but Metro was originally [conceived for] high prominence, high footfall, high-value locations like Covent Garden – and poor districts in northern cities [where many of the failing Metros are located] are a million miles from that. So we could see the launch of Jack's as Tesco also wanting to find a solution to that drag on its UK estate," says Black.
While this is undoubtedly a factor in the company's decision Jack's is primarily a defensive play and an attempt to get a piece of the ever-growing discounter pie. To steal share from discounter rivals Tesco intends to use price and product range as a key differentiator.
In Jack's stores, Tesco will stock 2,600 items with a strong emphasis on own-label products, which is where the discounters have made the biggest inroads. The retailer intends to play up the provenance and 'Britishness' of its products, with lots of union jack flags dotted around stores.
According to Tesco: "Jack's will proudly support Britain's food-producing communities. Eight out of ten food and drink products at Jack's will be grown, reared or made in Britain and stores will stock a unique own brand range, also named Jack's as a mark of quality and value. In addition to the Jack's brand, Jack's will stock some familiar grocery brands and a range of general merchandise on a 'When It's Gone, It's Gone' basis."
Black thinks Tesco's approach is sensible. "The fact that the store is selling 80% British products is very interesting indeed as we head into the potential uncertainty around the sourcing of food [thanks to Brexit]. I think British food is in for a good time over the next few years so Jack's is ahead of the curve."
It is a view shared by Hamish Renton, managing director of UK-based food consultants HRA Global, who sees Jack's embracing of British goods as getting that "Brexit edge" in early. Such ranging should therefore – in theory – be good news for British-based food manufacturers, and particularly those that supply private-label goods, says Renton.
"Although there will be a volume opportunity, it will come at the cost of percentage margin"
"The emphasis on British means there are going to be more British goods sold across all categories than there would have been before, so net, net, there will be more volume sold," continues Renton. "However, there are always two sides to these things and I think the prices will be very keen indeed. I would have thought Tesco will be looking for material margin improvements from suppliers. So, although there will be a volume opportunity it will come at the cost of percentage margin. In general, I think it's going to be a good thing for British suppliers because they will be selling more volume and if they've got efficiencies they can translate that into lower cost prices."
On the pricing front Bryan Roberts, global insights director at TCC Global, says the pricing analysis he's seen so far suggests that Jack's is "coming in slightly cheaper than Aldi or Lidl".
Jack's is also going to stock a limited range of around 800 branded goods, including confectionery from the likes of Mondelez International, Coca-Cola soft drinks and Bovril.
"The branded products they're stocking are the products consumers really want," says Bruno Monteyne, senior analyst for European food retail at Bernstein. "They are the strong brands that retailers can't do without and those brands tend to be in a much stronger negotiation position."
That may be so but Sables still thinks that suppliers of "the big brands who are represented there are under an awful lot of pressure to drop that front margin, in order to take advantage of a potential volume opportunity".
Saunders also believes the arrival of Jack's isn't necessarily good news for manufacturers and suppliers of branded goods as it potentially accelerates two unfavourable dynamics.
"The direction of travel on own label and prices is unhelpful"
"First, the trend to own brand and second, the downward spiral of prices," says Saunders. "Much of this depends on how far and fast Tesco rolls out Jack's, but the direction of travel is unhelpful."
The direction of travel may be unhelpful but the one crumb of comfort for manufacturers of brands is the steady pace the journey is being made at. Even if Tesco hits its target of opening ten to 15 Jack's stores within the next six months, this is still an "absolutely tiny" business, says Sables.
"There is a potential volume opportunity for those people who have taken the leap of faith and become a Jack's supplier, hoping that they're going to get the returns [when Tesco rolls the model out further] but if this goes the way of Netto they will have caught a cold on it," he adds.
In 2016, Sainsbury's, the UK's second-largest grocer, abandoned a joint venture in the country with Denmark's Dansk Supermarked. In response to the inroads of Aldi and Lidl, two years earlier the two retailers had brought Dansk Supermarked's Netto chain back to the UK (the fascia had disappeared from UK towns after another of the country's major grocer, Asda, bought the local business in 2010 and rebranded the stores).
However, by the summer of 2016, the venture had been wound up.
Paul Harvey, partner at management consultants Newton, agrees that, particularly in the short term, Jack's is unlikely to have a significant impact on suppliers – at least in terms of volumes.
"Tesco is making a relatively small initial investment into this new chain and until the number of stores reaches the hundreds, the volume for any individual supplier will be minimal," says Harvey. "The traditional discounters typically operate on shorter contracts than the multiples, and can benefit from cheaper, unused capacity within existing suppliers. There is potential for a future impact on suppliers, but only when the scale is there."
The question is will Jack's ever reach that scale? Roberts says overall he was "impressed with the proposition – the look and feel of the store were good and the range looked pretty decent". He was equally impressed by an area of the store where the company was selling big bulk packs of items like cereal "at particularly compelling prices".
However, he did think there were a number of missed opportunities like the absence of a premium tier of own-label goods, which has been very successful for Aldi and Lidl. That said, Roberts expects further tweaks to the ranging could be made further down the line.
"I think Jack's has got some odds stacked in its favour compared to other ventures like the reboot of Netto," he adds. "They've hired decent people and the focus is very much on efficiency. It's got that everyday low-cost DNA that Aldi and Lidl have and because a lot of these new Jack's stores aren't new property [they are converted Tesco stores] it's a fairly capital light and low-risk venture. Early reports suggest that so far both stores are incredibly busy and certainly taking business from nearby Aldis. But it's early days and you still have the novelty factor at the moment."
Black also thinks Jack's could have legs. "I thought it was a good confident first effort by Tesco to go into what we call limited assortment discounting so Jack is a lad," he says. "I don't think we should go overboard, but it does look like a seriously thought through proposition. Now let's wait and see."