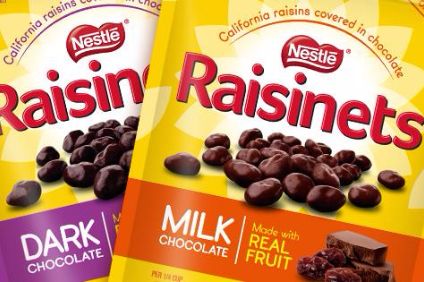 After months of speculation, Italian candy maker Ferrero finally emerged this week as the winner in the race for Nestle's US confectionery assets, reportedly pipping rival Hershey to a business that has largely been sluggish in delivering results. But what lies ahead? Simon Harvey investigates.
The decision to weigh up the future of Nestle's US confectionery assets was the first significant move of CEO Mark Schneider's tenure at the world's largest food maker.
In June, five months after Schneider took the helm at the Swiss food giant, the company announced it was exploring the "strategic options" for its US candy division, effectively putting the unit up for sale. Within weeks, Schneider was telling analysts the "clear priority" for Nestle was to sell the asset, which had seen its sales come under pressure.
Nestle's overall confectionery business hardly had a stellar 2016. The sales Nestle generated from confectionery were CHF8.68bn (US$9.04bn), down from the CHF8.87bn booked in 2015. That equated to organic growth of 1.8% but the trading operating margin Nestle was making from confectionery overall had dipped from 14% to 13.7%.
The group's most recent, publicly-available trading figures, for the first nine months of 2017, showed its total confectionery sales rose 1.4% year-on-year but, stripping out price increases, organic sales were flat – although Nestle insisted that represented an improvement in the third quarter from the first half of the year.
However, the US has appeared to be a particularly problematic area for Nestle's confectionery arm. When Nestle reported its 2016 results in February, it said "the performance of confectionery in the US was disappointing, impacted by the competitive environment and low growth in the mainstream chocolate market".
For the first nine months of 2017, Nestle reported a "decline" in its confectionery business in North America as a whole, with the US the likely problem.
In the last couple of years, questions have been asked by analysts about Nestle's future in confectionery full stop but the KitKat maker has opted to stay in the sector, while offloading its assets in a market where the category has been in the doldrums, in part due to growing US consumer interest in healthier snacks (and in some cases, snacks perceived to be healthier).
In March last year, upmarket chocolate maker Lindt & Sprungli pointed out how the American chocolate market as a whole had declined in 2016 for the first time in recent years. The challenging trading conditions in US chocolate were laid bare again by Lindt this week, which reported higher group sales for 2017 but at a rate of growth that missed expectations due, in the main, to its US business.
However, the challenges in the US confectionery sector – nor the muted performance of Nestle's brands – have not been enough to deter Italy's Ferrero, which has made a portfolio of brands including Butterfinger and Raisinets its third acquisition in the country in under a year, following the deals for US chocolate maker Fannie May Confections Brands in March and US sugar confectioner Ferrara Candy Company in October.
Ferrero, the owner of the Kinder chocolate brand, Tic Tac sweets and Ferrero pralines, sealed the Nestle deal on Tuesday (16 January) for CHF2.8bn, taking with it 20 US brands and revenue – the Swiss group said – of "about CHF900m" in 2016.
From Nestle's perspective, industry analysts were upbeat about the value deal it got for the assets.
Andrew Wood, a senior research analyst at US-based investment bank Sanford Bernstein, estimates the transaction, represents 3.1x sales and 19.4x EBITDA. "These are attractive disposal multiples for Nestle that compare well to average multiples for major food deals since 2000 – 3x sales and 15.7x EBITDA," he said.
MainFirst chief executive and analyst Alain Oberhuber was of a similar opinion, and noted in his research article a multiple of 3.1x EV/sales but a higher EV/EBITDA of 28x.
Conversely, from Ferrero's perspective, some industry watchers believe the price paid is lofty. Media reports since Nestle announced the strategic review estimated the assets could fetch $2bn to $2.5bn.
Mark Jones, a food and drinks lawyer at UK-based law firm Gordons, suggests the price Ferrero paid was high given the potential earnings multiple.
"The surprise is, the price Ferrero is paying, which represents around [a] 20 times multiple of earnings – which is high given the reason Nestle is selling is that the chocolate market isn't seeing the historical year-on-year growth it became accustomed to," Jones said.
However, Oberhuber, in his note to clients on the day the deal was announced, viewed the price tag differently.
"We see the relatively high price of this acquisition being reasonable for Ferrero in regard to its expansion plans and the opportunity of building on the distribution of Nestle's former US confectionery business," Oberhuber said.
Ferrero's success in beating out the reported competition for the assets has pushed the family-owned business up the US confectionery league table but it is still far behind Mars and Hershey by market shares.
Before the completion of Tuesday's transaction, Ferrero was the sixth-largest confectionery company operating in the US, behind Lindt & Sprungli, Nestle at fourth and the top three of – in ascending order – Mondelez International, Mars and Hershey.
Giovanni Ferrero, the company's executive chairman, said on Tuesday the acquisition will elevate the company to number three in the US confectionery rankings. According to calculations by Euromonitor, Ferrero's market share will be 10.2%, surpassing Mondelez's 6.1% but still less than half of the more than 20% held by each of Mars and Hershey.
"In combination with Ferrero's existing US presence, including the recently-acquired Fannie May Confections Brands and the Ferrara Candy Company, we will have substantially greater scale, a broader offering of high-quality products to customers across the chocolate snack, sugar confectionery and seasonal categories, and exciting new growth opportunities in the world's largest confectionery market," Mr Ferrero said.
Gian Marco Werro, an associate equity research analyst at MainFirst in Zurich, believes Ferrero's enlarged US business could prosper.
"We believe that economies of scale and market dominance are an important factor in the chocolate confectionery business to get shelf space and to have a certain power in the negotiation with retailers," Werro tells just-food.
However, as well as the benefit of a broader offering, Werro says it will be important Ferrero now tries to roll out its own established confectionery brands into the US, taking advantage of the distribution channels enjoyed by Nestle.
Ferrero may try to "differentiate" its products from those of Nestle, perhaps with "higher quality and probably also with higher prices for some products", Werro says.
"Product innovations are key, so they need to bring [in] more trendy products that are more tasty (new chocolates, new tastes) or more healthy (stevia products, with fruits etc), Werro asserts, adding it remains to be seen if that will be a priority in the minds of Ferrero's management.
Raphael Moreau, a UK-based senior food and nutrition analyst at Euromonitor, casts some doubt on what the prospects for Ferrero's new assets, specifically in the chocolate segment, where the research provider ranked Hershey top last year with Nestle and Ferrero in fourth and fifth. With the Nestle deal, Ferrero will be the fourth-largest player in US chocolate, behind Lindt in third, then Mars and then Hershey.
Moreau says Nestle's Butterfinger chocolate brand, which he describes as its "most prominent" brand in the US, had suffered because companies like Lindt and Mars had "a more premium positioning".
"Nestle's brands are not positioned as premium as Ferrero's brands, [so] their turnaround and a successful integration into Ferrero's brand portfolio would be uncertain," Moreau says.
And what might Nestle's future strategy be for its remaining confectionery assets?
Nestle made some notable acquisitions of its own in 2017, snapping up US plant-based food maker Sweet Earth in September and Atrium Innovations, a Canada-based vitamins and supplement group, in December.
Moreover, only last week, Nestle sold a chocolate bar brand in Australia, Violet Crumble, to local peer Robern Menz.
Announcing the sale to Ferrero on Tuesday, Schneider said: "This move allows Nestle to invest and innovate across a range of categories where we see strong future growth and hold leadership positions, such as pet care, bottled water, coffee, frozen meals and infant nutrition."
However, Nestle also said it "remains fully committed" to growing its international confectionery operations outside of the US, "particularly its global brand KitKat".
The news flow from Nestle this week has – coincidentally centred on confectionery – with a notable piece of product development initially focused on two markets in Asia and a rejigging of its chocolate R&D functions in Europe.
Nestle does seem to be committed to confectionery but MainFirst's Oberhuber sees some potential for the company to offload other chocolate brands such as Aero.
Overall, Oberhuber foresees the Swiss giant continuing to divest its less profitable businesses before strengthening its core brands through new investments, forecasting the second half of 2019 and fiscal 2020 as the most likely for the latter proposition to happen.
"We expect further [Nestle] divestments to come, affecting further chocolate confectionery brands, frozen fast food and ice cream," Oberhuber predicts.
Jon Cox, head of the European consumer division at Kepler Cheuvreux, says he could see Nestle exiting the confectionery sector completely in the next couple of years and suggests a possible minority stake in a joint venture with Hershey "would make sense".
"We see a multi-year transformation at the [Nestle] group – cost cutting, accelerating organic growth, M&A – which should improve earnings growth following a period of relative stagnation," Cox says. "We still expect the company to wrap the remainder of its confectionery business into a JV with Hershey, given structural pressures on the category."