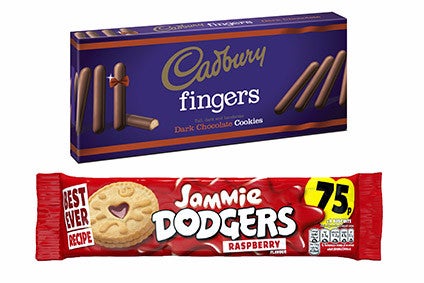 Last month, after some speculation earlier in the summer, Mondelez International confirmed it was buying the licence to manufacture, market and sell Cadbury-branded biscuits around the world from UK-based Burton's Biscuit Co. Mondelez has touted the "exciting opportunities" it sees ahead for the products, while Burton's, which had held the licence for 30 years, talked up the prospects for its own brands. John Shepherd takes a look at what might lie ahead.
After rumours Cadbury owner Mondelez International had approached Burton's Biscuit Co. to buy the licence to market biscuits under its flagship chocolate brand in July, on 12 August the two companies announced a deal.
Mondelez, also the owner of the international biscuit brand Oreo, said the acquisition gave it "exciting opportunities to accelerate global growth and innovation" in a sector in which the US snacks giant claims a "leadership position".
Burton's, the UK-based business owned by the Ontario Teachers' Pension Plan, the Canadian pension fund, said it planned to launch a "transformational growth plan" across its core brands, which include Jammie Dodgers and Wagon Wheels.
Beyond that, neither company has been willing to talk at length about their plans in the wake of the deal.
It has been 30 years since the Cadbury biscuit licence was originally granted to Burton's by the former independent Cadbury business. According to Euromonitor data, Cadbury biscuits were Burton's best seller. Cadbury biscuits generated sales in 2015 of US$87.3m for Burton's, followed by Maryland's at $84.3m, Jammie Dodgers at $38.1m and Wagon Wheels at $29m.
However, Jack Skelly, an analyst at Euromonitor, says Burton's can prosper without the brand in its portfolio if the company dares to be "bold".
"In terms of performance, Maryland's has been performing particularly well, seeing a value sales CAGR of 10% between 2010 and 2015 – Jammie Dodgers and Wagon Wheels saw 2.2% and 15% respectively," Skelly said.
Skelly points out that, even though Cadbury biscuits were Burton's number one brand by sales, the company had been losing sales to McVitie's, owned by Turkey's Yildiz Holding. He talks up the product development work Burton's has carried out on Maryland cookies. "Maryland, however, have developed quite a strong portfolio across different pricing segments of the biscuit market – the standard Maryland Cookie is an economy or standard brand, whilst Maryland Gooeys focus on slightly more premium and more indulgent snacking occasions."
According to Skelly, Burton's should continue to pursue this strategy, although he acknowledges it is "difficult to do this with Jammie Dodgers and Wagon Wheels". With that in mind, Skelly suggests the focus should be on "better developing Maryland so that it can grow further across multiple segments".
He adds: "There is limited opportunity for further expansion with regards to Jammie Dodgers and Wagon Wheels, so if Burton's is feeling bold… it may be best to look at a new brand launch or, even bolder, an acquisition."
Burton's has of course been rumoured to be looking to acquire Fox's, the biscuits brand owned by 2 Sisters Food Group, for some time, so is this now a logical next step after the sale of the Cadbury's licence? Skelly says the Mondelez deal "will provide some extra cash for Burton's to play with".
"Given that they will now be competing directly with the Cadbury's brand, I feel that it will be very important for Burton's to look to acquire a brand, such as Fox's, which has similarly adopted an 'uber indulgent' position in recent years," Skelly says. "If they do not, they risk putting too much reliance on the Maryland brand."
Burton's brief statement to announce the deal with Mondelez included a commitment "to implement a transformational growth plan across its core brands, including Maryland, Jammie Dodgers, Wagon Wheels and Fish'n'Chips, and continue to invest in innovation to grow".
However, in recent quarters, in the UK at least, sales of Burton's three main biscuit brands – Maryland, Jammie Dodgers and Wagon Wheels – have been in decline.
According to data from IRI, total value sales of Burton's biscuits for the 52 weeks to the end of 16 July this year was GBP146.6m, an 11.5% fall compared to the 52 weeks up to 18 July 2015.
Tim Eales, director of strategic insight at IRI, says all three key Burton's brands "are showing lower levels of promotional support and less generous deals". Eales raises the question of whether there has been a strategy at Burton's "to increase profit off a smaller sales base". He adds: "We have seen examples of this for other manufacturers where it is a deliberate policy. I don't know whether this is definitely the case for Burton's." The company declined to provide comment for this article.
Sales of Cadbury-branded biscuits in the UK, the main market for the range, were worth GBP102.3m in the year to 16 July, Eales says, citing IRI data. Those sales were 3.7% lower than in the previous year and volume sales in kgs were down by 2.2%.
Biscuits has been a buoyant category for Mondelez recently, with the growth from that side of its business outpacing the expansion of its chocolate arm in 2015.
However, that trend has switched around in the opening months of 2016, with Mondelez's chocolate sales growing by more than 2% in the first half of the year and its biscuits business expanding by almost 2%, hampered by issues in the US.
Figures from Mondelez show biscuits represented a 40% share of the company's sales in 2015, so the company will no doubt be keen to give fresh impetus to that side of its business.
Looking at the biggest market for Cadbury biscuits, the UK, Mondelez will face some stiff competition in the shape of Yildiz Holding's McVitie's brand but industry watchers expect the US snacks giant to adopt tactics similar to those we have seen on its Cadbury chocolate portfolio.
Euromonitor analyst Skelly said: "I expect Mondelez to apply a similar strategy to the one they've pursued with the Dairy Milk brand in chocolate – there will be a wide amount of new product launches and the company will flood the market with promotional activity and aggressive merchandising. I think the general focus will be on targeting some of the space that Yildiz dominates with the McVitie's brand, and so that means largely targeting the standard biscuit products that are in the market rather than the more premium entries that we've seen from Fox's and Maryland Gooeys."
Looking at Mondelez's business more broadly, Skelly points out the company has been "quite focused on building up a biscuit portfolio in the last two years". "It acquired Vietnamese biscuit manufacturer Kinh Do in 2014 and in late 2015/early 2016 started launching a new Cadbury's biscuit brand in India."
"Given that Cadbury's has a 48% share of all chocolate sales and the biscuit market is worth $3bn (larger than chocolate at $1.8bn in 2015), a Cadbury's biscuit launch has seemed like an open goal for Mondelez for years," Skelly says.
"Biscuits seems like a less stressful route for Mondelez to take – they require lower input costs and they more affordable for Asian consumers," Skelly said. "Per kg in India, for example, unit prices for chocolate were $11/kg versus $2/kg for sweet biscuits – five to six times more expensive – not to mention more popular in the Asia Pacific region, where sales figures for 2015 were $16.4bn for sweet biscuits) and $13.6bn for chocolate). With that in mind, it makes real sense for the company to pursue an ambitious goal with biscuits, particularly with the Cadbury brand."
Skelly said he expects "the main focus" of any Mondelez biscuit launches will continue to be in Asia, especially with the Cadbury's brand".
Whatever the next steps forward for Mondelez, it remains the subject of intense speculation. By the end of August, Mondelez announced the end of its plans to gobble up another chocolate major, US-based group Hershey. However, with the prospect of a $23bn takeover off the table, industry watchers are speculating about what could be on the horizon for both companies.
Some on Wall Street believe part of the reason Mondelez was interested in Hershey was to bulk up and make it less likely to be the subject of a takeover bid itself. Now Mondelez's move for Hershey has failed, could it become a target? Pablo Zuanic, an analyst covering Mondelez at US investment and trading firm Susquehanna International Group, said last week: "In the end, we think Mondelez will just run out of time and will be taken over – by Kraft Heinz.