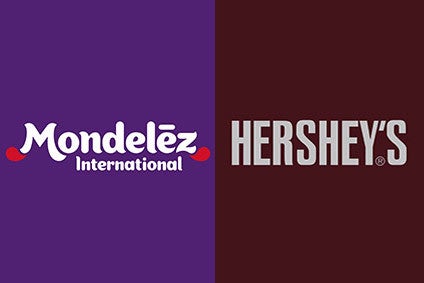 Mondelez International, the owner of Cadbury, Milka and Toblerone, this week announced the end of its plans to gobble up another chocolate major, US-based group Hershey. Now the prospect of a US$23bn takeover is off the table, industry watchers are speculating about what could be on the horizon for both companies. Dean Best reports.
On Monday (29 August), Mondelez International revealed discussions with Hershey over its interest in the Kisses maker had ended.
At the end of June, Hershey rejected a bid from Mondelez worth $22.83bn, or $107 a share. According to The Wall Street Journal, Mondelez chairman and CEO Irene Rosenfeld last week indicated to Hershey counterpart J.P. Bilbrey the snacks giant would be ready to return with an offer worth $115 a share (the Cadbury owner refused to comment on those reports when contacted by just-food yesterday).
The WSJ reported Mondelez was again met with a no from Hershey, although the company said it would start talking if an offer worth a minimum of $125 a share was tabled. The newspaper also said Hershey had indicated its controlling shareholder, The Hershey Trust, would need to complete changes to its board structure before an agreement could be struck.
"Our proposal to acquire Hershey reflected our conviction that combining our two iconic American companies would create an industry leader with global scale in snacking and confectionery and a strong portfolio of complementary brands," a "disappointed" Rosenfeld said on Monday. "Following additional discussions, and taking into account recent shareholder developments at Hershey, we determined that there is no actionable path forward toward an agreement."
In some ways, the fact Mondelez International was attracted to Hershey was a surprise – and the fact the US group rebuffed the interest was not.
Some industry watchers touted the scale in chocolate Mondelez could enjoy from an acquisition of Hershey; the combination of the two businesses would have created the world's largest chocolate maker. However, not everyone was convinced a move for Hershey was the right one. After Mondelez's interest in Hershey became public, Alexia Howard, an analyst covering both companies for US investment bank Sanford Bernstein, called into question the Milka maker's interest in the Reese's owner. A move for Hershey, Howard said, would lead to an increase in the proportion of Mondelez's portfolio made up by sugary snacks, which, she argued, would be against the tide of rising consumer interest in the US in the links between diet and health.
That Mondelez failed with its bid (or reputed bids) for Hershey should not be a shock. Hershey's shareholder roster is dominated by The Hershey Trust, set up by company founder Milton Hershey and holder of 80% of the company's voting rights. Mondelez reportedly put forward a number of ideas to try to win over the board, including promises on jobs and moving the company's corporate HQ to Hershey in Pennsylvania. The way Mondelez was said to have structured its offer would also have meant the Hershey Trust would have remained a shareholder in the combined group, although it would no longer have been the largest.
However, as recently as 2007, the Hershey Trust reiterated its intention to retain a "controlling" interest in the confectioner and has blocked previous takeover attempts that would compromise that position. In 2002 it rebuffed a move by Wrigley, in 2007 it prevented merger talks with Cadbury (now owned by Mondelez) and in 2010 the Trust prevented the chocolate group from bidding for the then independent Cadbury when the UK company was facing a hostile takeover bid from the then Kraft Foods – which was then spun off into Mondelez.
This time around, the Hershey Trust seemingly remained a barrier to a deal but for different reasons. The affairs of the Hershey Trust have been under scrutiny in recent months amid allegations the charity misused funds, a situation in which it would have been unlikely to give consideration to a takeover bid. Last month, after talks with Pennsylvania's attorney general, the Hershey Trust agreed to changes to how it would be run, although some of those changes will not come into place until the end of next year – making it unlikely to be in a position to give the green light to a deal.
Mondelez made its announcement at 16:08 ET on Monday, just after trading on the New York Stock Exchange had closed. Its shares rose yesterday as the market digested the announcement, closing up almost 4%.
In the short term, little will change at Mondelez. Next week, the company will be among the food manufacturers presenting at the Barclays Capital global consumer staples conference in the US, in which the company will most likely talk about its ongoing work to grow in areas such as "well-being" snacks, convenience and increasing sales in the e-commerce channel. There will also likely be an update on Mondelez's progress towards hitting its targets for adjusted operating margins of 15-16% in 2016 and 17-18% in the 2018 fiscal year. Those present will also be keen to hear about Mondelez's business in emerging markets, countries that were central to the investment thesis on the company when it was set up in 2012 but where its performance has been mixed.
Pablo Zuanic, an analyst covering Mondelez at US investment and trading firm Susquehanna International Group, believes if Mondelez has ambitions to build scale in confectionery it could look elsewhere. "If the company indeed wants to expand its confectionery and snacks footprint, it should seek acquisitions or mergers with other large scale companies in that space: overseas we would think of confectionery companies like Lotte, Ferrero, or Perfetti Van Melle, and in snacks, of course, there are smaller players in the natural/organic space," Zuanic says.
Some on Wall Street believe part of the reason Mondelez was interested in Hershey was to bulk up and make it less likely to be the subject of a takeover bid itself. Now Mondelez's move for Hershey has failed, could it become a target? "In the end, we think Mondelez will just run out of time and will be taken over – by Kraft Heinz," Zuanic says.
In late July, Zuanic suggested Mondelez's interest in Hershey "may be of a more defensive" and, given the consolidation taking place in the food sector, proposed the company could become a target. He noted as "rather telling" how Mondelez had last month appointed to its board an executive who had worked for HJ Heinz for a decade before it was taken over by 3G Capital and Warren Buffett.
Chris Growe, an analyst at US investment bank Stifel Nicolaus, noted the rise in Mondelez's share price after its announcement on Monday and suggested some in the market could be awaiting a move from Kraft Heinz. "We believe the prospect of near-term dilution weighed on the Mondelez shares and, furthermore, investors seeking an opportunity from a combination between Mondelez and The Kraft Heinz Company likely saw this transaction as extremely prohibitive – perhaps even defensive – to any near-term windfall."
Speculation over the M&A ambitions of 3G and Buffett are starting to heat up again. Last week, Zuanic pointed to an SEC filing from Kraft Heinz that showed the company had made a so-called mixed shelf registration to sell shares. Zuanic combined the move with what he called Kraft Heinz's "lacklustre" progress on synergies (enjoying the benefit of synergies was central to the merger of Kraft Foods Group and Heinz) and said it "could mean an M&A move [is] likely".
The prospect of a combination between Mondelez and Kraft Heinz has been the subject of talk in the market on and off for a year and spiked when activist shareholder Bill Ackman bought a stake in the snacks maker last year. At the time, Buffett appeared to pour cold water on the prospect of Kraft Heinz making a move for Mondelez – in the near term at least.
Other industry watchers have still recently touted a combination between Mondelez and PepsiCo's Frito-Lay snacks arm due to the international scale the enlarged business could enjoy. In 2013, activist investor Nelson Peltz called on PepsiCo to merge its snacks business with Mondelez, which Indra Nooyi, the chairman and CEO of the Pepsi cola and Lay's crisps maker, resisted. A year later, Peltz gave up on his bid to get the entities to combine, although a number of analysts on Wall Street speculate a deal could happen in the future.
Shares in Hershey tumbled yesterday, closing down more than 10% at $99. The Hershey Trust and the company's management faced some criticism from commentators for not accepting Mondelez's offer (or engaging with the reported interest from Rosenfeld in tabling a higher bid).
While the Hershey Trust looks to implement changes to the way it is run and its board is constituted after last month's agreement with Pennsylvania's attorney general, the confectioner itself is set to enter the key US selling season of Hallowe'en with an expectation that, for 2016 as a whole, the country's combined candy, mint and gum category will not have grown as quickly as the company had expected earlier in the year. In July, Hershey lowered its forecast for annual sales and, alongside the company's continued challenges in China, its downbeat outlook on the US was central to the cut – its second of 2016.
Looking further ahead, Sanford Bernstein's Howard suggests a sale of Hershey "might be possible once the new Hershey Trust board gets its bearings" but she acknowledges such a prospect would need the support of the new directors on the trust and the Pennsylvania attorney general. "It's worth remembering that, in the past, the Hershey Trust has prioritised picking directors with strong ties to the community and opposed to selling the company, although this might change given the extent of the shake-up the Trust is undergoing," Howard said.
Zuanic, while underlining that he does not cover Hershey, says he assumes the trust will "eventually see the light – eventually being the key word though". He says: "That may not be until 2018, with the current Trust nine-member board set to lose five members – three by end of this year and two by end of 2017 – and having nine new members coming in over the next two years, as the Trust board is expanded to 13 from nine, as per the recent agreement with the attorney general.
"By seeing the light we mean: the Trust should diversify [as] Hershey is at a disadvantage by remaining mostly landlocked in NAFTA, and a merger of some sort – into the broader snacks arena, or within confectionery to gain relevant international access – will eventually be required by Hershey, otherwise Hershey value will be eroded."
Could, then, we see Hershey be proactive and look to combine with some of its more international peers? Hershey could, on one hand, continue to look for and make small, bolt-on acquisitions of its own, as it has over the last couple of years in the shape of US jerky maker Krave and BarkThins owner Ripple Brand Collective. On their own, such deals barely move the sales needle but, cumulatively, could lead to the mix of Hershey's portfolio changing towards more on-trend parts of the snacks sector but some predict the upcoming changes on the board of the Hershey Trust could lead to greater pressure on management for bold moves.
"While Hershey has traditionally been viewed as an extremely low probability M&A candidate, the combination of the company's willingness to engage with Mondelez and the WSJ report indicating that board turnover may have played some role in stifling discussions both strike us as a change in tone which could linger in sentiment surrounding the stock," Morgan Stanley analyst Matthew Grainger says. "Additionally, this development will likely enhance pressure on Hershey's management to identify more aggressive plans to drive margin expansion and accelerate value creation at the standalone company over the coming months."
Stifel Nicolaus' Growe was one industry watcher who thought the rationale for a combination between Mondelez and Hershey was strong. "While we have no knowledge of any active M&A discussions, we do not believe another bidder is likely to emerge for Hershey. We believe Mondelez's challenge in pursuing Hershey will likely dissuade other buyers from attempting a transaction. While we believe Nestle would remain an interested party in the Hershey assets, we believe it too would likely encounter the same challenges Mondelez encountered," Growe says.
Hershey has worked to broaden its business geographically in recent years but those efforts have centred on China and the company has suffered there in recent months. Its largest market overall remains the US and, although it has broadened its domestic portfolio through M&A, its core products are doing business in a mature category that has slowed. With its top-line prospects looking weak, the company's management could look to cut costs to boost profitability and generate value – or take the plunge and plump for bigger-bang M&A.