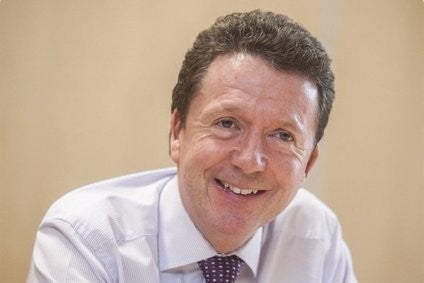 "I've been to several meetings on this particular subject, most of which have ended up in a feeling of great depression, where I think suicide was really the only logical step," Premier Foods CEO Gavin Darby joked at an industry conference in London on how Brexit could affect the UK food industry. "I don't come from that school. There are opportunities in the situation we find ourselves in." Twice in the last fortnight Darby has gone public with his views on Brexit and, as the boss of one of the country's largest manufacturers, his comments will spark debate. Dean Best reports.
Amid the mood of pessimism pervading the UK food industry about the possible consequences of Brexit, there has, in recent weeks, emerged one or two more pragmatic voices.
One high-profile executive that has appeared to be taking a more practical stance is Gavin Darby, the chief executive of Premier Foods plc.
Premier, with brands from Mr Kipling cake and Ambrosia custard to Sharwood's cooking sauces and Bisto gravy, is one of the largest food manufacturers in the UK. There will be those who suggest it is perhaps easier for someone in Darby's position to sound more sanguine than the boss of an SME. And given the bulk of Premier's manufacturing base is in the UK, the company may be more able to take advantage of some of the opportunities that could emerge from Brexit than even some of its larger peers importing finished goods into the UK from plants across the English Channel.
However, in the last fortnight, Darby has, on two occasions, spoken publicly about the opportunities he sees from the UK's departure from the EU and, even if his counterparts at other companies disagree with him, or there are those executives with businesses to which the Premier chief's arguments only partially apply (or not all), his comments are worth reading, not least when there is still so much uncertainty about what kind of Brexit the UK could choose (or, to some extent, be forced) to pursue.
Speaking at a conference convened on Brexit by UK trade body the Food and Drink Federation at the start of this month, Darby said he saw four potential opportunities for the industry. One revolved around the country's manufacturing base, another was import substitution. The third suggestion centred on regulation and the fourth centred on exports.
Darby on the UK food manufacturing base
Since Brexit, many in the UK food industry have been alarmed by the fall in the value of sterling and the impact on the cost of inputs brought in from overseas. Faced with a spike in the cost of some raw materials and faced with retail customers doing business in an intensely competitive market and serving customers themselves uncertain about the outlook for the British economy, manufacturers would be forgiven for feeling very anxious about how they can pass on any of that cost pressure down the chain. At the FDF event, Darby took some time to point out what he described as the "very strong and resilient" UK food industry had "weathered" commodity volatility before. He also attempted to lift the mood by emphasising what he saw as the "great success" the sector has had in improving productivity and its "huge track-record" of innovation.
However, in what were perhaps more practicable comments, Darby told delegates the UK food sector could use its manufacturing base to its advantage. "One needs to distinguish between imported raw materials as distinct from imported finished goods. For companies that produce in countries outside the UK, their finished goods clearly have a huge issue – on average a 15% increase in finished goods, whereas other companies sitting in the UK, basically converting raw materials and ingredients, have a relative opportunity," Darby said. "The industry is already the biggest manufacturing industry in the UK and why shouldn't it this strengthen the biggest manufacturing industry in the UK?"
Darby on import substitution
The Premier chief raised the possibility of UK manufacturers using import substitution to their advantage – both when competing in categories where rivals could be importing finished goods into the UK and when considering the origin of their own supplies.
"Hypothetically, if there's a category in a supermarket where one supplier is manufacturing in the UK and the competitive supplier is bringing the product from continental Europe, if everything else is even and equal, that supermarket will receive very different price increases from those two suppliers – at which point that supermarket will have the choice of whether they change the shelf space or whether they move share," Darby said at the FDF conference.
While Darby dealt in the hypothetical at the FDF event, it was clear he saw this as an opportunity for Premier – or he would not have raised it. And speaking this week to City analysts as Premier announced its half-year results, he underlined how Premier could benefit in this area. "I do think we have potentially competitive advantage," Darby said. "We buy 89% of what we buy in pounds. We produce 95% of what we produce in UK factories. Many of my competitors produce their products in continental Europe and they have to import finished goods, which is a much bigger issue. I wouldn't under-estimate the challenge of this issue for the industry in total but many of our competitors, or food companies, are actually accounting in euros or dollars and many of them are trying to protect margins in euros and dollars. Premier has the advantage of producing and accounting in pounds."
Back at the FDF event, Darby said his UK peers should be reappraising from where it sources its raw materials. He acknowledged such a review would not be simple but insisted there could be benefits to companies facing pressure on raw-material costs. "On the Monday after the Brexit vote, I sat down with my procurement director and said: 'We're going to turn this into an opportunity'," Darby said, before adding with a laugh: "'You're going to turn this into an opportunity.'"
Darby continued: "I can think of a potential example I won't give but it's a negotiation of a food ingredient where two years earlier the UK supplier had lost out in a competitive pitch to a supplier from the Benelux – and it was zero to 100 in terms of the switch of that important food ingredient. There are genuinely very, very real examples but they don't tend to be quick and easy. You have to work quite hard. You may have to reformulate food products. If I think of flavourings or seasonings that are core to recipes, it's not just a question of flicking a switch. Also, packaging, raw materials, too. It can be done but it's kind of hard work. You'll not get it in the first 90 days – it's something you'll have to work at."
Darby on negotiations with retailers
The savvy supplier will, faced with pressure on costs, first look how at it can mitigate that pressure in-house before sitting down with its customers to put forward the case for a price increase. Speaking to the City this week, Darby intimated Premier may have to up prices but said the company would first look at areas such as depth of promotions or pack formats. "If you've worked your way through that sequence, you take price increase brand by brand and category by category for whatever remains. A blended approach would be a good summary of Premier's strategy," he said on Tuesday (15 November).
Two weeks earlier, Darby acknowledged retailers, in the wake of the referendum, would be scrutinising any requests for hikes from manufacturers very closely but said he believed the nature of the dialogue between supplier and retailer had changed in recent years. "Retailers have moved into a more collaborative place," Darby claimed. "The tough environment of the value that's flowed out of the industry in the last three years is so enormous that, in my experience most of the major retailers have moved from a very transactional place, much more into a collaborative place. That's not to say that conversations can't still be challenging but I do think there's been a very, very big change. I can see that some companies will work in a more collaborative way and less trench warfare fashion than might have occurred in the past to work through what is a very big and challenging situation."
There will no doubt be those in the industry, perhaps not armed with the clutch of household brands a company like Premier has, who disagree with that sentiment.
Darby on regulation
One of the four opportunities put forward by Darby at the FDF event centred on regulation. The Premier boss suggested UK manufacturers, facing pressure from the country's Government in areas like obesity, could be seeing their efforts to tackle the issue hampered by existing health claims legislation. It was an interesting point.
"There are some strange food regulations which would perhaps provide opportunity in the future," Darby said. "I'll give you one. The health agenda is very important to all of us. The Government's childhood obesity strategy was published in the summer and one of the key planks was a 20% reformulation goal, which is very challenging. Actually, you have to reduce sugar in your product by more than 30% before you can claim it. I see examples in my own business of our R&D folks working hard to reduce sugar but it's rarely by 30% in one step. If we made, in theory, a 20% reduction on a cake product or a hidden-sugar product of another nature, we couldn't claim it to the consumer. I'm sure there are many other and better examples of how changing food regulation would allow us to meet other important goals. I'm using that as one example of how maybe unfettered we'll have an opportunity to rewrite some of the regulation and one can do things that perhaps one can't do today."
Speaking to just-food this week, the FDF echoed Darby's comments, suggesting new regulations could encourage manufacturers to work further on reformulation. "Communication about recipe changes can be a difficult decision. Some consumers are likely to accept or even welcome change, whereas others may be wary of changes to their favourite foods or drinks. If companies do want to communicate, existing EU labelling rules only allow companies to communicate reductions of energy, fat or sugar in foods or drinks of at least 30% (or 25% for salt). A change to these rules may help incentivise incremental recipe change," a spokesperson said.
Darby on exports
Driving exports is one strategy many a UK food company is trying to follow since the Brexit vote and the slump in sterling. That said, a large majority of UK food companies have yet to dip their toe overseas.
Darby, who set up an international division at Premier in the early days of his tenure, added his weight to those who believe UK food manufacturers should look at trying to build an overseas business, or, if they have one already, trying to go further.
"Clearly as of 24 June, although we were importing more inflation costs, those of us who are focusing on building international businesses based on export, had got a like-for-like 15-20% advantage over the very same plans we had the week before," Darby told the FDF conference.
Premier's business outside the UK is one of the company's brightest spots at the moment, with overseas sales up 20% last year and set to be up again by at least that amount this year, Darby said.
The Premier chief did acknowledge the challenges that can arise from building an export business. "From our experience, I can think about it in two ways. First of all, you do need to be very committed and really believe in it. And you have to invest ahead well ahead of your returns. It's been a pretty tough two or three years in our industry, so you're doing it at a time when you could be forgiven for being cautious. The other thing is it does add potentially quite a lot of complexity," he said.
However, Darby pointed to how, for example, private-equity firms believe in the importance of exports for food companies. "If you look at many of the private-equity companies, the first thing they do is look to turn these businesses into exporting, international businesses. They can demonstrate that that is absolutely one of the best ways to adding value to the business."