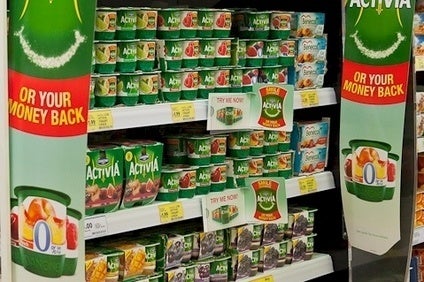 Danone booked a slight first-quarter sales beat this morning (15 April) as price increases more than offset lower volumes. Underlying sales expanded 4.8% versus analyst estimates of 4.6%. Shares in the French group edged up 1.56% in Paris today, reflecting a cautiously optimistic response from the market and the hope Danone could finally have come to grips with some of the challenges that weighed in 2014. However, the verdict on Danone's fresh dairy business was mixed and concern over the struggling unit lingers.
Fiona Cincotta, Finspreads
"This is a strong performance from the French company who have struggled to bounce back from a series of issues, beginning with the economic crisis and ranging to the more recent food safety scare in China. However following a top management reshuffle as part of the plan to improve growth and an adjustment to corporate strategy with a stronger refocus on rebuilding its brand in Asia, particularly China, the company would appear to finally be set on a more stable path for the future."
Andrew Wood, Sanford Bernstein
"We expected solid and more normal top-line growth from Danone, as it exited from 12-18 months of volatility due to the China [early life nutrition] recall, and that is what it delivered in Q1 (+4.8%). This was slightly ahead of consensus (+4.6%) and our expectations (+4.2%). However, as we expected, volume growth was still negative (-0.2%) for the fifth straight quarter, so all the growth came once again from value. Fresh dairy continued to be a drag, but Q1 performance (+0.2%) avoided a second quarter of negative growth…while this weakness was compensated by strong growth (varying between +8% and +12%) in the three other businesses."
Alain Oberhuber, MainFirst
"Danone published a solid Q1 revenues result with an organic growth rate of +4.8% beating our as well a market expectations. Positive is the better growth in fresh dairy as well as medical. Nutrition grew as expected. Water organic growth was slightly slower. Danone confirmed its targets of an organic growth rate of +4-5% combined with a slight growth in trading operating margin on a like-for-like basis. This is in-line with our and market estimates. We continue to like the investment case as we expect solid organic growth rate with a stabilisation of fresh dairy margins. Danone trades at an unjustified discount of 15-20% to its peers."
Jon Cox, Kepler Cheuvreux
"We suspect consensus will move higher on fast-improving currencies as well as greater optimism on organic sales growth. Infant nutrition in Europe remains supported by buying for shipment into China, a situation that may well accelerate given changes to visa requirements for residents in Shenzhen going into Hong Kong. European dairy transformation looks on track."