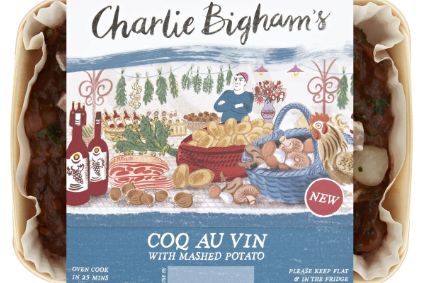 With more people cooking at home and spending time making recipes, Lucy Britner asks what this means for ready-meal and convenience food makers.
"We believe the consumer behaviour and sentiment driving an increased and sustained preference for cooking at home will continue globally and will persist beyond the pandemic," Lawrence Kurzius, the chief executive of spices and sauces giant McCormick & Co., said last month as he reflected on 2020 and looked ahead to the next 12 months.
Indeed, the headlines following the first lockdowns hailed more interest in cooking, as housebound consumers found themselves with time on their hands.
Patrick Cairns, CEO at UK ready-meals maker Charlie Bigham's says in the country's first lockdown total ready-meal sales declined by more than 25% as shopping trips became infrequent and people spent more time scratch-cooking at home. But it's not a simple picture.
By the end of September, Cairns says those ready-meal sales had recovered to 90% of the levels seen in January – and premium ready meals had totally recovered to match those seen at the start of the year.
"The strong bounce back was driven by Bigham's strong sales performance throughout the pandemic, which continues today," he says, pointing to the 21% growth in the year to 30 January 2021 for the company's ready-meals range.
Ireland-headquartered convenience foods specialist Greencore also suggests the UK ready-meals market has not been significantly disrupted, though there have been some interesting changes.
Heidi Farrar, head of category, strategy and insight at Greencore, says the top-line performance is largely the same. She says the trend is relatively flat with average 52-week sales down 1.4% over the last 12 months' worth of data.
"What has changed beneath the surface," she explains, "is fewer sales to single-person households (-4% in the latest data) but higher sales for families: four-person households [are] plus-4% and five-plus person-households plus-6% year-on-year."
Meanwhile, a spokesperson for General Mills says the US convenience meals category is continuing to grow by "double digits". The US giant said the key segments of growth in the area include frozen appetizers, frozen pizza and meal kits.
In Germany, the pandemic has actually boosted the ready meals market. According to the Federal Statistical Office (Destatis), approximately 1.1mn tonnes of ready-to-eat meals were produced in Germany from January to September 2020, an increase of just under 50,300 tonnes (+4.9%) on the same period a year prior. In contrast, production remained nearly unchanged (+0.1%) from January to September 2019, compared with the same period a year earlier.
And, in Canada, a report from the Agri-Food Analytics Lab at Dalhousie University suggests less than a quarter of people (24.3%) claim that they have prepared all the meals consumed, since the beginning of the pandemic, while 55.9% of Canadians feel they have prepared most meals themselves.
Not going out
While lockdowns may have caused an initial dip in ready-meal sales in some markets, there is evidence to suggest the at-home cooking trend is actually related to closed restaurants and anxiety around going out.
Looking at behaviours across the world and EY's Future Consumer Index survey of 14,467 consumers from 20 countries suggests that, since the start of the pandemic, 52% of people say they are cooking more meals while a similar number (51%) say they will cook for themselves/their family more often in future.
It's logical to assume more cooking at home could come at the expense of the ready meal but EY's data also suggests 35% of people believe it will take months before they will feel comfortable in restaurants.
"There is a clear correlation between the level of lockdown experienced and discomfort about eating in restaurants," says Jon Copestake, global consumer senior analyst at EY. "Only 30% of consumers feel discomfort about visiting a restaurant if there are no restrictions in place – but this rises to 47% in locations where there is a full lockdown."
According to Copestake, the impact on cooking at home is more muted, with 44% of people still cooking more at home in places where there are no restrictions, compared to 50% who are in full lockdown.
"Consumer intentions for the future also show they intend to cook from home more, with 51% overall intending to cook at home for themselves and their families in the longer term," he says. "Part of this is likely to be habitual – consumers who have learned to cook from home will do so more out of routine. But economic uncertainty might play a part. Consumers who are concerned about their finances during and beyond Covid-19 are less likely to be eating out."
And eating out less often can provide opportunities for ready-meal makers.
Looking back to the last time there was a significant slowdown in the global economy, Greencore's Farrar says there is evidence to suggest people traded down from eating out into in-home 'dine-in' style meals and convenience. She says this represents an "exciting opportunity" for the company to show how convenience foods can be used to recreate the restaurant experience at home.
Farrar adds in the convenience arena there has been a big uptick in people cooking with 'assistance' – using shortcuts such as jars of sauce, pastes and meal kits. Meanwhile, she points to data suggesting consumers were ready to pay more for certain ready meals in the absence of eating out, helping to drive a 6% rise in sales of branded ready meals.
"There was a 5% rise in average price paid for ready meals, indicating consumers were willing to splash out more on premium at-home meal occasions. The available insight suggests this has been partly as a result of the lack of opportunity for treats outside the home in pubs and restaurants for much of the year. There have been new entrants to the market with 'restaurant' brands now featuring in key retailers (e.g. Leon, Wasabi, Gino D'Acampo), whilst brands with offers perceived as 'fresh' or 'premium' also outperformed. Creating a sense of occasion has been high on the consumer agenda."
In the UK, Charlie Bigham's Cairns also points to more international cuisines, with the company's launches in the last 12 months including Thai Green Curry, Chicken Satay, Keralan Curry and Coq au Vin.
At General Mills, the spokesperson adds US consumers are looking for variety – and international flavours are now very popular. "An example of products we launched last year are Old El Paso World Taco Kits in three flavours including: Caribbean Jerk, Korean BBQ and Japanese Teriyaki. These new flavours provide consumers an opportunity to spice up their taco night." The spokesperson also says the company will continue to innovate and launch new products and flavours into the convenient meal categories.
Meet in the middle
From Old El Paso kits to restaurant-led options, the industry has been working to bring more meal kits to consumers, and they are proving a handy mid-way solution between the ready meal and cooking from scratch, while also going some way to replicate the many cuisines found in restaurants.
According to EY, 24% of consumers say they have spent more on meal-kit delivery services, 46% say they spend about the same and 30% are spending less.
EY's Copestake says meal kits and partially prepared meals were a growing trend before Covid-19 and the outbreak has only accelerated interest in the products. He says a more nascent trend is the branching out of retailers into dark kitchens and a greater focus on guided pre-packed recipes.
"Covid-19 has driven a trend towards consumption at home – but this doesn't always mean preparation at home," he explains. "Meal-delivery services saw growth during the outbreak, as well as social cooking experiences such as digital cookery classes or simply people preparing and eating meals or drinking with friends and family via Zoom."
Copestake says the long-term impact on the ready meals and convenience market is probably unchanged – but expected changes are coming about more quickly.
"It's worth remembering that many people have an uncertain financial future post-Covid-19 which may further affect hospitality – but, in times of economic crisis, consumers often revert to affordable indulgences such as meal kits and guided recipes as a cheaper alternative to eating out."
There will, no doubt, still be a cohort of consumers that can't wait to return to the restaurant. But, while social distancing measures, anxiety around going out and financial pressures persist, ready-meal and convenience-food makers will continue to innovate in order to give consumers a night off – and a taste of what they are missing at restaurants.