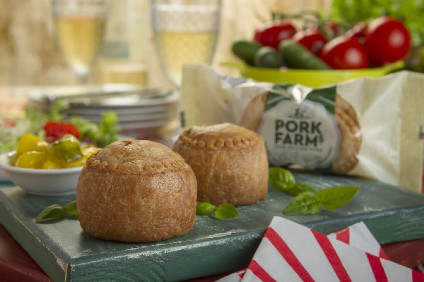 PAI Partners' simultaneous transactions to buy UK chilled food businesses Addo Food Group and Winterbotham Darby has got industry watchers mulling what could lie ahead for what the French private-equity giant is describing as its new "platform" in the sector.
It is an intriguing move because, beyond announcing the deals, PAI has not expanded on how this will work and what it means. It would be a surprise, however, if more acquisitions did not follow.
On Monday (9 November), PAI announced it had acquired savoury-products supplier Addo from London-based investment group LDC and antipasti-to-pickles group Winterbotham Darby from Equistone Partners Europe, a private-equity firm also based in the UK capital.
Addo, located in Nottingham in the English Midlands, owns the brands Pork Farms, Wall's and Bowyer's, best known for products such as sausages and pork pies. The company is also an own-label supplier. Winterbotham Darby, based in Surrey, south of London, produces olives, antipasti, continental meats and pickles. It also owns the vegan food brand Squeaky Bean.
PAI is one of European private equity's major investors in packaged food. The Paris-based firm has previously owned or invested in food businesses including United Biscuits and Yoplait. Its current investments in packaged food including owning half of global ice-cream giant Froneri and being part of consortium that controls Netherlands organic and vegetarian food supplier Ecotone (the new name for Wessanen). Incidentally, on the same day as announcing the Addo and Winterbotham Darby deals, PAI also revealed it had snapped up in Spain-based seafood group Angulas Aguinaga.
Some private-equity firms have spent much of 2020 focusing on helping manage the businesses already in their portfolios through the volatile trading wrought by Covid-19. Others have war chests full to the brim and looking to strike deals.
As Clive Black, an analyst at Shore Capital who follows the food sector, says: "Private equity has got an awful lot of money to invest, a mountain of funds that need to be allocated.
"With Sterling relatively lowly valued, UK businesses are vulnerable to international PE firms. It is happening every day across lots of sectors. They are taking advantage of the exchange rates and the relatively low multiples of companies at the moment."
Julian Wild, a corporate finance director at law firm Rollits, adds: "Private equity is awash with cash looking for a home and there are relatively few trade buyers in the food sector. So, when businesses come to market, financial buyers are usually front of the queue. That doesn't always mean it is a great success but PAI has got experience in food and a decent track-record. As always, it is down to the quality of management."
And if private-equity firms' ability and desire to spend their money in a sector and a market that offers good value is a given, the fact PAI should be at the front of that charge is also to be expected.
Wild says: "PAI is a large private-equity firm and over the years has been one of the main financial investors in the food sector. So it is no surprise to see them active in the market."
Paul Monk, who is the executive chairman of Addo and Winterbotham Darby, will stay on as executive chairman of the enlarged business. He said on Monday: "By bringing Addo and Winterbotham Darby together, there is a genuine opportunity to create the best added-value chilled-foods company in the UK. That is certainly our ambition and I am delighted to have the support of PAI Partners in pursuing this objective."
The management teams of the businesses, led by Addo CEO Deborah Bolton and Winterbotham Darby chief executive Steven Higginson, will remain in place, with, PAI insisted, the operations of the two businesses continuing to be run separately.
Wild outlined the areas of likely immediate focus for PAI. "Most private-equity investors have a 100-day plan to assess whether the businesses they bought are in line with what they expect and to make the changes that are needed going forward. Inevitably, they will focus in on cost savings, cash generation and sales growth."
When contacted by just-food for further comment, PAI declined to expand on its announcement but food sector analysts are unclear what synergies PAI can see in bringing together two business that seem to have little in common apart from that they make chilled food.
Black says: "If you keep both management teams, there is obvious duplication. I'm struggling to see material buying synergies in food. Winterbotham Darby has expertise around olives and continental meats while Addo is more mass market. There could be some synergies around packaging but no obvious synergies around facilities or distribution."
Mark Lynch, a partner at UK-based M&A advisory firm Oghma Partners, agrees. He says: "One is essentially a baking business and the other is an epicurean/deli business. Winterbotham Darby has a much lower element of processing. Addo is very much a retail business while Winterbotham Darby is more of a mixture.
"They are possibly looking at back office savings but I can't imagine that's massive. Addo is quite lean anyway. They can improve the offer to the retailer, playing off Addo's strengths in that area to get better access for Winterbotham Darby, but the buyers for sausage rolls are unlikely to be the same one for chilled olives. It's an interesting combination and there are some interesting challenges to deliver synergies."
Wild adds: "[Addo] has been through multiple private-equity hands since being sold by Northern Foods. Each investor thinks it can find something extra that hasn't yet been extracted from the operations.
"I would not assume a merger on a day-to-day operational basis. No doubt there are management and overhead synergies which may generate cost savings. The two companies are really quite different. I suspect that the reality was that both were available to buy at the same time."
Another factor could be the size of PAI in its own right, a firm one insider says is a private-equity house that only looks to do deals of a certain magnitude. PAI has, the insider notes, been interested in chilled convenience food for some time and decided a deal would only be done if the two could be acquired together.
The most-recent set of accounts for Addo that are publicly available cover the 12 months to 30 March 2019. Released last December, they show the company's annual revenue was GBP312.5m (US$411.4m), up from GBP277.9m a year earlier, a period that covered 55 weeks.
Addo made an operating profit of GBP7.6m – compared to GBP7.5m the year before – but a loss of GBP5.5m, against GBP3.1m in the previous financial year thanks to financial expenses. Adjusted operating profit was just under GBP2m, compared to GBP2.3m. Addo reported an adjusted annual loss of GBP2m, versus GBP7.7m a year earlier.
Winterbotham Darby's most recently available accounts at Companies House are for the year to 31 March 2019. Revenue rose 8.2% to GBP187.6m, with the company pointing to "volume growth on core business" and the recovery of "inflationary costs". The company made an operating profit of just under GBP3m versus GBP3.7m the year before, amid a rise in administrative expenses. The business made a profit for the year of GBP2.5m, against GBP3.1m in the previous year.
Lynch says: "There is a degree of certainty over revenue and PAI obviously feels there is some value-added that it can bring. These are not go-go, exciting businesses but PE firms are seeing opportunities to create value."
Analysts suspect it is the acquisition of the two companies at the same time and the creation of a chilled foods platform that is the key to this deal.
Black at Shore Capital says: "PAI has invested in food businesses in the past and knows the market. Is it looking to use the platform to build something more meaningful? Time will tell but it could invest to build up its chilled arm to create a large food business."
Lynch at Oghma Partners is having similar thoughts. He says: "It's interesting that they have bought both at the same time. That's quite a difficult thing to do. The scale increases the ability to exit. If it wanted to do an IPO or something that would become easier to do. Also there could be bolt-on acquisitions. Using the word 'platform' suggests they are going to do some bolt-ons. There is certainly the opportunity in this space to do more [deals]."
Acquiring a business in a certain category and then snapping up others in the same area is a common tactic used by private-equity firms and we've seen it often in food. A number of US private-equity investors have deployed the tactic.
Such 'platforms' can even see private-equity houses move into adjacencies. One notable recent example in Europe has been CapVest buying UK pork processor Karro Food Group, then local fish processor Young's Seafood – and adding more assets in both meat and seafood to what is the now Eight Fifty Food Group.
Within or outwith chilled food, don't be surprised if PAI strikes again to build on one of the more eye-catching pieces of M&A activity in 2020.