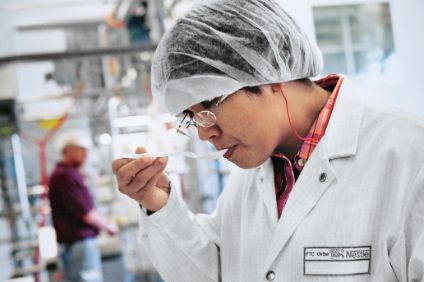 When one of the world's leading confectionery manufacturers decided to launch a brand extension into the biscuit category to leverage the equity of some of its household name products, it was faced with two choices.
Handle the research and development of the new product internally and set up a new production line, which would potentially cost millions of pounds. Or outsource the R&D function and the production of the new products to a company that specialised in biscuit manufacturing. It opted for the latter and the new range went on to become a commercial success.
It was a similar predicament to one a large European biscuit manufacturer faced. It wanted to stretch its core product into the ice cream category, but it lacked the R&D know-how and the production capability. As a result, it outsourced these functions and once again the product was a commercial hit.
Historically, large food companies have outsourced R&D and the production of certain products to specialist manufacturers but anecdotally industry experts suggest the is gathering pace.
So why are the big food companies seemingly increasingly willing to outsource R&D, when should they look to outsource and what are the pros and cons?
One person who has picked up on the growing trend of food groups outsourcing their R&D function on a more regular basis is Cyrille Filott, global strategist on consumer foods at The Netherlands-based financial services group Rabobank. Although Filott says it's impossible to quantify how much outsourcing activity is actually taking place, based on anecdotal evidence he thinks it is as a growing trend.
"What we're seeing is the emergence of new products being sold by big food companies that are actually being produced by contract manufacturers who have the R&D capabilities to come up with something new for them," says Filott.
It's a pattern that Hamish Renton, managing director of UK food and drink consultancy HRA Global, has also detected. He says the pressure to innovate being put on big food companies by consumers and retailers is causing them to experiment with a number of different approaches to R&D. These approaches range from the creation of incubators/accelerators and venture-capital arms to invest in innovative new ideas, through to merger and acquisition activity – particularly of smaller, more agile food brands that have products that have gained traction with consumers. The problem is that the latter approach in particular can be an expensive strategy when you compare it to the cost of outsourcing R&D.
"What you've seen over the last five years or so is an increase in the big companies waiting until the little entrepreneurial guys get very interesting and then they are writing a cheque to buy them," says Renton. "However, that is quite an expensive way to do it because all of the innovation has happened outside the firm and you're just buying the fruit of it. You might also end up buying the company at the top of its worth, so it's an expensive way of getting that innovation onboard. As a result, companies are started to look at how can they create the dream team of the financial clout and stability of a big firm, but with the agility of a minnow."
Another reason the big food companies appear to be more willing to outsource R&D is they are doing less of it in-house than they've historically undertaken. That's the view of food industry veteran and R&D expert John Ruff, who formerly worked for General Foods, P&G and was senior vice president, global quality, scientific affairs and nutrition, for Kraft Foods.
"The big food companies are a bit like lemmings," says Ruff. "They are following each other off the cliff because they have all dramatically cut back their investment in R&D. There was a time when I first joined General Foods that they were spending 2.5% of net revenue [on R&D] and that was way higher than any other food company in the world unless you were an ingredient company. For most of my career the benchmark for large companies was about 1% of net revenue [spent on R&D]. Nowadays – and I haven't looked at the data over the last few years – but from what I know has gone on I would suspect the typical level is closer to 0.5% than 1%."
This reduction on internal product innovation spend has also led to a reduction in the number of people employed by food companies in their R&D departments. The slashing of internal R&D resources means these companies can't react quickly enough to changing consumer trends and capitalise on new growth categories, which are being populated by start-ups and rapidly growing smaller brands like UK snacking company Awfully Posh (AP) Brands.
"These big companies are not really agile enough to do it [R&D] themselves," says Thomas Lock, founder and managing director of AP Brands. "They can't innovate as quickly or as efficiently as smaller challenger companies. We can turn around an NPD product in months, whereas it might take these big companies years to bring a similar product to market. And even when these companies have R&D teams in place I think that although they have the commercial know-how and nous, sometimes they lack the vision and creativity to launch new products."
By outsourcing the R&D function to a specialist provider, this potentially opens up a whole new world of creativity and innovation, but at a lower cost and risk than if the food group developed the product in-house from scratch. "If you use a contract manufacturer that has development capability it's almost an insurance policy because you don't have to make the investment yourself – you don't have to put a lot of capital in," Filott says. "So if the product is a failure the risk on your side is lower."
The attractions of the approach are obvious, but according to food industry experts there are no hard and fast rules as to when food companies should outsource their R&D function.
Some food companies are doing it through necessity – as Ruff points out, many groups have dramatically slashed R&D budgets and teams over recent years leaving less internal bandwidth to develop new products. Other companies are outsourcing R&D to tap into hot product categories, such as meat-free and protein products. Often the big food groups lack the internal expertise and facilities to develop these types of products themselves. 
Then there are those food groups looking to leverage the equity of their hero brands by entering new categories, such as the confectionery company branching out into biscuits and the biscuit brand launching an ice cream. Again, these companies might not have the know-how or production lines to develop products for these markets – especially if you're talking about an ambient manufacturer creating products for the freezer aisle.
Guido de Jager, marketing and communication manager at Netherlands-based food contract research organisation Nizo outlines why food companies may typically approach his company for help.
"The first is they have run into a specific challenge that is so technically advanced they might need some support solving it," says de Jager. "For instance, protein is a big buzzword, but it's easier said than done to make a plant protein product that actually tastes nice and has a good mouth feel. The second reason is companies need something done fast, and the company's own R&D team is tied-up in other projects which have urgency." 
He explains Nizo works from the "ground up" and can handle all parts of the NPD chain, from product recipe development all the way through to process techniques and everything in between. 
"We can pick-up a whole project or certain parts of the research could be outsourced to us in conjunction with the customer's own research," says de Jager. "We have one of Europe's largest food grade pilot plants to do projects or develop test batches if required. Nizo's advantages are that our expertise makes sure that what we develop is practical and applicable, on time and in budget, and can be produced at our customer's plant."
As Filott pointed out, it's virtually impossible to assess with any degree of accuracy to what extent big food companies are outsourcing their R&D function to the likes of Nizo. Unsurprisingly, when approached to speak about this subject the bulk of them declined the invitation. Others failed to respond at all. One company that did open up about its R&D strategy was Nestlé.
On the subject of R&D outsourcing, a Nestlé spokesperson says "innovation has been at the heart of our company since its beginning" and the company has "the world's largest food and nutrition research organisation, with about 5,000 people in 23 locations worldwide, as well as corporate venture funds and research partnerships with business partners and universities".
The spokesperson adds that "in-house fundamental research" takes place at Nestlé Research and "rather than outsourcing, we use innovation partnerships to accelerate new product development and meet new trends, for example working with Barry Callebaut on bringing ruby chocolate to market".
Nestlé has also launched collaborations and partnerships with external companies to develop alternative packaging materials – for instance, it teamed up with Danimer Scientific to develop a marine biodegradable and recyclable bottle for the company's water business.
This type of co-development is also occurring in the food industry, according to a source that cites the example of a European contract manufacturer with an R&D team sits inside that of a large food company.
"So they're jointly developing these products with the aim of either running these products on the lines of the big food company or the lines of the contract manufacturer that provides the R&D team," explains the source.
While Ruff acknowledges the potential benefits of taking this strategic approach to innovation, he says the irony is many companies are outsourcing R&D when they have dramatically cut down on internal R&D, which he believes is the worst possible time to outsource. 
"The problem I'm seeing is they have cut to the point that they don't have an in-house expert in say dairy protein or insoluble carbohydrates to be able to go out, identify the right places to get the expertise they need and come up with a contract to do that activity outside," says Ruff. "The point at which many companies have been outsourcing is absolutely the wrong time. You should be doing it when you've got the strength internally and then you leverage outside research to effectively redeploy resources."
Another potential issue associated with outsourcing R&D is if the product is a major hit you have to "share the spoils and give some of your margin away," says Filott. "There is also the risk that when you outsource production of these products you lose control of the manufacturing process, so if something goes wrong and say, for instance, some sort of bacteria turns up in the production process, finding the source is much more difficult," he adds.
Filott does believe the benefits currently outweigh the potential risks, which is why he thinks this sort of activity will only grow in prevalence.
"Initially we are talking mostly about the 'D' part of R&D – so the development," says Filott. "It's not fundamental hardcore research, which I assume the likes of Unilever and Nestlé will probably keep to themselves for a long time."
Renton agrees that the outsourcing shift will only ever be for certain product lines. "It's just a different way of feeding the beast and it means the R&D teams in these big companies are able to really focus on the proprietary IP in their core areas."
He also thinks that the strategic outsourcing of R&D by the big food companies is a push that is long overdue. "We've gone away from a model that starts with 'I've got a machine that makes these sorts of things and its parameters are x and y' to a more market-focused approach, which is good news because fundamentally they are making more things that people want and therefore they will sell more of them," says Renton. "In a way the large firms are thinking the unthinkable and contemplating more substantive R&D that they knowingly can't make [themselves in-house], but they may make it in-house later on if the product is a success."
As for Filott, he believes a central question for food company strategists surrounds what are the core skill sets a business should have today and what role does R&D play within that. 
"I do believe that in the end the core skill set [of a big food group] is much more about branding, getting the product to market and talking to the consumer and it may not always be about the production and development of products," says Filott. "So it's not a revolution, it's an evolution. I'm not saying the big food companies will sell all of their factories and fire all of their development people – most definitely not. But I would expect them to potentially start to look elsewhere for better ideas, for better producers and for specialists. If they're smart they will."