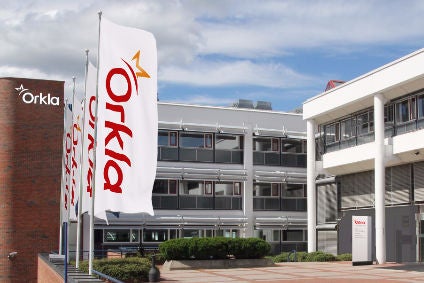 After a series of disposals in central Europe over the last nine years, Orkla has recently snapped up a food maker in the Czech Republic. just-food M&A columnist Stefan Kirk looks at where in the region the Nordic food group could look next.
It was quite a surprise to see Orkla is back in acquisition mode in central Europe in recent months, the Nordic group having largely exited the region in the late 2000s.
At the end of March, Orkla completed its takeover of Czech Republic-based Hamé, a EUR175m deal it announced in December and on which we did a deep dive on our analysis pages at the time.
Today, we assess Orkla's possible acquisition criteria and try to identify additional candidates in central Europe that would provide the company with new categories and geographies.
Orkla returns to the M&A market in central Europe
In the late 2000s, Orkla's strategy was to become a pure-play branded consumer goods company, with its main focus being the Nordic region. As a result, it made a number of disposals in central Europe which, at the time, made it look as though the group was going to fully exit the region.
Orkla sold the Superfish business in Poland in 2007, the Guseppe frozen pizza business in the Czech Republic in 2008, two more businesses in Poland, Kotlin and Elbro in 2009 and, as late as 2014, it offloaded another asset in the country, pouched foods business Delecta, which the company took on through its takeover of Norway's Rieber & Son in 2012.
It therefore appeared only a matter of time before Orkla sold its remaining assets, including Vitana in the Czech Republic and Orkla Romania. However, late last year, Orkla surprised the markets by switching to acquisition mode in central Europe, through acquiring the Hame pate and packaged meats business in the Czech Republic.
Assessing Orkla's options
The group has announced its interest in further acquisitions in central Europe. Which companies might be the potential candidates? To answer that question we need to mull over what could be Orkla's M&A criteria and options.
Historically, being an international but not global player, Orkla has sought growth in central Europe in categories that are not the focus of food multinationals like Unilever or Nestle. Processed fish and frozen pizza business are examples, as is now pate and packaged meat, categories not always of interest to the big global players.
Another criterion could be businesses that allow Orkla to expand into categories in which it has a strong presence in its core, Nordic markets. The group's existing business in central Europe is focused on grocery categories under Orkla Foods; arguably what is missing are confectionery, biscuits and snacks assets. Those categories constitute 17% of Orkla's total business, and provide a higher EBIT margin than grocery products.
Origination Status
proprietory origination, May 2016
Asset
Dr Gerard Sp. z o.o.and Delicpol Sp. z o.o. (Poland), leading biscuit producers in CE
Buyer
Orkla ASA (Norway), leading branded consumer products group in Nordics and Baltics
Seller
Bridgepoint Development Capital, Resource Partners
Buyer Rationale
expansion of confectionery and snacks division into CE
Seller Rationale
acceptable valuation
NBs
Bridgepoint and Resource have been consolidating the PL biscuit category in CE
Biscuit assets are actionable and attractive
However, there's a contradiction between the above two criteria, in that confectionery, biscuits and snacks are the focus of some multinationals, and so Orkla may have to compete with them in M&A tender processes. That said, there are segments within those categories that do not provide the branding and margins potential to be must-haves for the global players but which could be attractive to an international player like Orkla.
To find candidates in the above segments and categories that are actionable, the best place to look is of course the private-equity community. Private-equity players are always willing to sell, if the price is right, and food products have been a popular sector for them in central Europe. Hame, for example, was bought from a private-equity holding, Decapterus.
The biscuit companies controlled by private-equity players in central Europe, namely Dr Gerard (owned by Bridgepoint) and Delicpol (owned by Resource Partners) could be targeted by Orkla, in spite of the fact the two businesses are focused on private label.
The chance for a roll-up in Poland
Combined, Dr Gerard and Delicpol have sales revenue of around EUR125m and, as well as the Polish market, they have a significant export business including neighbouring central European markets (30 countries in the case of Dr Gerard).
Both of these assets are mainly focused on private label, whereas Orkla is a branded consumer goods business. However, the group has not shied away from that segment with other acquisitions that it has made recently; for example Bioquelle in Austria, bought by Orkla in 2015, only derives one-third of its sales from its own brands.
Generally, biscuits are a category where the premium enjoyed by the branded segment, over the private label one, is limited. Dr Gerard's financials, showing an EBITDA margin of 14%, illustrate the point that private-label biscuits can be quite profitable (see profile).
The manufacturing cost advantages
A further reason for Orkla to acquire one or both of these biscuit companies is manufacturing costs. Recently, Orkla announced it is closing its Gimsoy Abbey factory in Norway, and relocating all of its production. It is also shutting two factories in Rygge, with its ketchup, mustard and dressing production moved to a plant in Sweden. The moves are part of a review of Orkla's production capacity across the Nordic and Baltic markets.
Dr Gerard and Delicpol together have several factories located in Poland, a country that, owing to low skilled labour costs, has become the workshop of Europe for manufacturers in various industries, including food and beverage.
Through an acquisition of the two businesses, Orkla would have options to reduce production costs from its Nordic confectionery and snacks division.
There is an obstacle, however, in the area of valuation. Certainly in the case of Dr Gerard, its private-equity owner Bridgepoint bought the company, from its French owner Poult, through a competitive process in 2013. The EBITDA multiple in any exit from that business would probably need to be relatively high (see valuation).
Dr Gerard valuation
Size (€ mln)
115
Sector
biscuits
Asset Quality
premium private label
Seller
private equity
Buyer
large plc
P/S
1,4
P/Ebitda
10,0
Type
enterprise value estimate