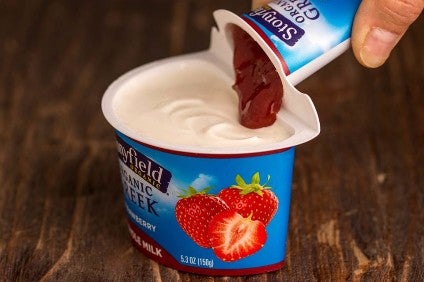 Danone said yesterday (12 April) its acquisition of natural food company WhiteWave Foods was final. The announcement comes less than two weeks after the French group revealed it was putting its US Stonyfield organic dairy brand up for sale in exchange for gaining local regulatory approval for the WhiteWave deal. just-food's US columnist Victor Martino looks at the would-be acquirers for Stonyfield.
Danone first partnered with Stonyfield in 2001, when it took a 40% stake in the Colorado-based organic dairy foods company. In 2004, Danone upped its stake in Stonyfield to 80%, acquiring the entire business in 2014.
Stonyfield, which had US$370m in annual sales, was one of the first organic mega-brands in the US and, under the leadership of former CEO and now board chairman Gary Hirshberg, has achieved iconic status in US natural and organic food industry circles. A consensus of analysts estimates puts Danone's price tag for Stonyfield a bit north of $700m.
Danone's forced decision (by the US Department of Justice) has tongues wagging in the industry globally about who could buy Stonyfield. Let's analyse the players and the terrain.
First off, buying Stonyfield would be a dream deal for General Mills. 'Big G' is losing ground to Chobani in its prime North American market. Chobani just-recently surpassed General Mills' Yoplait as the number two brand in North America. According to Nielsen, Chobani has a 19.8% share to Yoplait's 19%. Danone is tops in market share with 34%. Chobani owns the Greek yogurt category with a 37.6% share, according to Nielsen.
But dreams – assuming General Mills is having any about a potential Stonyfield acquisition – are not always enough when it comes to deals. The problem with a General Mills-Danone/Stonyfield deal is two-fold. One, Danone likely will not want to sell the iconic organic brand to its chief competitor – the same probably would apply if Chobani offered to buy Stonyfield. And, two, should General Mills want to – and do so – the US Justice Department might oppose it on the grounds it would concentrate too much category market share in the hands of General Mills.
The two big food companies besides General Mills that can benefit most from Stonyfield are Kellogg and Campbell Soup Co.
Kellogg needs a lift in the breakfast foods category because of souring cereal sales. Yogurt is trumping cereal for breakfast. Stonyfield could fit the bill. It is organic to boot. Good synergy with Kellogg's Kashi brand.
For Campbell, Stonyfield fits very well with CEO Denise Morrison's new "fresh" focus, which is one of "four strategic imperatives" for the company. Stonyfield also fits well with Campbell's focus on organics with its Bolthouse Farms brand, which is growing rapidly. The brand includes numerous refrigerated food and beverage product lines. Campbell also recently introduced a yogurt-based mayonnaise brand and is looking at using yogurt as the primary ingredient in other new food and drink products.
Dean Foods is another company that would benefit from acquiring Stonyfield, and in many ways actually needs the brand, or one similar to it. Dean Foods owned WhiteWave, which it spun off into a separate company via an IPO in 2012. Doing so was a big mistake – as the company's performance since suggests.
Dean Foods recently realised it needed to get back into the organic segment in a serious way, so in November 2016 inked a joint venture with billion dollar dairy cooperative Organic Valley. The joint venture involves sales, distribution and brand-building. Dean Foods' CEO, Gregg Tanner, said when the joint venture was announced that it would serve as a growth platform for both companies in the area of developing organic dairy product brands. Stoneyfield would be a strong and valuable plank for Dean Foods in constructing that platform.
Hormel, Hain Celestial and Pinnacle Foods could also be possible buyers of Stonyfield, although there are fewer benefits to these companies in a deal compared to the others.
PepsiCo, Coca-Cola and Canadian dairy giants Saputo and Agropur are also potential buyers. Do not rule out global dairy products companies Lactalis, FrieslandCampina and Fonterra either.
I'll conclude by offering a wildcard possibility, which is that former Stonyfield CEO and current chairman Gary Hirshberg could put together a deal with pals in the organic foods industry and a private-equity firm or two and buy the dairy brand he led to its now iconic status back from Danone. Trust me, stranger things have happened in the organic products' industry.
—–

just-food columnist Victor Martino is a California-based strategic marketing and business development consultant, analyst, entrepreneur and writer, specialising in the food and grocery industry. victormartino415@gmail.com / www.twitter.com/nsfoodsmemo.