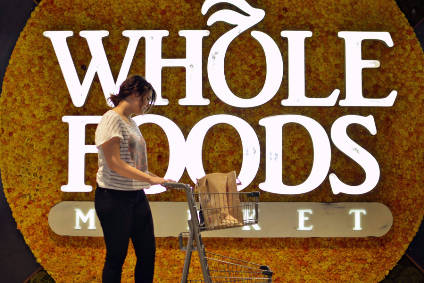 In a bumper month for significant moves from the world's food retailers, the spotlight shone on the performance of Whole Foods in the US, Aldi announced plans to set up an e-commerce portal in China and the UK's Marks and Spencer signalled plans to expand its grocery business.
Whole Foods – We need to up our game
Whole Foods Market, the US natural and organic retailer once one of the darlings of Wall Street, has had a challenging 2016.
At the start of November, Whole Foods posted its full-year results, which included a 2.5% decline in comparable-store sales. The retailer also reported a fall in margins year-on-year.
Whole Foods was among the first retailers in the US to have tapped into rising interest in the country for natural and organic products and rode that wave as demand grew. However, with larger, more mainstream rivals from Kroger to Costco have invested heavily in those areas, competition has intensified.
Alongside the publication of its annual results on 2 November, Whole Foods also announced John Mackey, the co-founder of the business, would again become the company's sole CEO after six years of sharing the role with Walter Robb, who joined the retailer in 1991 and has been seen as central to the company's growth throughout the 1990s and 2000s.
"It is impossible to convey what Walter has done for Whole Foods Market since he joined us in 1991," Mackey said. For his part, Robb, on a conference call to discuss Whole Foods' results, told analysts: "The board has decided, of course, John and I are on the board, that moving to a more streamlined structure is the right thing at this juncture to lead the company forward to the next level. And I will be here to continue to cheer that on."
However, Mackey, surveying the competitive landscape in the US, described the market as "very tough", pointing conventional retailers like Kroger but also "discount natural food operators like Sprouts and Fresh Thyme and Lucky's and they're all growing". He said: "I like our positioning but I'm not going to sugarcoat it. We've got a competitive runway ahead of us and we got to up our game. And that's what we're intending to do."
Whole Foods' management also suggested the next few quarters could be tough, forecasting another year of falling comp sales and margins.
Victor Martino, a California-based food and grocery industry strategist and consultant, believes one way of improving Whole Foods' performance would be to be more pragmatic in its expansion plans. "Mackey needs to relax Whole Foods drive to open 1,200 stores and instead be more selective on doing what it's done best, which is to open new stores in areas with prime demographics for Whole Foods," he says.
More strategically, Martino believes Whole Foods would benefit from being taken private. "I've been suggesting for a few years now that Whole Foods needs to be taken private; perhaps majority ownership by one or two private-equity firms, with Whole Foods employees owning the remainder. Perhaps a 75% (PE) 25% (employees) split. This will allow Whole Foods to focus on being a grocer, like privately-held Trader Joe's is able to do, rather than devote so much time and effort trying to meet Wall Street's historically inflated expectations for the grocer."
Aldi set for foray into China
In the last decade, Aldi has made waves in the UK, Australia and, increasingly, in the US with its expansion into two intensely competitive grocery markets. Now the German discount retailer is preparing to enter another.
In the second quarter of next year, Aldi will launch into China's e-commerce channel, selling a range of "everyday grocery items", which will be "non-chilled" and the majority of which will come from Australia.
"We know there is a strong demand among Chinese consumers for Australian manufactured products and our goal is to provide a competitively priced alternative for shoppers seeking quality groceries. We believe our unique offer of high-quality Australian products at unbeatable prices will be an attractive proposition for Chinese consumers," an Aldi spokesperson said.
Asked if Aldi had plans to open bricks-and-mortar stores in China, the retailer said: "Aldi has been active in the China market for several years undertaking detailed feasibility studies regarding potential market entry options. This work has resulted in the decision to commence retail operations in the China market, initially with an e-commerce retail offering, providing new and exciting business opportunities for Australian manufacturers."
It is an interesting move, marking the first time Aldi has entered a market through e-commerce rather than physical stores. China's e-commerce channel is fast-growing but dominated by some sizeable domestic players, while the likes of Carrefour are investing to expand its presence in the sector.
Nevertheless, China's retail sector is becoming increasingly shaped by the e-commerce channel. Government data says the online channel accounted for 13% of retail sales in China in 2015. Some 65% of Chinese consumers surveyed by PwC said they shop online on the mobile at least once a month, compared to what the consultants said was a global average of 28%.
Aldi's decision to use its Australian arm is wise, not just for the basic reason of that market's proximity to China, but the two countries have a free-trade agreement and there are increasing signs Chinese consumers are buying into Australia's image (of course driven in part by its food industry) of producing safe, good-quality food. Meat and dairy have been two categories to have benefited from this trend and, while Aldi's initial push is focused on non-chilled products, the retailer can still ride this wave.
Food (and the UK) central to Marks and Spencer overhaul
Food has long been the shining light at UK food, clothing and homeware retailer Marks and Spencer, with successive chief executives generating growth from grocery but struggling to see the same performance from the other parts of its business.
The latest incumbent, two-decade M&S veteran Steve Rowe, who took the helm this spring, last month announced plans to reshape the business, plans that signalled the importance of food to the retailer's future.
M&S has over 300 of what it calls "full-line" stores, selling clothes, homeware and food. The overhaul will see 60 less of these outlets, with 45 either "downsized" to or replaced by the retailer's small-format and food-centric Simply Food stores.
The establishment of these 45 Simply Food outlets will come on top of M&S's plan to open 200 more of the outlets by the end of its 2018/2019 financial year, which runs until late March 2019.
Putting more resources into food and into convenience will see M&S play more to its strengths and seek to take a greater share of the UK's growing convenience channel.
Rowe's plans will also see M&S scale back its international business, which has largely focused on clothing and homeware but which has had some of its stores carry varied amounts of food.
M&S plans to close 53 stores in what Rowe described as "ten, loss-making, owned markets". The move will see M&S leave eight markets – Belgium, Estonia, Hungary, Lithuania, the Netherlands, Poland, Romania and Slovakia – and scale back its presence in China and France. The retailer said it is to continue running its "owned businesses in the Republic of Ireland, Hong Kong and Czech Republic, which are profitable with strong brand awareness, established store estates and loyal customers".
City analysts covering M&S broadly welcomed the moves. HSBC's Paul Rossington described Simply Food as "an undervalued strategic asset" and said, overall, the reshaping would "create a simpler, more sustainable business".