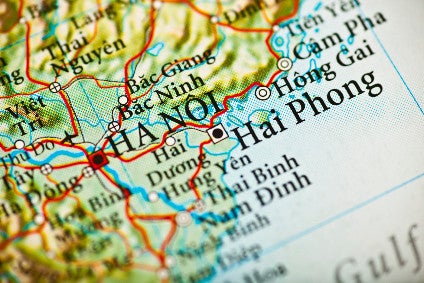 It emerged this week that French dairy giant Danone could be preparing to pull its Dumex infant formula brand from Vietnam. It is not yet clear what the company plans for the Dumex business throughout the rest of Asia. The move does, however, come as further evidence that Danone is cutting its losses and de-emphasising the Dumex brand, which has failed to emerge from the long shadow of a 2013 recall. Katy Askew reports.
Danone is apparently pulling the plug on its Dumex brand in Vietnam. Danone Vietnam CEO Martin Hoelscher is quoted as telling local media that it has "decided to gradually withdraw" Dumex from Vietnam due to declining market share. According to Hoelscher's interview with the English-language Vietnamnet, the CEO said: "Danone's activities in Vietnam will continue as normal for the next few months. Dumex will be available until early next year."
The Vietnamese infant formula sector is developing rapidly. Rising incomes, urbanisation and an increasing number of women in the workplace are all acting as fuel for expansion. A recent research paper led by Dr. Phillip Baker from Australian National University found that global infant formula growth is being led by East Asian countries, with Vietnam among those nations at the head of the pack.
"In 2008-2013 world total MF sales grew by 40.8% from 5.5 to 7.8kg per infant/child/year, a figure predicted to increase to 10.8kg by 2018. Growth was most rapid in East Asia particularly in China, Indonesia, Thailand and Vietnam and was led by the infant and follow-up formula categories," the researchers note.
So why would Danone choose to withdraw an established brand from a high-growth market?
The Vietnamese infant formula sector is highly competitive. Dumex is not a category leader in the Vietnamese infant nutrition space. Data from Euromonitor International reveals that Dumex is the tenth largest infant formula brand in Vietnam. The company's share of sales in the infant nutrition category trails the likes of Abbott Labratories-owned Similac and PediaSure, FrieslandCampina's Friso and Dutch Lady/Bella Holandesa, Mead Johnson's Enfagrow and Nestle's Nan brands. The country's two largest infant formula brands are, however, owned by domestic businesses. Vinamilk's Dielac and NutiFood Nutrition Food's Nutrifood brands are the largest and second-largest brands by sales respectively.
These local players – known for their quality products and affordable prices – are stiff competition for more up-scale international brands. In particular, they will continue to benefit form a government-imposed price ceiling until the end of 2016 and ongoing restrictions on marketing. This has to date limited the growth experienced by premium international brands in the country.
While the Vietnamese infant formula category might be a competitive space in which to operate, Danone is not a company to shy away from such a challenges easily. In truth, the Dumex brand has been hamstrung in Vietnam – and throughout the rest of Asia – ever since a 2013 product recall. Danone was forced to issue a consumer facing recall of certain Dumex products after Danone was supplied by New Zealand dairy Fonterra with whey that was thought to be contaminated with a botulism-causing bacteria. While it transpired that the recall was a false alarm – and Danone acted quickly and transparently to remove products from the shelf – there can be little doubt that Dumex's reputation has never recovered.
Raphael Moreau, food analyst at Euromonitor, comments: "Dumex's reputation in China and beyond has been victim to a false product safety scare from which it has failed to recover, and which could lead to its exit from Vietnam by the end of 2016."
Danone has obviously decided that it wants to distance itself from Dumex. Last year, the French food maker said it will merge Dumex in China with the infant formula business of local dairy giant Mengniu in order to build a "strong local platform" in the sector.
At the time, Danone said Dumex's China sales were "well below" pre-recall levels. As a consequence, Danone revised downward Dumex's long-term sales forecast and registered an impairment charge of EUR398m (US$435.5m).
Sanford Bernstein analyst Andrew Wood said the decision to distance the company from Dumex "follows a long-standing Danone approach of solving problem businesses by simply shedding them". Wood observed the deal with Mengniu "removes a problem business from Danone's headline numbers in the knowledge that investors will overlook the P&L impact as one-off and non-cash".
Danone's shift is, arguably, about more than removing a drag on the top line however. By removing responsibility for reinvigorating a damaged brand from local management, the company is freeing up resources to concentrate on its higher-end, higher-margin, infant formula brands. Indeed, while the company has stepped away from Dumex, through its other premium brands it has successfully regained pre-recall market share of 15%.
It is not currently clear what the company is planning for the infant formula sector in Vietnam. Country chief Hoelscher did not comment on the potential impact of the decision on Danone's wider activities in the country and Danone has yet to respond to just-food's request for information.
Euromonitor's Moreau believes that if Danone is to retain a presence at all it will have to significantly step-up activity around its other brands. "In Vietnam, Danone has a much smaller presence with other brands and it would need to step up its reach with premium brands, notably Aptamil, or risks losing out in a fast-growing market."
He also suggested that the move could be the beginning of a domino effect, with Danone withdrawing from other markets in the region. "While the company mentioned that the likely exit Vietnam was not going to have repercussions on other Asian markets, it remains to be seen whether this may be still prelude to a longer-term withdrawal from Thailand, a much larger market for the Dumex brand than Vietnam."