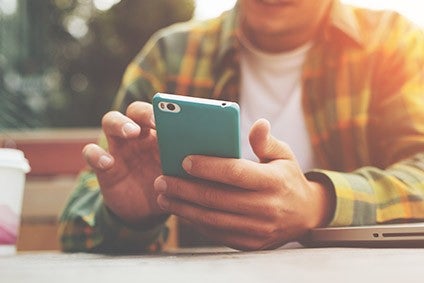 just-food's US columnist Victor Martino sets out why food companies should be looking to build a direct-to-consumer business.
Store-centric consumer packaged goods companies need to build and implement direct-to-consumer (D2C) sales and marketing strategies to retain and grow their competitive edge.
Estimates from IRI and Nielsen suggest e-commerce, which includes D2C, will account for around 50% of CPG sales growth in the US through 2025. In comparison, overall CPG sales grew by a mere 2% in conventional retail channels in 2018.
This projection alone suggests a basic imperative for CPG companies to get in the D2C game.
But a true competitive edge will have more to do with overall brand and go-to-market strategies than with simply creating an additional sales and revenue channel for D2C.
We're in the age of the digitally-connected consumer. People not only are digitally connected to the online world, they're also connected digitally to the physical world – the post office, ride-sharing services like Uber and Lyft, the grocery store, and most importantly, to each other.
The once distinct worlds of offline and online are becoming blurred. Most consumers are online even when doing an offline activity. This is the world CPG companies now inhabit. The new term of art for it is phygital.
Brick-and-mortar stores still account for the bulk of food and grocery purchases. But the shoppers making those purchases are digitally-connected. They may be shopping offline, but they're most often online while shopping.
"D2C is no longer a luxury or an exotic add-on"
As a result of this reality, D2C is no longer a luxury or an exotic add-on. It's now time for a direct-to-consumer component to be an integral part of a holistic, multi-channel, go-to-market strategy.
The D2C imperative
There are five reasons for CPG companies to incorporate a D2C component into their brand and go-to-market strategies, besides the obvious one of creating a new sales channel.
1. Listen, learn and build direct relationships
D2C programs allow CPG companies to directly interact with consumers, to listen to them, learn from them and benefit from their ideas and knowledge. To be this close to consumers is a marketeer's dream. Dream no more. It's a reality today.
The listening process also affords brands the ability to build direct relationships with consumers. For example, UK-based Ugly Drinks, which launched its flavoured sparkling seltzer waters in the US on the east coast in 2018, recently went direct-to-consumer with a big splash.
"We're building direct one-on-one relationships with our customers," CEO and co-founder Hugh Thomas says. "We own the end-to-end brand experience and listen to consumer feedback daily. This adds extra depth to our relationship with our fans in a way that would be hard to achieve through conventional retail."
The ability to build these direct relationships opens up a treasure trove of consumer insight that can't be obtained through traditional channels. The consumer insights gleaned can, however, be used to improve the consumer experience and thus increase sales for brands in the retail channel.
2. Build communities without propinquity
The traditional definition of a community was defined by geographical boundaries or what geographers call propinquity.
But digitalisation, the Internet and social media have turned that on its head.
It's no longer necessary to live in close proximity to others to be in the same community. Social media platforms all have communities of interest comprised of members who live all over the world but who bond on shared interests rather than geography.
D2C allows food-and-drink companies to build similar communities of interest around their brands using social media in conjunction with online D2C sales-and-content platforms.
Using various social media platforms, Ugly Drinks is fuelling communities with content that's creating a digitally-native fan base humorously referred to as the Ugly Mob.
These fans are taking their 'Ugly Love' to retail stores as well, evangelising for the brand in the aisles as well as online. Ugly Mob clicks are meeting grocery store bricks.
Kellogg, meanwhile, is building a community with a D2C e-commerce website for its Bear Naked brand of granola, granola bars and ready-to-eat cereal.
Bear Naked is part of Kellogg's Kashi subsidiary, which it now allows to operate in a fairly autonomous and entrepreneurial way.
Bear Naked fuels its D2C site with fun content, such as putting the bears in charge of taste-testing all new products and distributes that content on social media.
3. New product iteration and testing
D2C allows CPG companies to create and test new products in ways and for much lower cost than for traditional store launches.
A case in point is Coca Cola. It is serving over two million households in Mexico with a D2C portfolio that includes not only its traditional drinks and bottled water but also dairy and other products. Many of these products were created specifically for D2C in Mexico and tested and refined online. Some have made their way into stores in the country.
Ugly Drinks is testing new flavours for its sparkling seltzer brand online. Thomas says the consumer feedback from Ugly Drinks' direct consumer relationships is allowing the company to learn fast, which he says is helping to increase the chance of success for its new products in stores.
Bear Naked has created what it calls its "test-and-learn" initiative for Bear Naked Custom Made Granola. Within 24 hours of placing their order on the Bear Naked website, customers receive a confirmation email that enables them to track their order, which generally arrives within a few days.
The initiative lets consumers "make" their own granola mix from a fixed amount of ingredient options. It's mass customisation and a form of personalisation, another benefit of D2C product iteration that's difficult to do through physical retail channels.
4. Merchandising the meal
This element applies mainly to larger packaged foods companies that offer an expansive portfolio of products across various categories.
For example, General Mills has started packaging food products together to create an online meal solutions offering.
One such offering includes frozen breakfast items from its Pillsbury brand, Yoplait yogurt, and Nature Valley granola, creating a multi-brand, multi-product package for breakfast.
Such packages are potentially very powerful for food companies because they tap into how consumers think about eating – the meal – rather than how food is merchandised in stores, which is by the product.
In conventional retail, grocers control how products are merchandised. With D2C, food companies get to be both merchandiser and retailer.
5. Better control
"CPG companies today have the capability to take control of their future by going D2C"
Food companies once had significant control over how and where their products were merchandised in stores, largely through the 'category captain' system in which food retailers pretty much allowed the major food makers and their brokers to write store schematics.
Those days are gone. Over the last 30 years, retailers have taken almost complete control of in-store real estate and merchandising. Store brands, for instance, get priority treatment on shelf and display placement.
Although D2C today represents a very small part of packaged food and drink sales, it offers food companies a chance to start to take back some control over how their brands and products are merchandised and sold.
As D2C grows as a percentage of overall sales, being the merchandiser and retailer could help brands improve the balance of power with retailers, which hold more today than ever before.
Equally important, it helps food and drinks companies better understand the art and science of merchandising and retailing, which is a skill-set that's missing at the executive and managerial levels at many CPG companies today.
I asked two food industry veterans involved in D2C in different areas why food companies need to add a direct-to-consumer element in today's digitalised world.
Michelle Weisberg, a Chicago-based CPG and grocery industry consultant who's worked in senior-level food branding positions for retail chains Tesco, Cost-Plus World Market and Smart & Final, as well as in the CPG area, says: "CPG companies today have the capability to take control of their future by going D2C. Brands have a tremendous opportunity to evolve exponentially by engaging and educating consumers about their products and, at the same time, they have the added benefit of learning more about who their customers are, all at a minimal cost."
Weisberg is working on a D2C project for a CPG brand.
Chris Murphy, who as CEO of Modesto, California-based Sierra Pacific Logistics, has built an end-to-end, direct-to-consumer fulfilment operation for food and drinks companies at the company's facility in Stockton, says he believes "the next generation of food innovation will happen with a direct relationship with the consumer, unfiltered by a retailer".
He adds: "It may be a more complicated initial push, but the rewards of having a one-to-one relationship with a customer will be worth it.
"When a new food company goes through a larger distribution network like Amazon or others, they risk losing the relationship. Many of the new start-ups that have developed a good model and successful funding have a great customer relationship model. It's therefore important to pick a logistics partner that will deliver that custom delivery so that every delivery is a wonderful marketing message and a validation of the customers' choice."
D2C programmes need to be brand- and product-specific. They also need to be an integral part of a company's overall marketing and sales strategy. Don't let it become a silo.
Food and drink companies also must make sure their D2C programmes don't alienate the retailers who sell their products.
We're in the infancy of direct-to-consumer. But 2019 will be the year when food and drink companies start seeing it as an imperative.
just-food columnist Victor Martino is a California-based strategic marketing and business development consultant, analyst, entrepreneur and writer, specialising in the food and grocery industry. He is available for consultation at: victormartino415@gmail.com and www.twitter.com/nsfoodsmemo.