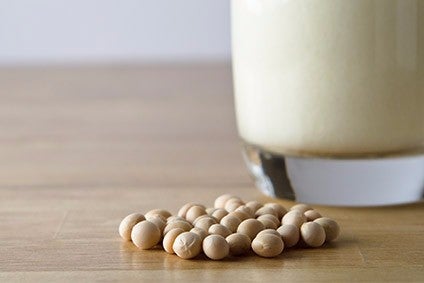 Ben Cooper looks at the challenge food manufacturers face in putting their soy supply chains on a sustainable footing and why it is so important to them and the planet that they succeed.
Over recent decades, soy has become a hugely significant commodity for food manufacturers and will become only more significant over the coming years, particularly as consumption of plant-based protein increases.
At the heart of the challenge food companies face regarding soy is a paradox. Its high protein content makes it the staple ingredient in the majority of plant-based meat alternatives that will play a crucial role in creating a more sustainable and climate-friendly food system. At the same time, soy is a prime source for animal feed and expansion to meet increased demand for feed has been a major cause of deforestation.
Soy is most definitely part of the solution but it has been and remains undeniably part of the problem. As long as that dichotomy remains, food manufacturers too have a problem to solve.
Rising global demand and risk
Global soybean production increased by 38% between 2009 and 2018 to 362m metric tonnes. According to projections published by US-based commodity specialists Doane Advisory Services in November, global production is expected to increase by a further 35% to 455m metric tonnes between 2019 and 2028. Around 95% of soy cultivated globally is used for animal feed.
The market opportunity offered by growth in the plant-based protein market, and its significance to the global climate agenda, mean the long-term sustainability of soy production has latterly become an even more crucial priority for the food manufacturing and agrifood sectors.
While deforestation driven by expanding soy cultivation has been predominantly associated with the animal feed market, food companies are indirect purchasers of this soy through their meat, fish and dairy supply chains. Already criticised for making insufficient progress in relation to their direct sourcing of soy, food manufacturers are now facing activist and investor pressure to account for both climate impacts and deforestation risks in their indirect soy sourcing, where there has to date been very little engagement of any sort.
According to recent research conducted jointly by US-based non-profits, The Sustainability Consortium and the World Resources Institute, forest loss in Latin America and south-east Asia continues to be driven by large-scale agricultural commodity production. The research, which builds on analysis conducted up to 2015, shows commodity-driven deforestation accounted for 59% of forest loss between 2001 and 2018. While commodity-driven deforestation in Southeast Asia is driven by palm oil, in Latin America by far the biggest culprit is soy.
The data available on the degree, impact and causes of deforestation continues to improve but this research simply confirms what food companies have known for many years. Soy has not attracted the same level of public attention as palm oil but has very similar issues to address.
"Honestly, progress is frustratingly slow. That's maybe because soy is embedded and even less visible than palm oil," says Daan Wensing, programme director for Global Landscapes, Soy, Palm Oil & Tropical Timber at IDH, The Sustainable Trade Initiative, the Netherlands-based public-private partnership which supports the development of sustainable trade globally. "The consumer only knows it from the vegetarian options but hardly anyone out in the street knows it's [used] for animal feed. That's maybe part of the story so the campaigning was less successful."
The huge traction gained by the campaign for sustainable plastic packaging shows how quickly consumer awareness of a sustainability issue can grow in a highly connected and increasingly environmentally conscious world. Decoupling future expansion of soy production from illegal deforestation and ensuring the required growth in capacity is sustainable are now pressing priorities for the food sector.
Scaling up sustainable supply
After facing criticism over many years for the lack of progress in addressing soy-related deforestation, the potential for newly established regional sustainable supply initiatives to move the needle on soy sustainability is giving rise to cautious optimism. So-called jurisdictional or landscape approaches bring together suppliers, local government, NGOs and end users to guarantee sustainability performance across an entire jurisdiction.
These new regionally-defined initiatives are seen as a way to put some much-needed momentum into the collective drive for sustainable soy, and offer food companies a route to source sustainable soy on a large scale.
The introduction of a regional supply model three years ago by the Roundtable on Responsible Soy (RTRS) led to growth in sustainable soy volumes of 30% and 40% in the first two years and an 80% increase in the first quarter of the current year. "This model is really working," says RTRS executive board member Lieven Callewaert.
IDH has implemented a landscape approach for soy in the Mato Grosso region of Brazil using its Verified Sourcing Areas mechanism (VSA). The VSA concept has three pillars: a sustainability compact agreed between the stakeholders reflecting local factors, supply chain transparency and a commitment by the end users to buy from that area.
Landscape approaches crucially provide a physical link between the end user and producers that is missing in the convoluted and often opaque soy supply chain. This, in turn, facilitates food companies in directly supporting their soy suppliers and investing in sustainability improvement.
The adherence to locally defined priorities is another strength, according to Wensing. In the past, sustainability was often seen as a "foreign agenda" imposed by powerful corporations on their terms. With jurisdictional agreements, however, local actors are themselves driving the programme. "This creates a very different kind of energy," Wensing continues, "with farmers and communities seeing the improvements as part of their sustainable development pathway."
Plant-based disruption
While the booming plant-based sector is rapidly increasing demand for protein-rich soy best suited to plant-based meat alternatives, there is no apparent concern this will create strains in the soy supply chain. "It's a matter of supply and demand," Callewaert says. "The switch to human consumption will be a smooth increase over years so the supply market will adapt accordingly."
Vinciane Patelou, who heads up the secretariat at ENSA, a trade association representing European companies specialising in plant-based foods, also does not foresee sourcing pressures. ENSA members currently source soy from within the EU and from Canada, and these sources have so far been able to meet the increased demand created by consumer uptake of plant-based foods.
The key to meeting future requirements, Patelou says, is building soy cultivation in the EU. "Because it can be a challenge to source soybeans with these high-quality standards, that is also GM-free, our members in the past have been involved in projects in developing or increasing soy cultivation in Europe, and I think that will be the case in the future. We still have room to produce more plant protein in Europe." ENSA strongly supports EU efforts to build European soy production which is comparatively limited, requiring the EU to rely on imported soy to meet its animal feed demands.
Outside the EU, meeting increasing demand for non-GMO soy is achievable, Slay suggests, with the acceptance of a price premium. "Typically supply chains find a way to meet demand so if there is that demand from the food sector, that signal tends to create that supply. It may take time but certainly if there's a strong demand and price premium then I think it will happen."
More discussion of GM
Given the extensive use of GM in soy production, this commodity will continue to be a prominent locus for the debate over the use of genetic modification in food production, and the contribution its proponents believe it can make to meeting challenges relating to climate change.
The role the US may play in this regard is likely to be significant. The US and Brazil are the world's largest producers of soy with GM accounting for more than 90% of production in both countries. Advocates for US soy contend its almost total adoption of GM has led to sustainability benefits.
"Biotechnology is a key component of US soybean farmers' ability to produce a healthy, affordable protein source in a sustainable manner," says Brent Babb, regional director Greater Europe and Middle East/North Africa at the US Soybean Export Council, adding that the US leads soy-producing countries in "soybean innovation, nutrition, sustainability, consistent product quality, safety and reliable delivery. US agriculture industry can be a solution to global challenges by mitigating climate change through safe, sustainable farming practices, and by providing essential protein and nutrition to help feed a growing population."
The US soy sector's own sustainability accreditation, the Soy Sustainability Assurance Protocol (SSAP), is independently audited and internationally recognised. Last year, some 23m metric tonnes of soy were produced with SSAP verification.
The import of GM soy will feature in trade negotiations between the US and the UK post-Brexit, and GM regulations are also an issue in the EU-UK negotiations.
Embedded soy challenge
A further impact of the plant-based boom is that soy is becoming a much more discussed component in the food system. Campaigners targeting companies over the sustainability of their direct and indirect soy sourcing may gain more traction over the coming years than has been the case to date, increasing reputational risk for food companies. Increased consumer awareness resulting from the plant-based boom may well result in more public concern about soy's associations with deforestation even though the plant-based sector sources from the most sustainable areas of the soy market.
The focus will not be on what food companies may be doing right in their sourcing of soy for plant-based meat alternatives, but on issues and risks relating to the animal feed market.
A foretaste of this can be gained from the Greenpeace Countdown to Extinction report, published last June, which castigated companies for the lack of progress on tackling commodity-related deforestation, including soy production in Brazil.
A report on companies' exposure to deforestation from climate advocacy organisation CDP, formerly the Carbon Disclosure Project, last November called out Danone, Nestle and Unilever as leaders among FMCG companies in anti-deforestation policies. However, it also identified indirect sourcing of unsustainable soy through animal feed as a specific cause of reputational risk to the food manufacturing sector.
The Sustainability Consortium's Slay sees the lack of attention to indirect soy sourcing as a "prioritisation" issue for companies but says animal feed is now "the hot topic among our membership".
For around a year, Slay has been chairing a discussion group among its members called Feeding our Food, which involves member companies and organisations from all areas of the supply chain and stakeholder groups. The primary objective is to increase companies' understanding of sustainability issues relating to feed supply, with experts being invited to address the group. "There is definitely a need and interest in feed sustainability," Slay says.
Feed manufacturers, many of which are SMEs, are often unconvinced there is significant demand for feed made from sustainably sourced soy, and doubt whether they will be able to pass the additional costs incurred along the supply chain. One relatively simple solution, Wensing says, is forging closer partnerships between feed producers and food companies, allowing food companies to send a "clearer signal" of their willingness to address sustainable sourcing for animal feed. Once again, this speaks to the importance of multi-stakeholder collaboration in the creation of more sustainable agricultural supply chains.
Meat processors clearly have the greatest exposure in relation to feed sustainability. However, data on how embedded soy is distributed through the food market in the EU shows the embedded soy issue is a factor across the food sector. In 2017, meat and poultry accounted for approximately 68% of embedded soymeal in the EU, dairy products for 15% and eggs for 12%, with aquaculture and other livestock accounting for the remaining 5%.
Even the food manufacturers leading the way on sustainability are only at the point of acknowledging the soy feed issue must be addressed. Progress on indirect sourcing will have to be stepped up and the industry can certainly not afford to procrastinate in the way it has in the past in relation to sustainable soy.
It has been accepted for some time that sustainable commodity sourcing requires a total supply chain approach. Ultimately, farm to fork in the case of soy has to mean the farms from which either food or feed originate.