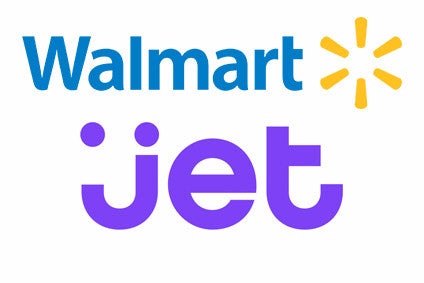 Wal-Mart Stores' online business in the US has been growing but industry watchers believe the retail giant's expansion has been slower than the channel overall. The company has snapped up fledgling, pure-play business Jet.com, which recently added the delivery of fresh food delivery to its wider FMCG offer. Profitero 's Keith Anderson looks at what the deal could mean for both businesses and for manufacturer suppliers.
Wal-Mart Stores' US$3.3bn acquisition of US start-up Jet.com is the most expensive in US e-commerce history, widely seen as an attempt for the world's biggest retailer to position for intense competition with Amazon, the world's biggest e-retailer.
The deal does not put Walmart on even footing with Amazon overnight but it does have the potential to accelerate Wal-Mart's growth online – and it has been under pressure to do something bold.
According to New York-based market research firm eMarketer , US retail e-commerce sales are expected to rise by nearly 16% this year, substantially faster than Wal-Mart's estimated e-commerce sales growth of 9.4% for 2016 and the 6.8% growth estimated for the past 12 months. Investors expect Wal-Mart not only to keep pace with market growth but to exceed it. Amazon, in contrast, has been growing at one-and-a-half to two times the rate of the overall e-commerce market for several years.
For Wal-Mart, Jet offers great talent (as part of the deal, Jet founder Marc Lore will lead Wal-Mart's e-commerce business) and deep competitive insight into Amazon's operating model (Lore spent several years at Amazon after it acquired Quidsi, his previous e-commerce start-up). The acquisition presents a potentially new customer base – Jet has aggressively targeted shoppers in large urban metros – an emerging third-party marketplace platform and above-market growth rates.
For Jet, Wal-Mart offers it superior distribution and logistics assets and capabilities, which has been one of the fledgling firm's weakest points, as well as buying power and a well-aligned strategic owner. The two retailers have a similar focus on low prices on both everyday essentials and higher-margin discretionary goods.
The battle for fresh grocery delivery
Earlier this year, Jet.com quietly started testing the delivery of fresh groceries, pitting it against online grocery services like Ahold Delhaize's Peapod and the independent FreshDirect, as well as Amazon Fresh and same-day delivery start-ups Instacart and Shipt.
Though Jet's fresh food pilot is limited in both selection (under 300 SKUs) and geography (focused on New York City, New Jersey, Connecticut, Philadelphia and Washington, D.C.), its pricing on groceries was proven to be aggressive.
From May 27 to 6 June, Profitero analyzed the average prices of 288 available fresh food items at Jet.com against their matches at several competing online grocery retailers in these areas. Jet.com showed lower prices than all competitors except Wegmans (the only retailer in New Jersey), while AmazonFresh was the closest price competitor, priced +3.1% higher than the new Wal-Mart asset.
While Jet has made more progress in shelf-stable food (and adjacent FMCG categories) than in perishables, its strong leadership team, unique and differentiated brand, and early traction with millennials and urban households could eventually prove to enhance Wal-Mart's full-basket online grocery service.
Jet also brings to Wal-Mart its dynamic pricing platform, which calculates discounts as shoppers purchase more. Adopting and expanding the platform could drive Wal-Mart's online volume and order value, both critical in the low-margin e-commerce grocery business.
In the near-term, Wal-Mart may pressure suppliers to support Jet by expanding distribution with the retailer, providing product content, and funding marketing and merchandising programs.
Strategic suppliers should already be booking flights to New Jersey and planning to incorporate Jet (and e-ommerce broadly) into their joint business plans with Wal-Mart.
The ultimate impact of Walmart's Jet acquisition will depend on how smoothly both companies combine their cultures, capabilities and brands. Execution will be key but Walmart has more raw horsepower now (and one less competitor) than it did previously.