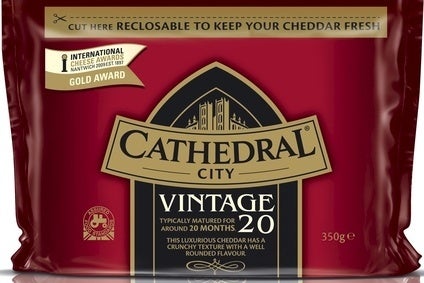 With the UK's Competition and Markets Authority likely to approve the disposal of Dairy Crest's milk business in the coming weeks, some industry watchers have been speculating what remains of the local dairy group could be a takeover target. The business will be well teed up financially for a sale that maximises shareholder value in the first half of 2016 with one stand-out potential acquirer.
Streamlined after milk sale
In August, the CMA, the UK's competition regulator, indicated it would accept certain undertakings from Muller regarding its competition concerns for the UK retail milk market after the German group's acquisition of Dairy Crest's liquid milk business. Muller has since made further adjustments to those undertakings and the CMA set out last week it proposes to aceept those changes, subject to consultation. The deadline for a decision is on 19 October. Dairy Crest expects the deal to close by the end of the year. Dairy Crest's milk business has been a millstone around its neck; in its 2015 financial year, the operating profit from that division fell by 90% to only GBP1.8m. After its disposal, the group will become a much more profitable and attractive business for investors.
Branded and value-added growth
The core businesses of cheese, whey spreads and butter include strong and healthy brands – Clover spreads, Country Life butter and, in particular, Cathedral City cheese, which is by far the largest cheddar cheese brand in the UK market. Those two divisions, booked now as retained businesses by Dairy Crest, saw operating profit increase by 19% in FY 2015, to GBP66.9m. Once the group has shed its milk business, its EBITDA margin will be incomparably higher than hitherto.
Completion of investment cycle
Another feature of Dairy Crest's financials that's conducive to an M&A event is the fact its capex cycle, focused on the building of a demineralised whey powder and GOS plant in co-operation with Fonterra, is coming to an end.
In its 2016 financial year therefore, capex will decrease and the group expects net debt to be reduced by GBP20m from its peak of GBP199m the 2015 fiscal year (see profile). As well as being much more profitable in 2016, Dairy Crest will also be fully-invested.
Strong cheese profits in H2 2016
Another little treat in store for Dairy Crest's shareholders is the profitability of its cheese division, which fell by 16% in 2015, is set to rebound in 2016 thanks to the working capital time-lag inherent in the cheese business.
The cheddar cheese produced by the group takes on average one year to mature. The cheese that was therefore moulded when raw milk prices were at their lowest, in the second half of 2015, will only come to market in the second half of 2016.
Takeover candidates among trade investors
As a publicly-listed group with a large free-float – all of its top ten shareholders are institutional investors – Dairy Crest will always be susceptible to takeover advances, especially when its performance is strong and it holds leading positions in the high-value UK cheese and spreads market.
There are candidates but only among major players in the European dairy industry, not from the private-equity world. Dairy investments are notoriously unpopular in the private-equity community, essentially because of that sector's strong links with primary producers (farmers) and exposure to commodity price fluctuations.
We always like to present at least three M&A candidates in this column, be it on the buy-side or sell-side. In the case of Dairy Crest our three tips are: Lactalis, Lactalis and again Lactalis.
Time for a French invasion?
Looking at the big dairy landscape in Europe, we would eliminate the two co-operative giants, Arla Foods and FrieslandCampina, because any takeover of Dairy Crest would be a public-to-private transaction which arguably is not in the DNA of a co-operative.
In our view that leaves the triumvirate of the big, privately-held French dairy groups, as best placed to compete in a tender or one-to-one process to acquire Dairy Crest.
Of the three, Lactalis, is by far the largest with estimated annual sales revenue of EUR16bn, and the only one that's sufficiently universal in its product range to swallow up Dairy Crest as a whole. Bongrain and Groupe Bel are only really focused on cheese; and within cheese, neither are specialised in hard cheese. Bongrain's sweet-spot is in mould cheese; Bel's in processed and portioned cheese.
Lactalis is already present in the UK cheddar market, with brands including Seriously Strong. Looking at the group's M&A history, it seems the Besnier family is fond of acquiring national champions in Europe (Galbani and Parmalat in Italy, bought in 2006 and 2011 respectively). In that same mould Dairy Crest, as the national champion in the UK, is likely to be as asset the Besniers covet.