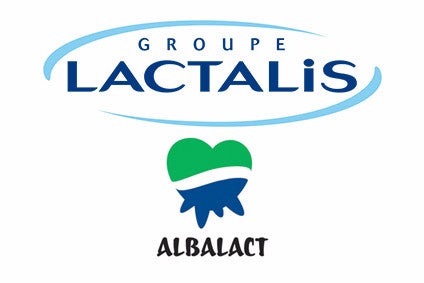 French dairy group Lactalis is expanding in Romania through the acquisition of local dairy Albalact. At first glance, Romania might not seem like the most promising growth market. However, there are signs of modernisation of the dairy sector and dairy consumption is expected to pick up. Katy Askew reports.
With low consumption and consecutive years lacklustre growth, the Romanian dairy sector might not seem the most attractive of markets. Nevertheless, it is a market upon which French dairy giant Lactalis has set its sites for further expansion.
The French group already has a strong regional profile in south-eastern Europe, with businesses in Serbia, Moldova and Ukraine. In Romania Lactalis owns local dairy business LaDorna, which it acquired in 2008.
It emerged yesterday (18 January) that Lactalis has struck a deal to expand its presence further in the country by acquiring a majority stake in Romanian dairy Albalact. The French group has signed an agreement to buy out Albalact shareholders that collectively own over 70% of the group for RON407.3m (US$98.2m) minus a contractually agreed adjusted net debt.
If the transaction receives regulatory approval and other customary conditions, Lactalis intends to launch a voluntary takeover bid for the rest of Albalact's shares, the publicly listed Romanian dairy revealed in a securities filing.
But why is Lactalis intent on expanding in Romania?
Currently, around 44% of Romanians live in rural areas where consumption is dominated by milk and dairy products produced at home or in local farms. The modern retail infrastructure in this rural setting is underdeveloped. Traditional forms of production and trade account for an important share of consumption – and one that modern players like Lactalis are largely unable to tap. Consumption of dairy products remains well below that of other countries in the European Union – and below its neighbours in the region.
While these conditions limit the size of the current market they also mean that there is huge potential for development of the sector in the medium- to long-term.
Significant progress will not happen overnight because growing dairy sales are fundamentally tied to the development of the country's consumption patterns as a whole. Unlike some other developing markets, which offer explosive near-term growth potential, Romania is not undergoing a particularly rapid process of urbanisation, with all the changes to consumption that implies. Nor does it offer access to a massive population where even limited market penetration is viewed as a huge opportunity. But, if you are investing for the long-haul, there is clearly development potential.
According to Euromonitor International, cheese sales are expected to increase by 6% and milk consumption is forecast to grow from 15 to 20 litres per capita by 2020. Growth is also predicted across other dairy categories, including yoghurt and sour milk drinks.
"This is explained partially by an increase of purchases of the current consumers, but it is mostly due to the customers and companies' migration from the informal to the formal market and the self-consumption of own production in rural areas," the researchers note.
Additionally, 2015's move to reduce VAT on all food products is expected to stimulate growth. Monica Dobrescu of the USDA Foreign Agricultural Service notes: "The recent VAT cut from 24% to 9% from June 2015 is viewed as a positive factor leading to a dairy consumption increase."
There are also signs that the Romanian dairy sector is consolidating as smaller scale production is phased out and modern techniques come to the fore. Data from the Romanian Dairy Industry Association, demonstrates a decreasing number of local small cheese producing companies, for instance. The association revealed year-on-year drops in the number of operators with 183 factories in the market in 2013, 130 in 2014 and below 100 at the end of 2015.
Lactalis is well-placed to act as a consolidator in the market – and not just via M&A. Through its local units, the group would be able to drive market share growth as large-scale modern players take a bigger share of consumption.
Albalact is ideally placed to benefit from the modernisation of Romania's dairy industry – a process that it claims to be at the forefront of. "We are the tangible proof of the Romanian dairy industry's tremendous progress, and alignment to the current quality and food safety requirement, while managing to preserve the Romanian freshness and rich taste the consumer appreciate now more than ever," the company claims on its website.
Albalact is one of the largest liquid milk manufacturers in the country, alongside Frieslandcampina, with an 18% market share. Albalact holds leading positions in the sour cream and butter categories. The group markets fresh and UHT dairy products under brands including Zuzu, Raraul and de Albalact.
If the deal goes ahead, Lactalis will be able to leverage Albalact's well-invested and modern manufacturing footprint to support additional growth. The recently-opened Albalact factory in Oiejdea represents the largest greenfield investment in the country to date and includes "state of the art" processing equipment, the company reveals. Elsewhere, Albalact has invested EUR2m in modernising and refurbishing its Raraul factory in Campulung Moldovenesc over the last two years. In both production units, the company processes over 300,000 litres of milk per day.
With the relatively slow-growth environment in Romania's dairy sector, the acquisition of Albalact might be long-term play for family-owned Lactalis. However, it is also clear that the move significantly ramps up Lactalis's present market access while positioning it to be able to capitalise on future demand growth in the country.